The Laker roster may be officially set, for all intents and purposes.
On a busy Thursday, the team added two new bodies to the mix. The bigger name is small forward Matt Barnes, a Cali kid and UCLA product now making $3.6 mil over two seasons. The smaller (though, ironically, taller) player is veteran's minimum-priced center Theo Ratliff, who first began blocking NBA shots in the late '70s. (Okay, 1995.) Two veterans who appear pretty stoked at a shot to ride the O'Brien train. Barnes is the flashier signing, between his profile, flirtation with seemingly every team under the sun, and prematurely announced sign-and-trade to the Raptors. Of the two newbies, he is the one figuring to become a rotation mainstay.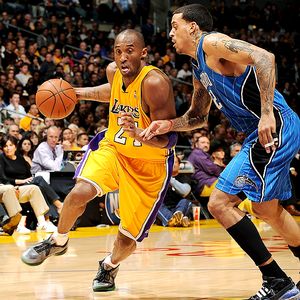 Noah Graham/NBAE/Getty Images
This season, Kobe Bryant and Matt Barnes will only be scrapping during practice.
He is also the one in my mind producing more question marks.
No doubt, there is a legit need for a backup for Ron Artest. Mitch Kupchak conceded at his exit interview how Luke Walton's back remains at risk to flare up, making him unreliable to pencil in for duty. Presumed Laker Devin Ebanks is too inexperienced, and while Kobe is without question the best backup three in the league, the goal looking forward is to reduce his minutes when possible.
Barnes is a legit option, even borderline overqualified for the gig.
Over 48 minutes, Barnes ranked third among small forwards on the glass last season, and if we learned nothing else during the NBA Finals, it was the importance of rebounding. This trait is indicative of the way Barnes plays: Dude hustles and is willing to do the dirty work. I could also see his ability to move without the ball --broken down in fine fashion by Ben Q Rock at Orlando Pinstriped -- fitting in well with a team at its best when players remain in motion. And despite it being impossible to pin the "soft" tag on the Lakers anymore, Barnes' toughness nonetheless remains a nice asset.
That said, I do have some trepidation about the deal.
For starters, Barnes doesn't do much to stretch the floor for a team in need of such a skill set. He also has a propensity for crossing the line between "tough" and "out of his gourd." The intensity can come in handy, but there are times when it's kinda ridiculous. As macho (or unintentionally hilarious, depending on your view) as this now-iconic ball fake against Kobe was, Barnes spent this entire game flirting with the boot, which can be counterproductive. I also get nervous about players of reasonable ability who can't EVER seem to stick in one place. Is it personality? Difficulty to coach? Asking for too much money (which can be code for an overinflated sense of worth)? Whatever the case, this will be Barnes' eight team in as many seasons. I'll maintain an open mind, but it's hardly a ringing endorsement.
Mostly, my concern is whether he'll get enough run to be happy. Artest is a small forward fixture, guaranteed to play anywhere from 30-35 minutes per game. That doesn't leave much leftover for Barnes, who has played at least 19 minutes a night since 2006, and typically 20-plus. His skills don't translate well to the guard spot, and there are only so many minutes one can siphon from Kobe, anyway. Barnes is basically limited to playing small forward. Even taking into account how the triangle allows positional fluidity, unless the Lakers go very small (with Artest guarding a power forward) or foul trouble occurs, Barnes' opportunities feel limited. Will there be minutes enough to go around, particularly for a guy who always seems to be angling for a new, bigger contract? (Granted, he reportedly turned down more money from Cleveland to play in L.A.... but that was also because the Cavs didn't meet his asking price to play for a non-contender.)
If he's down with the program, Barnes represents a legit bargain and increased depth. If not, the guy kinda scurrs me. From the outside looking in, he has always struck me as fairly moody, with this being the type of scenario bringing on disagreement.
In any event, I'm guessing Barnes on board means the Lakers will part ways with Shannon Brown. The brass likes him and the feeling is mutual, but with Kobe theoretically playing fewer minutes at the three, there probably won't be enough SG minutes to justify signing Shannon long term. Instead, Sasha Vujacic will resume his 2008 role, and without having to look over his shoulder will hopefully perform less skittishly.
As for Ratliff, I think it's a textbook example of "right guy, right role."
Ratliff's responsibilities will essentially mirror of D.J. Mbenga's since he arrived in 2008: Be ready, but don't expect to play. Ratliff should transition nicely. Probably better than D.J., since he is likely to be more satisfied than Tacos, who made no bones about a desire for increased burn. I'm sure Ratliff wants to play (who doesn't?), but I doubt he'll become disgruntled over scarce minutes. The guy is entering his 16th season, has a terrific rep in the locker room, and has by now accomplished everything realistically possible in his career... save winning a championship.
If busting ass in practice for little fanfare is what it takes to get a ring, I imagine Ratliff will be ducky with that setup.
Should fouls or emergency push Ratliff into a bigger role, his stint in Charlotte last season demonstrated him capable of delivering upon reasonably realistic expectations. In 28 games with the Bobcats (26 starts), Ratliff provided 5.1 points, 4.2 boards and 1.5 blocks. Nothing incredible, but enough to keep the team afloat in a pinch. Would I want large chunks of a season with Ratliff in an important role? No, but I wouldn't be down with D.J. at the wheel, either. Frankly, if the Lakers are facing this scenario, they have bigger problems than whether or not they truly landed the best third string center.
For the purpose Ratliff is meant to serve, he fits the bill pretty well.
Well, save an unexpected development, the roster feels more or less set. And if I may offer my humble opinion, an offseason securing the services of Phil Jackson, Derek Fisher, Steve Blake, Matt Barnes, Theo Ratliff, plus two potentially useful players in the second round of the draft, is a summer well utilized. The core was maintained, and the bench was strengthened. Can't ask for much more without being greedy.
I doubt Mitch Kupchak will take time to relax, but he earned the right. If nothing else, he should allow himself the treat of a martini while chained to his desk.