"In our business," free-agent-to-be Derek Fisher said at his exit interview in June, "you have to find a way to put a price on things that sometimes you can't quantify."
Fish wasn't explicitly referencing his forthcoming contract negotiations, but rather the value of a commitment to winning. From the organization, from him, and how hard it is to put a price on it. But he certainly could have been alluding to his own value as well. No player in the NBA may have more of his wrapped up in those things unable to be measured: presence, leadership, experience, toughness.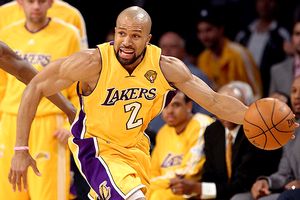 Christian Peterson/Getty Images
Defining the value of Derek Fisher in dollars is a tricky enterprise.
"His significance to our ball club and to me," Kobe Bryant said earlier this month, "cannot be overstated."
Not for the Lakers it can't. For other teams around the league? Not as much. There are only so many organizations willing to pay for intangibles when performance is a question mark, and fewer still for which Fisher would play at this stage of his career. Reportedly looking for a two year deal worth $10 million, Fisher found himself in the market without much leverage. In the end, Fish hit the $10 million mark, but needed a third year to get there.
Not a terrible deal for a near-36 year old point guard coming off arguably his worst season in half a decade, maybe longer.
Reading the post-signing statement Fisher issued on his website left an impression of happiness to be back in L.A. -- his expressed desire was always to stay -- but that he wasn't totally thrilled with the process and terms. His words felt terse, pointing out the influence of Kobe and his appreciation for Lakers fans, but making no mention of the organization while pointing out he could have made more money in another city.
Friday afternoon, Fish met the media for the first time since inking his new deal, stepping outside for a few moments during the final day of his Derek Fisher Basketball Academy at H.A.X in Hawthorne. His negotiations are in the rear view mirror, but nothing about those 15 minutes altered the first impression. I asked if he felt any frustration with the organization specifically. "I don't want to say frustration, that's not the right word," Fisher said. "I fully understand that this is a business and they have a job to do in terms of negotiating contracts and trying to re-sign guys. I fully respect it."
As he continued, his words were more pointed, if still subtle.
"So for me it's about bringing that mentality in when I show up to work. It's about business and not as personal as you may think it is. You're here to do a job. For the next three years, I'm ready to do my job the best that I can do it and we'll still have largely the same goals as we've always had, which is helping the team and winning championships. Anything outside of that is not to spend time on."
Fisher talked more about his devotion to the city, the relationships he's built in the community, to winning, to his partnership with Kobe. Conspicuous in its absence was mention of Dr. Buss and the organization. There was still some bruising, less I suspect from the notion his backup will be making more than him, more from the idea the Lakers squeezed him despite everything he's given the team over the years. (If that's the case, I sympathize but don't agree. Fisher was forced to give up some money, but the Lakers extended a third year to the deal and will pay him until he's nearly 39 years old.)
None of this will matter in the fall. I'm not sure it'll matter in a week. Fisher is too professional, too dedicated to his craft and his teammates to let less-than-ideal contract negotiations compromise his leadership or detract from his effort. Nor do I believe this summer will fundamentally alter Fish's relationship with the Lakers. If the process were truly damaging, he wouldn't have re-upped for three seasons.
It's a reminder, though, of how in running off the list of descriptors, we often leave an important one out: Derek Fisher is an intensely proud man. He plays with a well-earned chip on his shoulder, coming from a small college, never quite possessing the athleticism or speed of his contemporaries. For the last few years, he's fought criticism about his performance (sometimes deserved, sometimes not) and age. As much as fans loved him during those moments of the playoffs when Fisher came up big, during the regular season for every positive e-mail we received about him, at least six or seven were negative.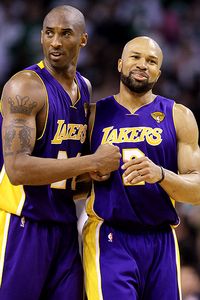 Michael Dwyer/AP Photo
Kobe Bryant had a major influence on Fisher's return.
He knows people follow him with shovels, ready to bury him at the drop of a hat. He doesn't like it, and relishes the opportunity to prove people wrong.
At his exit interview, Fisher said his starting gig will have to be taken from him. His role on the floor during crunch time? Ripped from his hands. Which you'd expect from a guy who competes as hard as he does. Fisher believes he still has a great deal to offer as a player, and could produce much more if not for the limitations placed on him in L.A.'s system and the quality of his teammates. We wonder how he'll produce until nearly 39 years of age, he sees a guy ready to provide value through the length of his new contract.
"I didn't sign a three-year deal by accident," he said Friday.
For the Lakers to "low ball" says he's getting too old to be paid not just a presence, but a player, too.
When he arrived for his second go round in L.A., Fisher told me the key to playing with Kobe is the fortitude to protect your space as a player, even when subject to one of the more intimidating death glares the league has to offer. Fish is one of the few guys around who gets the benefit of the doubt from 24, but increasingly he's forced to defend his space from the rest of us. No question Fisher could bounce back from a poor '09-'10 season -- nobody takes better care of himself or works harder, and he's never been reliant on a high-flying act for success-- but if he starts slowly it won't be long before his triumphs in the last two Finals are forgotten and calls are issued for Steve Blake to eat more minutes.
A few years ago, the Dodgers filled the clubhouse with savvy vets brought in to provide leadership. Which they did, until their collective performances slipped and their names weren't in the lineup quite as often. Positive vibes grew sour, and the locker room collapsed along with it. They could lead, but couldn't handle younger players taking at-bats.
The notion of Fisher as locker room poison is very hard to picture, but I tell the story because for pros, even the most upstanding, to confront their own athletic mortality is a very difficult process.
The day will come -- probably about three years from last June -- when Derek Fisher gracefully steps aside with all the fanfare and accolades he's earned in his time with the Lakers. Uncomfortable moments like the ones coming this summer will fade into the background. In between, though, there will probably be a few more, because Fish intends to finish his career on his terms, conceding nothing along the way. Still, concessions will likely come, because his isn't the only vote. In the battle between age and athlete, age always wins. The only real variable is how long it takes, and how the athlete handles it.
As a player and a person, Fisher has been the epitome of professionalism and poise. A genuine role model.
The three seasons ahead of him are likely to test those qualities like none of the 14 coming before.
VIDEO