Early in the post-Shaq revival of the Lakers, en route to regaining admission into the NBA's Elite Squads Club, they picked up a reputation as the basketball equivalent of merchandise at Gearys of Beverly Hills -- best when seen but not touched. (By the way, etiquette allows a year to send a gift, so it's not too late to help fill a few small holes in Lamar and Khloe's wedding registry.)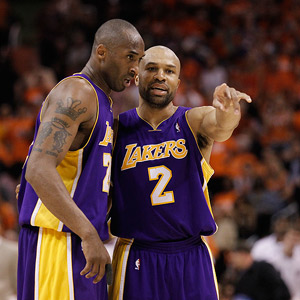 AP Photo/Chris Carlson
Kobe Bryant have always been tougher than overcooked pork chops, and now the Lakers team around them shares similar traits.
Initially, the label was overblown but true enough. Take it back to 2008. The Lakers were tough -- there's no other way to get to the Finals -- but their identity was on the offensive side of the floor. There were many reasons they lost to the Celtics, but clearly Boston was the tougher team, physically or mentally, in that Finals. Through a championship a year later and even heading into and during last year's playoffs, the Lakers were still too often called an offense-oriented team only periodically interested in defense, despite all evidence to the contrary.
Some of it is image: People rightly associate the Lakers with flash, glamor and glitz and wrongly draw parallels between what happens around the court with what happens on it. Over the last three seasons, though, the Lakers have fundamentally changed their character and composition in a way defying the stereotype.
Call it evolution by devolution.
Since Game 6 -- yes, that Game 6 -- Mitch Kupchak has consistently found ways to use, or make available, roster spots, operating almost like that kid who eventually turned an iPod into a Porsche just by swapping things on Craigslist.He's taken steps big and small, but all have led to the same place, namely filling the Lakers with players willing to chew the arm off their opponents, should the need arise.
Look at the team the Lakers will put on the floor this fall:
Kobe Bryant is quite possibly the most hyper-competitive person on the planet. He will clutch, grab, toss elbows, push, shove, and scratch anyone playing against him. That's just during practice. Derek Fisher is unquestionably a pillar of leadership and integrity as a person, a major reason he's not placed in the same ballpark as John Stockton when it comes to on-floor deportment. Not that Fish is a dirty player, but he's extremely physical and takes guff from nobody. (Said Kupchak of Fisher earlier this week: "I'd hate to be around him when there's a loose ball. If you've got your hand on the loose ball, he's going to break your arm to get it.") Nor is he afraid to deliver guff, as Luis Scola can attest.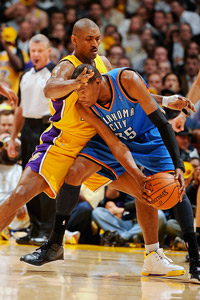 Andrew D. Bernstein/NBAE/Getty Images
Ron Artest's arrival drastically changed the culture of the Lakers. As you can see, when it comes to defending, he'll get all up in your business.
Ron Artest is ... really, I shouldn't have to finish this sentence.
Andrew Bynum showed grit playing through serious injury last spring some wondered if he had. Pau Gasol wasn't genuinely "soft" when he got to L.A. from Memphis, but he's a lot harder now. Lamar Odomis plenty tough, and inconsistencies aside plays with great emotion. To this mix, the Lakers have added Steve Blake, as scrappy a player as you'll find, and Matt Barnes, who as Kobe will tell you, is crazy enough to mess with Kobe.
That's pretty crazy.
I recently received a comment in the mailbag contending the Lakers are the now the toughest team in the league. They very well could be. Or maybe not. It's hard to quantify and whether they're first or fourth on the toughness ladder isn't really important. What matters is the Lakers are a fundamentally transformed group compared to the teams of three or four years ago, and it didn't happen by accident. Speaking to the media Monday at Barnes' introductory press conference, Kupchak was asked about the team's evolution:
"I think it was a conscious effort to get tougher. Adding Ron Artest, we didn't add him because he's a 25-point-per-game scorer. We added him because of his defensive ability, his toughness that he brings to the court. Andrew Bynum. He's very important to us. I wouldn't say you'd lump him in a category with Matt and Kobe and Ron, but he is a big physical player and you need players on your team who provide that type of ability. So I thought a couple of years ago we weren't, when Andrew got hurt, we weren't very, I guess, "tough" is the word. Kobe may have been our toughest player. But Andrew came back this year. And we added Ron Artest. And now Matt Barnes is going to help even more so."
There have been trade-offs. Despite the skill of Bryant and Gasol, the Lakers aren't as polished, with fewer moments of sustained dominance scoring the ball. While L.A. should improve on a poor '09-'10 season offensively -- Blake adds a badly needed outside shooter, Artest has another year in the triangle (though it may not matter), Kobe and Bynum should be healthier, and so on -- that they do so significantly simply isn't as important as it was in years past. They have to be good, which for long stretches last season they weren't, but no longer need to be great. Last season's Finals proved as much. Over seven games, only twice did L.A. exceed its season average in offensive efficiency. As much as we talk about team splaying their best basketball as the playoffs roll around, often the end is about simple survival. After 82 games and three rounds of postseason play, the Finals is a battle of attrition.
It's reasonable to trade aesthetics for mud boots.
Particularly since the fit is good. Rather than try to surround Kobe with high fliers as he gets older, it makes sense to give him highly skilled players also capable of grinding out wins, even if it means sacrificing some pure athleticism along the way. It best mirrors and supplements the skill set and style Kobe brings to the floor entering his 15th year, while orienting the team constructively for title runs getting more difficult with each attempt.
That the Lakers can thrive in a wider variety of environments, whether asked to go up-tempo against a Phoenix squad or grind vs. Boston, makes the possibility of three straight titles much stronger.