There was a time when Shaquille O'Neal signing with a championship contending Boston Celtics squad would have seemed like a slap in the face to the Lakers, a calculated and cynical flip of the bird. And it would have been, with O'Neal likey declaring it a new genus and species. Shaqtius Birdius, perhaps.
Not anymore.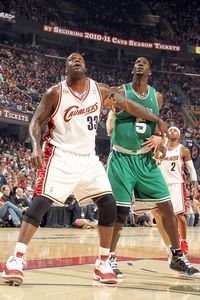 Nathaniel S. Butler/NBAE/Getty Images
He couldn't beat 'em in Cleveland last year, so this season Shaq is joining 'em.
Since leaving L.A., Shaq has played in Miami, Phoenix, Cleveland, and now, as ESPN.com Chris Broussard reports, he'll be joining the Celtics. There's nothing calculated about playing for Boston, other than the simple arithmetic of aging former star hoping to play for a contender + contender having use for one more big body = what appears to be a one year deal for the veteran's minimum. The only other team linked seriously to O'Neal this summer was Atlanta, and for a guy very obviously interested in clinging to relevance in the NBA, playing at Philips Arena in one of the league's most apathetic markets just won't do. Besides, the Hawks aren't a top-four team anymore in the East, now that Chicago and Miami have added so much firepower, and Shaq isn't enough to get them there.
Interest in O'Neal was flagging to the point rumors, however far-fetched, swirled about the Big Diesel becoming the Big Passport and taking his act to Europe. He's just a guy looking for a job.
If Monday you believed Shaq was worthy of having his number retired here- I do- a season in green shouldn't change things. Should the thought of raising 34 to the rafters seem like the equivalent of having surgery (on company time, of course) without anesthesia, his petulant behavior near the end of his run in purple and gold combined with moments of pettiness after ought be the dominant reason. That at age 38 he's elected to play for the Celtics is incidental.
Boston could just as easily have been any other team in the NBA.
I'm sure are Lakers fans whose sensibilities are ruffled, but they shouldn't be. O'Neal isn't important enough anymore to make it worth the increase in blood pressure. (Besides, he's floated the notion of returning to the Lakers here and there, and wisely has been rebuffed. It's not like he's spurning the L.A. for Boston. The Lakers don't want him.)
The bigger question is what kind of impact Shaq will have on an aging-but-still-dangerous Celtics team. To that end, I'm not convinced it'll be all that significant.
At this point in his career, Shaq really only does one thing at a high level- play offense one-on-one in the post, and no question it's a skill the Celtics can use. Kendrick Perkins, once he's healthy, isn't a scoring threat, and Jermaine O'Neal, added earlier in the summer with Boston's mid-level, still has skill but isn't a guy commanding attention in the low block. When he gets good position, Shaq continues to command frequent double teams.
On the other hand, as Zach Lowe of Celtics Hub notes, mobility on offense is an incredibly important aspect of Boston's offense. Kendrick Perkins is all over the place setting screens to spring teammates, particularly Ray Allen. Can Shaq do that? And for a team built on defense, adding the Diesel doesn't exactly do much to maintain the status quo. They might be good enough around him to paper over some of Shaq's shortcomings, but he certainly won't help on that end. He's never been particularly strong in the pick and roll, and Boston's schemes demand activity. They trap, they rotate hard, they help the helper. I don't know if Shaq can consistently do those things anymore, even in 15-20 minutes a night.If he can't, how much will he play with Boston's top players?
Nor do I know exactly how he'll fit in. At the start of the season, the O'Neals will form a tandem in the middle, but what happens when Perkins returns? Where does Shaq play, against whom, and for how many minutes? He can't play with Perkins, and putting both O'Neals on the floor together is incredibly problematic defensively. If he's coming off the bench, it leaves Shaq playing a lot with Glen Davis. Again, for a team built on defense, how is this a good idea?
I haven't even mentioned health, yet.
In the end, how much Shaq helps Boston is almost entirely dependent on how willing he is to play a role even less central to the team's success than he did in Cleveland last year. Identify his skill set and slap it on some random player, and a short-term deal for the minimum seems like a low risk, high reward. Except we all know Shaq isn't an off-the-rack choice at the free agent shopping center.
For now, it doesn't seem worth the trouble for John Q. LakerFan to worry about Shaq in Boston. There's no betrayal, here. Of course, there's certainly a chance the NBA could get a Kobe vs. Shaq (or at least a team with Shaq on it) Finals this spring. Boston won't be my pick, but it could definitely happen, and would obviously change the context of things. Undoubtedly, we the media would flock to O'Neal for quotes, and he would undoubtedly oblige, delivering copy almost certain to inflame Lakers fans.
That's a long way off. For now, this is a momentary blip in the normal, run-of-the-mill distaste in L.A. for all things Green, and a chance to take a quick break from hating the SuperTeam! in Miami.