Jerry Buss is keeping the band together.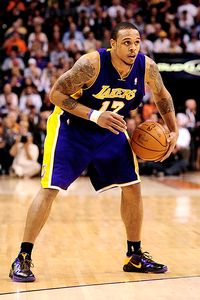 Mark J. Rebilas
Shannon Brown has decided to stay in L.A. and go for a third ring.
Thursday morning, Shannon Brown's agent Mark Bartelstein confirmed the Lakers and Brown agreed to a two-year deal worth $4.6 million, reports ESPNLA.com's Ramona Shelburne. The second year is a player option, meaning if Brown has a successful '10-'11 campaign, we'll all likely be back in this position again next summer (potential lockout notwithstanding).
It's obviously very good news for the Lakers, who retain athleticism in the backcourt and bolster their depth behind Kobe Bryant at the two. With Brown back, Sasha Vujacic no longer serves as Kobe's primary backup, and Brown's presence gives Phil Jackson more ways to utilize Bryant's effectiveness lining up at small forward.
Andy will have more on the significance later in the afternoon, but no question fans have reason to smile. Brown's return, combined with the additions of Steve Blake, Matt Barnes, Theo Ratliff and potentially useful second-rounders Devin Ebanks and Derrick Caracter mean the Lakers should start next season having turned a questionable bench into a strength.
The Knicks reportedly offered Brown a deal worth more for next season, but without a second year. Without long-term security, there was less incentive for Brown to jump east. He could have found more PT there, but at the same time it's hard to believe he'll play less than the career high 20.7 minutes a night Brown logged last year. The Lakers didn't bring Brown back to tether him to the bench. Kudos to Mitch Kupchak for continuing to stay in touch with Brown's team, and also showing great patience with the process, something becoming a staple of negotiations in El Segundo.