As part of our look ahead at the Lakers' projected roster next season, we continue to work our way from the bottom to the top of the rotation. Next up...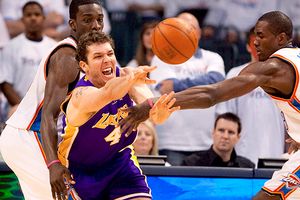 Dilip Vishwanat/Getty Images
It remains to be seen whether Walton will be
healthy enough next season to help facilitate
the offense.
Player
Luke Walton
Salary
Role for 2010-2011
The quintessential "your guess is as good as mine" crap shoot. Never a strong bet to go a season without an injury, 2010 was a particularly bruised affair for Walton. A bad back limited him to a career-low 29 games, with stats mirroring that valley nearly across the board. During his exit interview, Luke expressed hope surgery could be avoided, but to the best of my knowledge, a date with the knife hasn't been ruled out. Mitch Kupchak drafted Devin Ebanks in part as insurance should the seven-year veteran miss a large chunk of time. Since then, Kupchak has expressed concern Walton could miss the entire 2011 season. Hence, the signing of Matt Barnes.
Backs can be difficult to treat and even harder to predict. They can be set off by anything from hard contact to a sneeze to just sleeping funny. One day you feel great. The next day, horrible. But whatever lack of progress for Walton since last preseason (when this ailment first surfaced) hasn't been for lack of trying. Or lack of desire to carry his weight. I can say with absolute certainty Luke's not the kind of player content to simply cash an unearned check. He was quite unhappy and frustrated by this turn of events.
Unfortunately, the same experience could be on tap next season.
At any rate, Walton's availability may be up in the air like George Clooney, but his role will be relatively limited even if healthy. Barnes figures to steal away the majority of minutes Luke would have gotten as Artest's main sub, and Kobe will sometimes check in at the wing, too. Not much leftover beyond scraps for the son of Big Red.
But that's not the same thing as having no role whatsoever. Walton knows the offense better than either Artest or Barnes, and more specifically, can run circles around them running it. For that matter, he's among the better Lakers at this particular skill set, with a knack for goosing the triangle when things grow stagnant or cockeyed. Most recently, he did a nice job filling in for Artest during Game 3 of the Finals when the starter got into early foul trouble.
The Lakers' propensity for inexplicably (and regrettably) abandoning the offense means Walton's ability to ground the action will always have a use. Thus, health assumed, Walton will likely work as a specialist of sorts. Baseball has situational lefties. Football has third down backs. Hockey has enforcers. Walton will also have a "gig." On certain nights, he'll be called upon to restore order and flow. More often than not, he'll be asked to do very little. Unless he's unable to suit up, of course, which could mean another season of specializing as an honorary assistant coach. Not that Walton didn't enjoy the experience last season, but it's definitely not his first choice.
Best Case Scenario
A summer's worth of therapy and rehab takes, allowing Walton to be contribute in sparing but meaningful fashion. So joyous is Walton over his return to health, he celebrates by bringing Joey's Smokin' BBQ to every home game for the media to eat (feeding reporters being the logical, natural reaction to this good fortune).
Worst Case Scenario
Fans become incredibly well acquainted with Walton's taste in suits. Even worse, there's so little improvement, the 2011-2012 season appears jeopardized as well. No rejuvenation means no BBQ in the press room, and as those who eat there on a regular basis will attest, that's the real tragedy here.
Previous Breakdowns