On this week's podcast, we spoke with longtime L.A. sportswriter Steve Springer, who covered the Lakers for over two decades, noting the achievements of owner Jerry Buss both in Los Angeles with the Lakers and contributing to the resurrection of the NBA. Friday night, he was officially inducted into the Naismith Memorial Basketball Hall of Fame. Unfortunately, not everyone has NBA TV, so it's possible many fans didn't get a chance to see his induction speech.
No worries. Below is the transcript.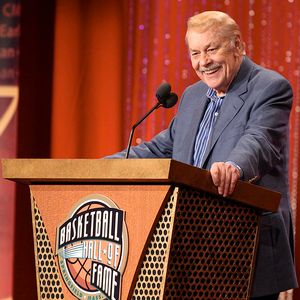 Nathaniel S. Butler/NBAE/Getty Images
Jerry Buss delivers his Hall of Fame induction speech in Springfield Friday night.
"I guess you can tell I'm happy to be here. In fact, I'm probably happier than anyone, because most of the people that come up here have an inkling of the idea that someday they may make the Hall of Fame. Believe me, when I was 21, I never thought I'd be enshrined with Magic Johnson, Larry Bird, Michael Jordan. In high school, I was on overly competitive but under-ly endowed player. I turned to heavy studies, and eventually won a scholarship to the University of Wyoming. I worked hard at the books, but I always took time to watch Wyoming play.
A lot of people don't know this, as a matter of fact -- Wyoming won the NCAA basketball championship (in 1943).
After my university graduation at Wyoming, I went to graduate school. I had a lot of offers, but I chose the one with the best athletic program: USC. I became a die-hard basketball fan, with early memories of Walt Hazzard kicking the crap out of my beloved Trojans.
I was awarded a PhD in chemistry, and immediately went out to seek my future. Made a lot of money in real estate, and after 15 years I started to dabble in minor league sports. At one time, I owned a tennis team, a soccer team, a volleyball team, and promoted boxing matches. This entrance into the entrepreneur's side of sports eventually led to me becoming a major league owner.
After two years of endless negotiations, I purchased the Los Angeles Lakers. What a dream come true. And then my path to my presence here began. It is difficult to explain the excitement and the reverence the first day, when Jerry West and Bill Sharman came into my office. I couldn't believe I was suddenly in charge a legendary franchise, and that my thoughts would influence the future of this team for so many years. This is the way every owner should begin -- two of the most knowledgeable Hall of Famers of all time.
And this was just the beginning. The next step, we drafted Earvin "Magic" Johnson, surely one of the most gifted athletes in any sport at any time. His exploits and personality elevated the franchise to the heavens.
We became, and still are, the very best of friends.
How many fabulous hours we spent together. Chocolate donuts, playing pool. Playing ping pong -- he used to let me win, incidentally. He was always a promoter. Well by now, I was beginning to feel that I was walking on a golden path. The first year, we won the championship. The first day of practice, I was introduced to yet another larger-than-life player, Kareem Abdul-Jabbar. The greatest scorer in history. What a thought I had. Happiness, knowing he played for the Lakers.
My Lakers!
We lost the next year, but we gained another heroic figure in Pat Riley. He was the man who brought four championships to Los Angeles. What a career, what glory, what fun to have you as my guardian angel. Jerry West decided another Hall of Famer, so he drafted James Worthy. Big Game James, certainly one of the nicest men anybody will ever meet. There were times when I would sit in the locker room, and I would be surrounded by five Hall of Famers.
As a fan, you can't imagine how wonderful that feels.
Still, it couldn't last. We had a few rough years. We missed the playoffs one year -- something unheard of in Lakerland -- and then the chapter two begins. Jerry West comes to me and says he has an eye on a 17-year-old phenomenon, Kobe Bryant.
I said, "Great, in three or four years, he'll be good."
He said, "No. Now."
I said, "What?"
"Well, not only that, Jerry," he was telling me, "also Shaq has said he wants to come to Los Angeles. This could be the greatest one-two punch in the history of basketball."
"OK," I said, "let's go for it."
The two became Lakers, and then it only remained to have a guru with mythical statistics, Phil Jackson. Another Hall of Famer added to my cup, which no doubt was runneth over. Another three championships, each one distinct and flavorful.
But chapter two had an ending as well. We had a few bad years. We missed the playoffs another time, the second in my 31 years. But good fortune was still on my side. He listened to my plea when I said "Come back, Phil, come back!" I mixed in a little Spanish future Hall of Famer named Gasol, and voila! Another two championships.
Life is good, life is sweet. I am blessed with a wonderful family, who have helped me and guided me every step of the way. This support is the best anybody could ever have. I say thank you, my children.
So you see it's really not such a miracle I'm here. These men put their hands together, their souls together, and brought me with them. And I thank each and every one of you from the bottom of my heart."