As part of our look ahead at the Lakers' projected roster next season, we continue to work our way from the bottom to the top of the rotation. Next up...
Player
Steve Blake
Salary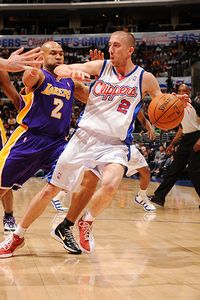 Noah Graham/NBAE/Getty Images
Steve Blake could be elbowing Derek Fisher out of some PT.
Role For The Lakers In 2010-11
When Derek Fisher returned to the Lakers in 2008, it was assumed he would initially start, but the bulk of the minutes would gradually be eaten by either Jordan Farmar, (at the time) Javaris Crittenton, or (the following year) Shannon Brown. The thinking was, one of those players would surely emerge as an heir apparent, and Fisher would begin transitioning into the "more of a veteran presence" stage of his career. Three years (and a new contract) later, the starting gig still must be pried from Fisher's hands, while Farmar is in New Jersey, Crittenton is unemployed and Shannon Brown remains a Laker, but is no longer being groomed as a point guard. Fisher's playoff heroics and speechifying powers cemented his already-obvious value, but his shaky regular season reinforced the need for a capable hand to help carry a reasonable load.
Blake will get a shot, and I think the Lakers have finally landed the right guy. (At the very least, they landed a guy who has made a career out of bringing his best against the Lakers, so a semi-thorn in the side has been removed.)
The well-traveled guard has never been a star, nor even a starting five fixture, save the first two seasons of his second tour with Portland. But that's fine, since the Lakers don't need any more big names. They need players to fill certain needs and bolster a strong foundation, and what strikes me as ideal about Blake is his ability to do both. The Lakers' most glaring weaknesses last season were outside shooting and an inconsistent bench. Having connected at 40+ percent in his last three seasons, Blake should serve as the reliable deep threat Sasha Vujacic was supposed to be. He should also be the floor manager Farmar never was (or wasn't allowed to be, if you're siding with the Bruin). Blake can score, but his instincts typically revolve around setting up teammates. Between his skill set and mentality, I predict he'll be a much better fit than Jordan as the bench squad's backcourt QB.
As for other purple and gold priorities, the new guy should blend in nicely. Blake may not be an elite defender, but he is a scrapper who doesn't back down, and no less than Kobe Bean Bryant has taken notice. His decisions are smart and careful, as demonstrated by an assist-to-turnover ratio no lower than 3.0 since 2005. His career mark at the line is a solid 78 percent. And he's been a part of a championship program, albeit at the NCAA level with Maryland.
Plus, he's MMA trained, should a "hand-to-hand combat" void be felt in D.J. Mbenga's absence.
Best-Case Scenario
Blake and the triangle mesh like peas and carrots, allowing a retooled second unit to develop fast chemistry. His facilitating allows Odom more freedom to find his own shot (dare to dream!) or just lessens the southpaw's table-setting responsibilities on every second-unit possession. The quest to reduce Fisher's minutes becomes more than a wish list item. Before too long, the two are basically splitting minutes. The regular season production improves and Fish's legs are fresh as a daisy come mid-April when the games really matter.
Worst-Case Scenario
Lack of familiarity results in a lack of production, as Blake spends the majority of his Laker debut uncomfortable doing much more than spotting up in the corner. Even worse, those hoists refuse to fall, keeping the Lakers as ineffective from outside as the last few seasons. Willing defense can't offset a lack of size while fighting screens or checking larger opponents. The ripple effect of these struggles equal another inconsistent campaign for the subs, who can't be counted on to maintain or build a lead. And then BK and I look like idiots, having trumpeted Blake throughout 2010 as an ideal free-agent addition.
In other words, Blake is no upgrade over Jordan Farmar, and is under contract through 2014. Fisher's minutes remain disappointingly high, and it's looking like he'll be the team's starting point guard until age 48.
Previous Breakdowns
Luke Walton