As part of our look ahead at the Lakers' projected roster next season, we continue to work our way from the bottom to the top of the rotation. Next up...
Player
Lamar Odom
Salary
$8.2 million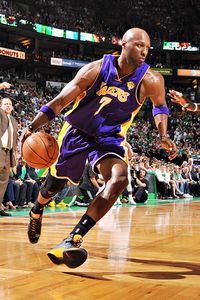 Jesse D. Garrabrandt/Getty Images
Lamar Odom had his moments last season, good and bad. The ratio between the two this year could help determine whether the Lakers win a third straight title.
Role for the Lakers in 2010-11
It's not that Lamar Odom played poorly last season, because he didn't. Some of his numbers (scoring, field goal percentage) went down, others (rebounding, assists) went up. Looking at the advanced metrics, it's the same story. Some fall and others (particularly his percentages on the glass) rise. The full picture, particularly since it ended in a ring, was hardly some sort of unmitigated disaster. At the same time, relative to the '08-'09 campaign, Odom didn't have the same impact. While people tend to harp too much on inconsistencies in Odom's output- he's hardly the only player whose production fluctuates and finding another guy around the league whose role changes from night to night more than his- his playoffs, and particularly the Finals, were a very mixed bag.
During the regular season, injuries to teammates had Odom sliding in and out of the starting lineup, and meanwhile issues with fellow reserves hurt his performance on a personal level, and of "his" second unit as well. Adding Ron Artest to the mix muddled Odom's role offensively, tending to push him towards the perimeter and emphasize even more his natural tendency towards deference. Still, Odom played the same role last season as he will this year: Sixth man, jack of (many) trades, rebounder, and- on the good days- a game changer.
He'll again reprise his role as arguably the NBA's most unique sixth man, and fill in as a starter should Pau Gasol or Andrew Bynum miss time with injury. In theory, at least, he represents another offensive threat for the Lakers, one creating matchup problems for the opposition whether for the player guarding him, or because his presence creates a mismatch for a teammate to exploit. Ideally, the Lakers can get him on the block more often than they did last season- 51 percent of his shots last year were jumpers, compared to 44 percent in '08-'09- where his length and skill are far more useful.
Odom's rebounding is a catalyst for L.A.'s fast break, whether he goes coast to coast or makes the outlet pass. To the extent the Lakers push, Odom is a huge factor.
Defensively, Odom's role, particularly on the boards, is vital to L.A.'s success of that side of the floor. His versatility makes it tough for opponents to force the sort of big/small switches that could poke holes in the Lakers D, and he's a big reason they're able to lock down so effectively (see Game 7 in the Finals).
Best Case Scenario
Odom stays aggressive throughout the season, putting his stamp on games. While it may not translate to more points per game- from a scoring standpoint, Odom is often a fourth, even a fifth option on this stacked Lakers team- the threat of Odom scoring is as important as actual points. (When he forces the opposition to account for him, easier lanes open up for teammates. When he crashes the offensive glass, the Lakers pick up "cheap" points.) Odom's ratio of jumpers to shots from close range is more favorable. His floor game is solid, resulting in something approximating the incredibly positive +/- numbers he had two seasons ago, when he sported the highest figure per 48 minutes than anyone else on the team. It's a package pretty enough to stick him squarely in the league's sixth man award race. (Candidacy likely would mean Gasol and Bynum stay healthy, a nice little bonus, to be sure.)
Worst Case Scenario
Last season's moments of awkwardness become more commonplace. His drifts to the three-point line prove more permanent than anyone would like, leading to more threes and, therefore, more empty possessions for the offense. Despite playing 77 or more games in five of his last seven seasons, the injuries he's worked through pile up and force Odom to miss games, impacting significantly the players around him and the rotation generally.
Luke Walton
Shannon Brown