As part of our look ahead at the Lakers' projected roster next season, we continue to work our way from the bottom to the top of the rotation. Next up...
Player
Theo Ratliff
Salary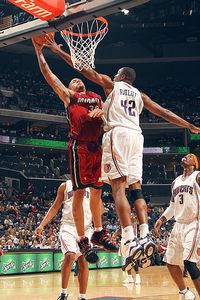 Kent Smith/NBAE/Getty Images
Look at Old Man Ratliff get up there!
Role For The Lakers In 2010-2011
It's not easy being a third string player on a championship team. You work very hard, but the payoff rarely arrives in tangible form. You're told to remain mentally ready, but the odds favor remaining physically stagnant. You don't have to like sparse playing time (nor should you, really), but you have to accept it.
From mid-2008 through 2010, D.J. Mbenga played this role at center for the Lakers. On the whole, he did an admirable job staying focused, working hard for little acclaim and performing well when called up upon. But over the course of last season, the job constraints began to wear on Mbenga, who felt he could be on the floor more often. During the Finals against Boston, Phil Jackson noted how Josh Powell (another third stringer) remained sharp during these long stints without PT, but Mbenga had allowed his mind to wander. Not so coincidentally, Adam Morrison was suddenly activated for a game in favor of D.J., despite Andrew Bynum's balky knee and Ammo's last bit of run coming in approximately 1997. A message was clearly sent. It may very well have been received, but during his exit interview, Mbenga reiterated his desire to get more run, making a split feel even more imminent.
It could be argued Mbenga has an inflated sense of skill. During the sporadic occasions of extended run, the returns were mixed and often increasingly diminished the longer he remained on the court. He also remains unsigned, and a landing spot is hard to predict. Nonetheless, D.J.'s desire to grow as a player is understandable and admirable. Unfortunately, it doesn't mesh with what is needed.
Enter Theo Ratliff, who strikes me as the best of both worlds in this setup.
At 38 years-old and 15 seasons into a career, Ratliff has accomplished more or less everything he set out to do... except win a championship. Security in ones resume, plus the desire to finally snag a ring, will make a theoretically limited role more palatable. On the flip side, should Ratliff's number be called, I actually think he's better suited for the gig. As much as I got a kick out of Mbenga's guaranteed "heat check" following any drained jumper, the guy was an underrated black hole on offense. When D.J. was in the game, you could often see the wheels turning in his head as he looked for his shot. Ratliff, however, won't be looking to prove himself as a polished player. He is also a more experienced and accomplished defender than Mbenga, and will gladly do nothing more than anchor the second unit should this be asked of him.
The latter stage of Ratliff's career has featured one injury after another, but upon learning about the rejuvenating power of mineral supplements, the pep has returned to his step. Considering he has only been a Laker since late-July, I doubt Theo knows Gary Vitti particularly well yet. Hopefully, they'll remain nodding acquaintances.
Best Case Scenario
In a truly perfect world, Ratliff would do very little beyond giving advice to Bynum, take rookies Derrick Caracter and Devin Ebanks under his wing to show them the NBA ropes, and proving his Grade-A locker room presence isn't mere reputation. This isn't a knock on Ratliff's ability or age, but rather an acknowledgment of what 82 games worth of limited minutes likely means: A clean bill of health for Bynum, Pau Gasol and Lamar Odom.
Unfortunately, Bynum's established history, Gasol's suddenly vulnerable hammys and Odom's always vulnerable shoulder and knees, this hope feels as realistic as winning the lotto after choosing numbers suggested by a unicorn. Chances are, injury will push Ratliff into action at some point during the season. I don't expect him to be anywhere close to the force he was during his All-Defensive second team peak, but a facsimile with just enough ink to be legible would be enough to help the second unit maintain whatever foundation created by the starters.
Worst Case Scenario
The restorative power of minerals bend to the will of creaky bones and Father Time. Ratliff looks his 38 years while filling in. Or worse, he's among the walking wounded himself, recreating last season's thin options for a true backup center.
Previous Breakdowns
Matt Barnes