On the one hand, L.A.'s one-point loss to San Antonio on Thursday night feels like a another in a long run of frustrating results for the purple and gold. Another loss on their home floor, another chance to beat the league's elite gone by the wayside. On the other, they showed more grit and drive in this game than any in recent memory, and it's not hard to feel as if more efforts similar to this one will produce plenty of wins.
Then again, it didn't tonight. Is it comforting, as two-time defending champion, to know you played hard, and at times very well, even if the result was lacking? Sure, to a point, but once you pass it, it sounds a lot like getting into moral victory territory.
Not the kind the Lakers are looking for.
Here's how it broke down...
Lowlights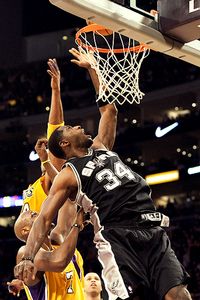 Harry How/Getty Images
Antonio McDyess' third field goal of the night was a tough one for the Lakers to absorb.
1. Box. Out. The Lakers won the rebounding battle, 44-38. They surrendered only 10 offensive rebounds on 50 Spurs misses, a very reasonable 20 percent rate, below San Antonio's season average (25.45). ORBs for the Spurs were a problem early, when the Lakers surrendered five in the first quarter, but more important hurt the Lakers late. In what would eventually become San Antonio's winning possession, L.A. had three opportunities to secure a game-winning rebound, and couldn't. Manu Ginobili missed a three on the wing, rebounded by Antonio McDyess. Tony Parker missed a floater in the lane, but Ron Artest couldn't secure the ball as it was tipped around underneath. Finally, Tim Duncan missed what seemed like the final shot of the game...
...until McDyess managed to sneak inside for the winning tip with virtually no time left on the clock. Fourth-chance points to win the game? That'll sting.
(Not that anyone will remember, but Parker also converted a Ginobili ORB about three minutes earlier- San Antonio's first offensive board since the opening quarter if my math is right- to give the Spurs a four-point lead.)
2. Kobe Bryant's Shooting. A little bad luck, here, as a few of his 13 misses (on 18 attempts) rattled in and out, but the bottom line is a fair number of hoists didn't find paydirt. On the other hand, most of his shot choices were reasonable, and given how efficient he has been over the last few weeks it's hard to be too critical of a night where shots don't fall, especially when his totals aren't out of control. My biggest criticism would be a few jumpers he settled for mid-clock that could have turned into interior looks. Ticky-tack, no question.
But while 5-for-18 is 5-for-18- tough to spin in a positive direction- doing so with the rest of his game is easy. Bryant filled the box score with nine rebounds and 10 assists (that's a near triple-double to you and me), moving the ball well from beginning to end. He racked up six assists in the first quarter, and down the stretch teed up Lamar Odom for a pair of critical buckets down the stretch in the fourth, and rifled a pass to Pau Gasol with 22.7 seconds left to give the Lakers a chance to take the lead (which they did).
Overall, Bryant was very productive. I'm just trying to fill a category, here on a night where the Lakers, like Bryant, did a lot very well. Again, I'm trying to figure out if that should make fans feel better or worse.
3. Derek Fisher. He struggled both with keeping up with Parker in the open floor (so does the rest of the NBA) and his shot, missing four of five attempts. Add it up, and it's no surprise he spent the stretch run on the bench in favor of Steve Blake. Granted, Blake wasn't exactly prolific himself. His two-for-eight line meant the Lakers were a rather wretched three-of-13 from the point, making it an undeniably empty spot in their attack. On the other hand, at least Blake took eight shots, showing welcome aggressiveness.
4. Shannon Brown. His shooting slump continued, as he missed seven of 10 from the field, but at least nine of those attempts came from inside the line. Brown put the ball on the floor and didn't settle for threes, a positive sign for a guy who's shot has fallen off a cliff recently. But on a night where the Lakers didn't take all that many shots as a team (80), if Brown is going to account for 10 of them, more than three need to drop.
5. The Final Score. If the Lakers get the stop at the end, we're all hailing this as a critical victory, perhaps one ready to turn a season. But they didn't. Doesn't change the quality of the game put forth, just the feeling after.
Highlights
1. Ron Artest. More than any other Laker, Artest's game can be judged more on aesthetics, and when he's on -- particularly defensively -- he has that thing. It glows like neon. He's on top of his defender, beating guys to the spot, flashing his hands into passing lanes and harassing ball handlers. He appears in places you don't expect. Tuesday against Houston, he most decidedly did not have it. Didn't have anything, really. Tonight, he did. In the first half, he made a great play to intercept an interior pass to Tiago Splitter, and pounced on Duncan in the post to force a double.
Artest was aggressive and engaged. At different points, he matched up against Richard Jefferson and Ginobili, and was reasonably effective working through screens to keep up with the All-Star Argentine. Even when Manu hit (he finished five-for-17 from the floor) they were often tough shots, like a stepback jumper on the baseline during the third quarter. Offensively, Artest had a couple of head-slapper moments (fourth quarter airball three, I'm talking to you) but was productive as well, catching and finishing with one hand a nice feed from Gasol in the third, then starting the fourth with a tough layup inside. He'd finish with 13 points on six-for-11 shooting.
Was it a function of Wednesday's trade-talk controversy? He'll say no, but given his slump over the last few games, the reversal of fortune doesn't seem coincidental.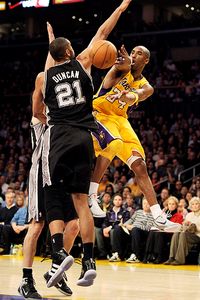 Harry How/Getty Images
He struggled with his shot Tuesday night, but Kobe Bryant moved the ball brilliantly, particularly down the stretch.
2. Defense. If you missed the memo, San Antonio has gone from a team built around a super stingy defensive squad to one of the more ruthlessly efficient offenses in the NBA. There were breakdowns here and there -- to be expected against a team with three All-Stars -- but the Lakers did a great job keeping points off the board, and importantly set a tone early, holding the Spurs to 38.5 percent shooting in the first quarter, and held the momentum into the second (41.2 percent). For the most part, the Lakers contested aggressively and rotated with purpose.
As it was when the Lakers visited San Antonio, Parker had his way, particularly in transition, but the Lakers put a lid on Ginobili and Duncan (8-for-29). All in all, holding a very good offensive team to 89 points ought to be enough to win the game.
3. Andrew Bynum. In the third quarter, he threw perhaps the best pass I've ever seen him make. Popping to the top of the key, he accepted Kobe's feed from the wing, and instantly tossed the ball over the top of the defense to Gasol, working against a fronting DeJuan Blair in the post. Bucket. It was one of a career high six assists for Bynum, who moved the ball extremely well all night. Add in some great work on the glass (10 rebounds) and nice interior work against Duncan defensively, helping contribute to his three blocks, and it gets better.
Top it all off with 10 points on four of seven from the field, and it's a very complete evening.
4. Pau Gasol. 19/7/2, plus great efficiency from the floor (eight-for-10), good work on Duncan and McDyess, and some critical plays down the stretch deserve more than passing mention, but for the time being, that's what he gets. Overall, Gasol stepped up with real intensity and drive Thursday night, despite absorbing a shot to the face leaving him with what looked from my seat like a nice little shiner under his right eye.