The break, she has ended. And for the players repping the two-time defending champs at the All-Star Game, it ended in positive fashion. Kobe Bryant ruled the roost during Sunday's main event, nabbing MVP honors clearly coveted in a local venue. Pau Gasol also did his city proud with 17 points, seven boards, two dimes and two swats. Mamba and El Spaniard were so good, they managed to make Lakers fans forget about the Cleveland loss and the struggles heading into the festivities.
OK, that's a lie, but who wants to be the buzz kill after a fun weekend?
It's back to business for the Lakers, and as you can see from the slate of contests on this week's docket, business will be challenging.
Game of the week
Tuesday vs. Hawks, 7:30 p.m.
Under normal circumstances, this game would qualify as one to keep an eye on. Al Horford is an All-Star with a mid-range game and long arms enabling him to average double-digit rebounds, attributes making him quite the cover for Andrew Bynum. The consensus opinion has Joe Johnson overpaid, but he's still a five-time All-Star -- including last weekend -- and among the more versatile two-way players in the league. As for Josh Smith, his February numbers would have qualified him for the All-Star game: 20.3 points on 57.3 percent shooting. Nine rebounds. A shade over three dimes. A block for good measure. The freakish athlete can be a blast to watch (unless you're Gasol or Lamar Odom, who'll be charged with checking him.)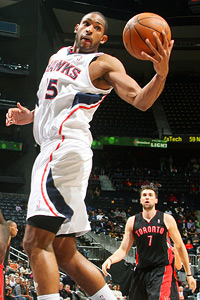 Scott Cunningham/NBAE/Getty Images
Al Horford is among the best big men in the league.
Throw in Sixth Man of the year candidate/scoring machine Jamal Crawford, Mike Bibby's scorching 44.7 percentage from deep, and a solid contributor in Marvin Williams, and the Hawks present a formidable "second half" kick off.
But ultimately, Atlanta gets top honors because it's the first game immediately following the All-Star Break and a three-game skid low-lighted by an unthinkable loss to the Cavaliers. Lakers fans, not to mention the Lakers themselves, will be looking for quick signs the ship has been righted. No better time than the first opportunity to begin easing minds. The longer the wait, the worse it gets for all involved. The time for identity rediscovery is long past "nigh."
On a more enjoyable note, Josh Powell will complete the cycle of ex-Lakers receiving bling. (Adam Morrison, out of the league, was mailed his.) He's playing more in Atlanta, but as a Laker, JP busted his butt in practice for very little PT. Brian and I -- not to mention Kobe -- grew to admire Powell's work ethic, so it'll be nice to see him receive some appreciation.
Other games
Wed at Portland, 7:30 p.m.
If most Lakers entered the All-Star break looking in desperate need of four days off, LaMarcus Aldridge was probably trolling Portland-area pickup games in an effort to prevent his flow from slipping away.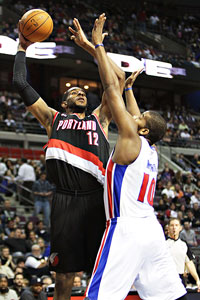 Michael Sacket/US Pressiwre
LaMarcus Aldridge has been destroying of late.
Through nine games in February, the Blazers forward has been averaging beastly numbers: 29.1 points on 57.6 percent shooting. 8.3 rebounds. Nearly two blocks. A shade under nine trips to the line, with a success rate just under 86 percent. The stats provide serious validation for those outraged by his omission from the Staples Center festivities. Even more impressive is the way he's stepped up in the face of non-stop injuries, possibly the central reason his club improbably remains in the playoff picture. Aldridge has spent much of his career in Brandon Roy's shadow but this season has been a coming out party.
Pau Gasol, Lamar Odom and perhaps even Andrew Bynum (Aldridge plays spot minutes at center) will have their hands full. Although, really, nobody on the Lakers should count on a night off. It's the second end of a back-to-back, and the Lakers have one victory in the Rose Garden since Chucky Atkins was an employee. With all sincere respect to last season's Kobe-less triumph, I still consider Portland a tricky place to ball.
Friday vs. Clippers, 7:30 p.m.
For three quarters and change of the Lakers' 99-92 loss to the Staples Center red-headed step-children, Blake Griffin was locked down. The Lakers frontcourt combined defensive forces to exceptional effect, forcing nine misses on a dozen shots. Odom drew a pair of personals against the dunk champion. Even making headway on the glass proved a chore.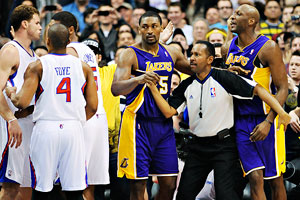 AP Photo/Gus Ruelas
Things got testy the last time the local squads tangled.
Then Griffin found his third wind, and began doing work. Low position denied all night became instantly accessible, resulting in successful drives against Gasol and LO. This surge keyed a come-from-behind win for the Clips, not to mention a scuffle. Blake gave what LO deemed to emphatic a shove to his back while Randy Foye shot a meaningless second free throw with just 5.7 seconds remaining. Lamar shoved back, words were exchanged, players were ejected, and the Clippers were even more fired up about their underdog win.
If the Lakers want this week to announce their return to dominance, the upstarts must be summarily humbled.
Sunday at Thunder, 11:30 a.m.
Last season's opening playoff round established the formula for purple-and-gold success over OKC: Force Kevin Durant, Russell Westbrook and the gang into running the offense from a halfcourt set. The fewer opportunities on the break, the more the Thunder typically struggled, a trend continuing this season at Staples. It all makes sense, considering the Lakers are typically a strong team while locking down in the halfcourt.
Note I said "typically."
Courtesy of our friends at ESPN Stats and Information:
During their current three-game losing streak, the Lakers have struggled to slow opponents in the half court. Entering Wednesday, the Lakers' half-court defense ranked in the top five in both FG percentage allowed and score percentage allowed.
Lakers Half-Court Defense This Season
3-game losing streak Overall
FG pct 48.3 42.9
Score pct 46.7 41.2
PPG 85.7 79.4
Yikes. If the Lakers can't maintain their normal advantage against the Thunder, this could prove a very long afternoon.