Those hoping Tuesday's game would serve as some sort of preview for the Western Conference finals were likely disappointed from the jump, since Gregg Popovich kept Tim Duncan, Manu Ginobili, and Tony Parker in street clothes. Combined with a thinned-out Lakers squad missing both Steve Blake (chicken pox) and Matt Barnes (knee), as a forecasting tool the evening was predestined to be completely worthless.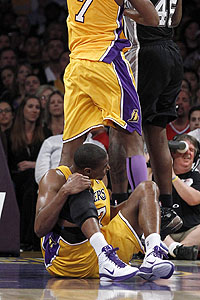 Chris Carlson/AP Photo
It's never good to see Andrew Bynum on the floor. On the floor and holding a knee? Even worse.
Of course, all of that became basically irrelevant at the 8:11 mark of the second quarter, when Andrew Bynum left the game because of a hyperextended right knee -- the same one he had repaired last offseason. Bynum suffered the injury after stepping on DeJuan Blair's foot at the right elbow, extending his leg awkwardly before falling to the floor under the Lakers' basket. He stayed down for about 30 seconds or so but was able to walk off the floor under his own power.
He's scheduled for an MRI exam at 11 a.m. Wednesday.
It doesn't take a Ph.D in Basketballogy to understand how significantly L.A.'s three-peat dreams would be undercut by a significant injury to Bynum. When the Lakers have been at their best over the course of the season, he has been a major catalyst. Until the results of the exam are in, the Lakers can do nothing but wait and hope. The good news is the Lakers have plenty of experience playing without him, so should Tuesday's injury force Bynum out of the lineup for a week or two they wouldn't be unprepared.
As for the game, once Bynum left, an already raggedy affair grew even more so, as necessity forced Phil Jackson to dust off both Joe Smith and Theo Ratliff as part of a lineup facing, as someone joked in the media room at halftime, what looked like San Antonio's Summer League roster. As a group, they ran into foul trouble (both Kobe Bryant and Ron Artest finished with five apiece), and continued struggling with some of the execution issues plaguing them throughout their five-game losing streak. But while it won't go down as a work of art, nor will it be particularly reassuring to fans (who, cynics they are, don't hold James Anderson, Daniel Green, and Chris Quinn in the same esteem as Parker, Duncan, and Manu), the Lakers left the floor with something extremely significant -- a win.
With it, L.A. kept pace with Dallas in the race for the Western Conference's second seeding, and eliminated any chance of falling all the way down to fourth behind Oklahoma City. This stuff matters.
Here's how it broke down...
HIGHLIGHTS:
1. Lamar Odom. Replacing Bynum in the lineup following the injury, Odom overcame a slow first half (1-for-7, two points) and fueled the Lakers over the final 24 minutes. He hit four of his six shots in the third quarter, good for nine points, while adding three assists and three rebounds. In the fourth, Odom continued to roll, missing only one of six shots and earning an impressive share of and-1's in the process. Twelve more points left him with 23 on the night, going with seven boards and four dimes.
2. Kobe Bryant. Only 8-of-21 from the field, but a perfect 9-of-9 at the stripe left him with 27 points. Not a bad points-to-FGA ratio. He played long stretches looking to facilitate for teammates, and had L.A.'s offense run better early he likely would have added to the four assists he logged on the night. Bryant's biggest foe was foul trouble, along with referee Bennie Adams, who T'd him up in the second half. A whistle nearly costing Smith his left arm, thanks to Bryant's displeasure.
3. Pau Gasol. Quietly efficient, Gasol finished the night with 17 points on 7-of-12 from the field, he also greased the wheels of L.A.'s offense with a team-high five assists. Best of all, when Bynum wasn't available for most of the night to secure the glass, Gasol did. Seventeen rebounds in all, 14 coming after the end of the first quarter.
LOWLIGHTS:
1. Offensive Execution. In the first half, despite facing a very limited Spurs squad, the Lakers still weren't able to run their offense effectively, shooting only 40 percent from the floor en route to an underwhelming 45 points. The shot selection was very spotty, as was their collective commitment to making extra passes and sensible decisions. They cranked it up in the second half (20-for-39, 57 points), but forced themselves to work a little harder down the stretch than they likely should have, even with thinned out rotation.
2. Defense, Alternating Quarters. Coaches want consistency. San Antonio scored 15 points in the first quarter, 30 in the second, 19 in the third and 29 in the fourth. I don't think that qualifies.