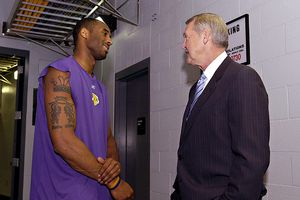 Getty Images
Kobe Bryant is 126 points shy of tying Jerry West for the all time lead in points scored for the Lakers franchise.
Kobe Bryant (shooting guard, #24, has his own puppet) has had a big 18(ish) months. An Olympic gold medal to go along with his fourth NBA title. League MVP honors in '08-'09. Finals MVP to sweeten the aforementioned O'Brien. Since the start of last season, Bryant has passed Larry Bird, Gary Payton, Clyde Drexler, Adrian Dantley, Robert Parish, Charles Barkley, and Patrick Ewing on the NBA's all-time points list, knocking aside Hall of Famers like bowling pins. Last week in Cleveland, he became the youngest player in league history to crack the 25,000 point barrier.
Given how most of us update our Facebook status soliciting back pats for things mundane as the proper hanging of a picture frame, this is pretty big stuff.
Still, it can be argued Kobe's most important accomplishment, at least on an individual level, is still and soon to come. With a scant 127 points- less than five games worth if his current 28.3 ppg holds- he'll pass the iconic (literally) Jerry West, the man who brought him to the team, for 14th on the all-time list... and tops in Lakers franchise history. There's nothing surprising about the achievement. Anyone with a calculator could see the moment coming, at least once Kobe made it clear he'd rather play in Los Angeles than distant non-planets, but inevitability doesn't diminish the significance.
This is a franchise boasting 12 Hall of Fame players who have worn the colors for at least four seasons (13 once Shaquille O'Neal finds his way to Springfield in what will easily be the most anticipated speech since M.J.), with some of the greatest names in basketball history- West, Kareem, Magic, Worthy, Wilt, Elgin, etc.- and Kobe Bryant will have more points as a Laker than any of them.
Earlier in the year, ESPN Los Angeles kicked around lists for the 50 Greatest Lakers. Dave McMenamin weighed in, as did I. Whether focusing strictly on L.A. Lakers (Dave) or dipping back to the Minneapolis days (I missed the memo about strictly honoring the 50 years in Southern California), it was Magic, not Kobe, topping both lists. We both had Bryant, actually, behind Kareem as well.
Does becoming the franchise's all time leader in scoring change the equation?
In my 50 greatest post, I noted how Kobe still had scads of leeway in his final placement on the G.L.O.A.T. list. Take a look again at the Lakers record book. Assuming another six or seven years of good health and play, Bryant will not only own the top spot in points, but also minutes, games played, free throws, free throws attempted, and steals. He'll likely finish second in assists, third in rebounds, maybe fifth in blocked shots. (He already is the franchise leader in three pointers.)
Some of those marks will be flat-out shattered. Bryant should finish a good 10,000 ahead in points, for example. Probably more. In an age where players switch teams more frequently than NBC does its talk show lineup, what player will come along and pass him?
If Kobe climbs and eventually dominates those lists, adding a couple more rings to his jewelry box along the way, does that change where he lands on the list?
I still have trouble picturing Bryant eclipsing Magic in the hearts and minds of Lakers fans. More than any other player, Magic- the style, the nickname, the success, the man- gets to the heart of what the Lakers represent as a franchise. Magic's legend is also frozen in time, not really subject to the incredible nit-picking of today's 24/7 media and Internet fan culture. It only grows. Maybe you disagree, and certainly Kobe's accomplishment can mold views of him and his place in the franchise without having to "out-great" Magic. Not every measure has to be A or B, winner/loser (it's all relative), zero sum. But maybe there's enough wiggle room there for Bryant to change enough minds like mine, or alter the definition of a team's greatest player.
Over the next week (Lakers fans would love to see Kobe do it Sunday against the Celtics- Sunday on ABC, 12:30 pm PT- and I'm sure my employers agree, though perhaps for different reasons...) we'll keep up with the countdown, and encourage readers to weigh in. How is it significant to you? It wouldn't shock me to hear older Lakers fans with loyalties to teams past share mixed feelings about Kobe's accomplishment. Others will be cheering all the way.
In the history of a franchise so impressive even the leader of the free world takes note, this is definitely a watershed.
Even if we've all known its coming.