In my mind, this was the most significant win of the season for the Los Angeles Lakers. On the road ... against one of the hottest teams in the league ... no Kobe Bryant ... during a stretch when it has become very easy and justifiable to question this team's collective talent, heart and motivation to make a deep playoff run. Whether it's a game capable of galvanizing the team to another level as the postseason approaches remains to be seen, but it certainly feels as though the possibility exists.
Here are four takeaways from the game.
1. Perhaps Tim Duncan brings the best out of Andrew Bynum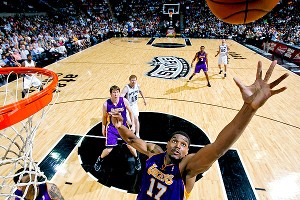 Chris Covatta/Getty Images
Chances are, Drew grabbed this rebound.
On many occasions since his rookie season, Bynum has declared The Big Fundamental his idol, and a young big man could do much worse choosing a target of worship. Beyond being considered by many the greatest power forward in NBA history, Duncan also has been lauded as a teammate, worker and consummate professional. In the meantime, Drew has been under fire from fans, media (including yours truly) and even his organization for a problematic attitude and inconsistent effort. On Wednesday night in San Antonio, however, Bynum was absolutely inspired. On both ends of the floor, he was active, engaged and, on the glass, astonishingly dominant. When the first quarter ended, he had already collected 11 rebounds, and the Lakers happened to outrebound the Spurs 21-10 in that quarter. It doesn't take a mathema-genius to figure out the difference Bynum was making as a one-man wrecking crew. By halftime, he had collected 19 boards, en route to a seriously impressive career-high of 30. He chased every loose ball within his vicinity (and sometimes beyond it) like a cheetah looking to make a rabbit his dinner.
To put matters in perspective, the Spurs had 33 rebounds as a team. Drew had 30 as a beast.
But even more impressive than his activity on the glass was Bynum's overall activity during a game in which he often struggled offensively. This has been the case in all three games in which Drew has seen his touches increase in Bryant's absence. With more opportunities comes more attention, and Drew has learned the hard way how tough this can be. But despite a lot of misses, often around the rim, and periodically with contact, Drew kept his head in the game and persevered. No complaints to the refs. No blatantly forced shots or lolly-gagging back on defense as a result of frustration. Instead, he channeled whatever brewing annoyance felt into positive activity. Shots were continually contested and altered. A Tony Parker layup was swatted. And his relentless pursuit of rebounds didn't wane in the slightest. The guy was just an unstoppable force of activity.
This is the way a seasoned veteran handles himself on the court, whether killing it or getting killed (or in the case of Bynum tonight, a little bit of both). I've been critical of Bynum's behavior and performances since the trade deadline, and with good reason. In a nutshell, the issues have all revolved around maturity in one form or another. On Wednesday night, however, Bynum performed like a grown man (or, you know, Duncan) on the court, and well beyond the stats and the way he controlled the game.
2. Metta World Peace channeled Kobe, and not just because of the 26 points
It's one thing to enjoy success putting the ball in the hoop. Every NBA dog has his day, so to speak, and as MWP will often remind folks, he was once an NBA dog counted on as a primary or secondary scorer. What felt Mamba-esque was the degree-of-difficulty of these shots MWP continually canned. Bryant hits step-back jumpers like most folks breathe oxygen, but for a player with MWP's Bull/China shop tendencies, such grace is hardly a regular occurrence. On Wednesday night, MWP was wet while continually fading away, and often with the clock running down. Dude even beat the buzzer with what was basically a catch-and-shoot 3-pointer, launched with absolutely no air between his feet and the floor. In all, a quintet of treys were drained by a guy who has been erratic from distance all season.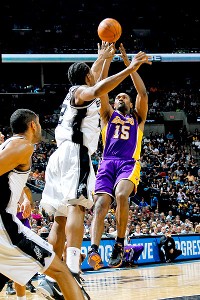 Chris Covatta/Getty Images
MWP made shots like this look easy.
The night was rounded out with 26, Metta's highest point total since joining the franchise. MWP has slowly been rounding into 2010 form over the past few weeks, and Wednesday night felt like the continuation of a nice trend.
3. MWP serving as a Kobe facsimile shouldn't be confused with the offense running smoothly without Kobe
As has been the case in all three games with Kobe in an impeccably tailored suit (#YesIAMJealous), the Lakers often labored to create looks of any kind, much less quality ones. The Lakers often played at an ideal tempo (slow), but not necessarily because the pace was masterfully controlled. In most cases, seconds were chewed up because Ramon Sessions, Steve Blake or anybody else serving as quarterback struggled to keep the machine oiled. When the big men were fronted, confusion followed. Scores at the rim were often the result of cleaning up misses, rather than pick-and-roll action or an orchestrated assault on the rim. As a result, long jumpers and 3-pointers ruled the evening. To their credit, the Lakers did a nice job converting, particularly from downtown.
But would you really want to depend on MWP and Matt Barnes to hit a combined eight 3-pointers as a reliable plan of attack? Neither would I.
Yes, the Lakers put up a solid point total on the road. And yes, Pau Gasol did himself a disservice by sometimes settling for jumpers rather than putting the ball on the floor and forcing defenders to actually check him. But overall, quality sets, beyond those setting up outside shots, were hard to come by. Kobe's skills and the attention he garners makes all the difference in the world, and Wednesday night was another reminder of this reality.
4. Still, these difficulties were offset due to a fantastic group effort from everyone who stepped on the floor.
Yes, the energy and urgency waned down the stretch of the fourth quarter with the game in hand. But all in all, the Lakers were easily as dialed in as we've seen them since the most recent contest against the Clippers, and possibly since March brought a sudden ability to score. In particular, the collective effort on defense was outstanding. The Spurs recorded just one offensive rebound, indicative of a night where they were destroyed on the glass. Shots were continuously contested. Rotations were crisp. And dudes hauled their butts back on defense, wrecking several fast break buckets for the Spurs.
Cliched as it may sound, the Lakers looked like a team that wanted it. These days, that's all fans have been asking for, and their wishes were answered and then some.
Bold Play of the Game: Again, MWP hit a catch-and-shoot 3-pointer with feet that might as well have been nailed to the floor. If he ever masters this shot, he'd be the king of all things H-O-R-S-E.