More on the "lack of urgency" theme below the jump.
There are nine minutes left in tonight's Lakers-Sixers game at Staples. L.A. is currently up 81-78. I have no doubt they're going to win. Not necessarily because the Lakers are playing well, but because Philadelphia just isn't a very good team. Spirited, perhaps. Spunky, I'll grant. Scrappy, why not?
Good, no.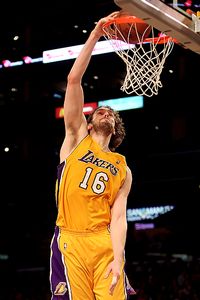 Jeff Gross/Getty Images
This dunk was one of precious few
exciting moments Friday night.
And it wasn't all that exciting.
Yet here we are. After taking a 65-62 third quarter lead on a Sam Dalembert baby jumper, Philly only managed four more points the rest of the frame, thanks to a combination of missed jumpers, poor shot selection (leading to missed jumpers) and occasional bursts of quality defense from the Lakers (generally leading to more missed jumpers). The door was open enough for the home team to push through. A jumper from Derek Fisher, a nice coast-to-coast layup from Kobe Bryant, another Fish jumper, another nice finish at the rim for 24. By the time Jordan Farmar canned a triple to end the frame, the Lakers were up by five.
(6:01 to play, and Andre Igodala has just drawn the Sixers to within two with a three pointer at the top of the arc. 85-83, Lakers, timeout on the floor. Still not concerned.)
But I doubt anyone will put this on in the time capsule. The Lakers spent the first half doing good work to pound Philly in the paint, only to lose any momentum by consistently getting beat in transition. Through three quarters, the Lakers had 54 points in the paint (including 19 from Pau Gasol and 17 from Andrew Bynum), the Sixers 46 (thanks to 20 from Dalembert, who had plenty of opportunities in full or semi-transition or garbage points from said sequences, and Lou Williams, who did good work getting up the floor in the first half.
(2:36, Lakers up 92-87. Still gonna win.)
The Lakers will win because they're better, because they are able to make plays at important times- like the sweet feed from Kobe to Lamar Odom in the paint to push L.A.'s lead to seven- and keep Philly at arms length. What will we take from it? Nothing. Are they disinterested, looking forward to Sunday's matchup with Denver? Probably. I know the media covering the game certainly is.
Basically, the schedule mandated a game be played tonight. The Lakers showed up, they scored more points. Beyond that, fans can point to solid efforts from Bynum (finished with 20/13) and Gasol (about to finish with 23/11/5), plus a tidy game from Kobe (19 points on 7-16 shooting with 31.5 seconds to play, but with eight assists for his trouble), and the sheer joy of earning tacos- unless Philly hits a Rock N' Jock 10-pointer in the last few ticks, they won't crack the century mark.
Likely, that'll have to be enough.
(Game over. Lakers win 99-90, and Pau Gasol is currently being interviewed by FSN's Patrick O'Neal. The gist of his conversation? I paraphrase: "We won, but didn't play particularly well, and will have to do better Sunday if to beat the Nuggets." Maybe I should have waited for him to speak, and saved myself the trouble?)
-Brian Kamenetzky
IMPORTANT NUMBERS
24: The points racked by Dalembert, a new career-high for the non-scoring threat currently averaging 7.2 ppg this season and 8.0 ppg on a career. Phil Jackson cited this achievement when talking about the Lakers' lack of effort.
56: Philly points in the paint. Some of this was the result of Dalembert's aforementioned night, but also due in part to the Sixers making hay off lousy transition D. They also scored 15 points on fast breaks alone.
23: The amount of lead changes, which makes how boring this game was actually pretty impressive in its own right.
2: As in "one bucket," which was all Elton Brand contributed to the Sixers' scoring cause. He and one of my favorite players in his prime, which makes the drastic decline painful to watch.
85.7: The Lakers' percentage at the free throw line. In a game with few legit positives, it's nice to smile about something.
--by Andy Kamenetzky
Big Quotes
Phil Jackson, on complacency: "I think there's definitely a sense, or a lack of sense, of urgency. There's something to be said about that, that we have to bring that back to a game. I think it activates players, I think it makes players a little sharper. We're making turnovers that are mindless, I call them. They're just not thoughtful actions in the ballgame, and as a result we're playing around with teams rather than playing through teams."
Pau Gasol, on treating each game with importance: "They do matter. I think we should focus on what we can do better as a team, as a unit, to be in a better position when we get to the playoffs and not as far as standings only, but as far as the level of playing and how we feel about what we are doing here."
Derek Fisher, on the difficulty of getting up for games like this one: "That's why it's hard to repeat as champions. There isn't anything that compares to being in the NBA Finals and what that emotion and that passion and the intensity feels like. You can't duplicate that in February against the Sixers. It's just not possible. That doesn't mean you don't respect guys in the NBA and the opponent and those things, but it's a different game. And everybody that's been there before will tell you the same thing. And it is hard, and that's why teams don't regularly repeat in pro sports. It's just a tough thing to do."
Kobe Bryant, on his ankle: "It was good. I felt fine. If they needed me to go off, I could have. My ankle feels 100 percent. I feel solid. We had so many mismatches inside with Pau, Andrew and Lamar in the fourth."
Videos
Derek Fisher, on the difficulty maintaining playoff urgency during the regular season
Phil Jackson, on the complacency setting in throughout the team
Andrew Bynum, on the need to remain focused during the regular season
You gotta love the irony of Drew losing his train of thought while explaining to me the importance of maintaining focus. That's just funny.
Kobe Bryant, on finding his rhythm after missing five games
Phil Jackson, on the win over Philly and Kobe regaining his rhythm
And finally, Bynum talks about his $25,000 fine for criticizing the referees after Wednesday's loss against Dallas.
As he explains, this was an intentional hit on the ol' bank account.
--AK