Should the Lakers drop Tuesday's game against Utah, it will result in their first 0-3 start since Oct. 17, 1978. To put in perspective just how long ago that was, Jimmy Carter was president, Andy Gibb's "Shadow Dancing" was the year's chart topping-est single and Kobe Bryant was barely two months old.
In other words, it's been a while, and for a franchise as proud and successful as the Lakers, that's not by accident. Safe to say everybody would prefer to keep that little piece of history tucked firmly away in the vault. To avoid a trip down Bad Memory Lane, the Utah Jazz must be dispatched. Here are four items to watch for as the Lakers try to get off the schneid.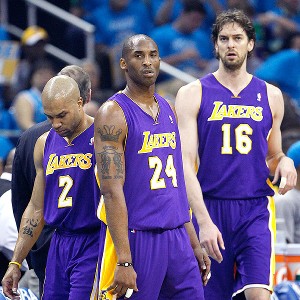 AP Photo/Patrick Semansky
Three among several lakers not built for back-to-back-to-back action.
1) Fatigue
Back-to-back games can be tough in a normal season for young NBA players at the peak of NBA conditioning. Following this logic, three consecutive games by definition becomes that much more of a chore, especially for a team filled with veterans and still working themselves into game shape after an extended lockout and a blink-and-you'll-miss-it training camp. As somebody who didn't travel to Sacramento, I can't say with absolute certainty fatigue was a driving force behind Monday's largely sloppy and unfocused effort, but this much I know: Against a considerably less seasoned Kings squad blessed with younger, bouncier legs (and no game on Sunday to boot), the Lakers often struggled to keep up.
Like the Kings, the Utah Jazz are a team pegged by few to make the postseason. They're rebuilding and by point guard Devin Harris' admission, completely devoid of identity (i.e., the kind of opponent a Lakers squad desirous of re-establishing its championship pedigree should destroy, especially at Staples). However, like Sacto, the Jazz open the season against the purple and gold, so energy shouldn't be an issue whatsoever. And while not quite as young as the Kings, Utah's roster is nonetheless chock full of dudes under 30, with nobody past that milestone expected to be more than a supporting player. In other words, they're the bizarro-Lakers, and could very well be the beneficiaries of their hosts sucking wind.
Ever since the compressed schedule was announced, I've been of the decided opinion that getting the Lakers' lone back-to-back-to-back series immediately out of the way was a major blessing, even without Andrew Bynum for this rough opening stretch. Even with the possibility of 0-3 staring down the team, I stand by that assessment. Even in a compressed season in which the importance of wins and losses is highlighted, what matters most for this team is what's in the tank come playoff time. When the upside is a veteran team not having to endure a trio of consecutive games in March or April, when it is most susceptible to injury or just passing out, this struck me as a worthy deal with the devil.
But just the same, I'll take 1-2 over 0-3.
2) Pau Gasol against Al Jefferson
As someone who hosts a Lakers blog with an active readership and a Lakers-centric Twitter feed with an active following, I consider myself a qualified judge of the fan base's collective feelings at any given moment. Thus, I'm quite confident in declaring you people very unhappy with El Spaniard at the moment. I wrote during the offseason about Pau Gasol's third go-around with a basketball version of "Groundhog Day," and following that film's storyline, he remains stuck in Punxsutawney, and Andie MacDowell is decidedly uninterested in him. I actually agree with Brian that the last two-three minutes of the game aside, Pau actually played pretty well against the Bulls. In particular, his energy and competitive spirit, two elements on short display during the playoffs, were a welcomed sight. However, crunch time is when All-Stars are supposed to come up biggest, and Gasol was undeniably small.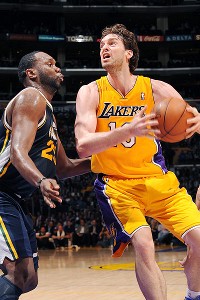 Noah Graham/NBAE/Getty Images
The Lakers need Pau Gasol to resume his old form... and fast.
Against the Kings, save a lively fourth quarter, he was disappointingly invisible. I don't know whether his sprained right shoulder was an issue, but bottom line, dude suited up. Once a player takes the floor, he's accountable to produce.
For fans and for him, Gasol needs a quality showing stretched over fourth quarters, and Tuesday's game provides an excellent opportunity to remind everyone of his skills. He'll be matched up against Jefferson, a big man blessed with the gift of "filling it up." Slowing him won't be easy, but Gasol's done it before and needs to do it again. On the flip side, Jefferson couldn't guard a stationary bike, and Pau at the top of his game has far too many tricks in his bag for this opponent to keep up.
3) Metta World Peace: Was Monday the breakthrough?
Pau has been adding detractors by the bushel since the playoffs, but Metta World Peace has taken things one step further. The man formerly known as Ron Artest has fans wishing he was formerly a Laker. It takes a special player to gain traction in the race with Luke Walton as the player prompting the most "Amnesty him!!!" cries, but Metta has been a gamer. Because of his lackluster sophomore Lakers campaign, an offseason seemingly more concerned with showbiz opportunities than roundball and a miserable preseason, it's been easy to write off the former defensive stalwart as a has-been who is offensively challenged and painfully slow. Moreover, Mike Brown's decision to expand Metta's responsibilities as bench boss only accentuated these shortcomings.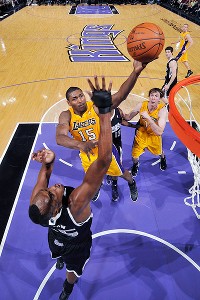 Rocky Widner/NBAE/Getty Images
With more games like this, fans may stop begging the Lakers to cut MWP.
Until Tuesday in Sacramento.
Easily the best player on the floor for the Lakers, MWP provided a snapshot of why Brown thought a sixth man role was the ticket. MWP followed the directive to live in the paint, bulldozing his way to the rim for layups and free throw attempts. His 19 points (8-of-14 from the field) were accompanied by four assists against zero turnovers, plus a heightened sense of purpose and confidence. Defensively, he closed out on shooters as badly as his teammates but at least proved a periodically more disruptive force.
If there's an upside to the Lakers playing three consecutive games, it's the chance for World Peace to pick up immediately where he left off. Even if his best days as a scoring threat or defensive stopper are in the rearview mirror, MWP can still be a valuable contributor for the Lakers. Like everything this season, it's all about steps forward.
4) Kobe's patience
Kobe Bryant has many virtues. An exceptionally well-rounded game. Great taste in viral ads. Excellent fashion sense. But however long this list runs, "patience" will never be included. The man doesn't like to wait, particularly if we're talking about waiting for a first win. After the Sacramento loss, Kobe admitted to getting antsy. It's fair to wonder if the Lakers start out slow again, if he'll go full steam ahead into "Mamba" mode, throw on the cape and look to do it himself.
This would be problematic on two levels.
The early returns don't indicate Kobe being able to play Batman (his preferred superhero) over four quarters. According to our friends at ESPN Stats & Info, despite a terrific 28.5-point average, Kobe's struggling to create his shot. Last season, he averaged 7.8 points per game, one point per possession and a 44.3 percent clip on isolation plays. In two regular-season games, it's three points per game, 0.3 per possession and a paltry 17.6 percent. Whether that's because of age, the wrist, the new system or Kobe's teammates not carrying their weight to make him most effective, the bottom line is those numbers won't cut it in takeover mode and are just as likely to result in a loss as status quo.
Plus, going rogue doesn't exactly instill a message of confidence in Brown or Kobe's teammates, and at this early stage, trust must be displayed in both. A solo mission doesn't irreversibly cut off his new coach or supporting cast at the knees, but it doesn't set a great precedent moving forward in terms of how struggles will be handled.