The middle leg of the Threepeat era saw the Lakers rip through the postseason at a historic 15-1 clip. Their only loss came during Game 1 of the Finals, an overtime battle at Staples Center taken over by Allen Iverson's iconic 48-point performance.
Obviously, the first defeat in 12 postseason tries is nothing to panic over, but the prospect of falling 0-2 to the 76ers might have prompted some panic-button hovering. But any hint of Philly momentum was squashed by Shaquille O'Neal.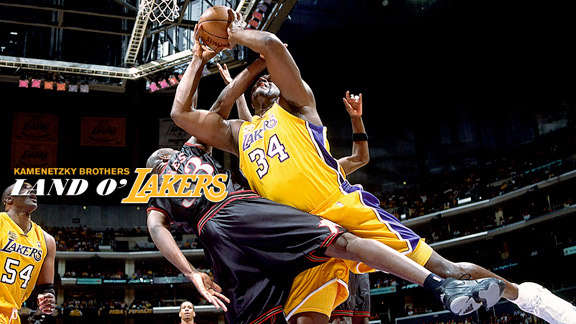 Andrew D. Bernstein / NBAE via Getty Images
This possession was considerably more enjoyable for Shaquille O'Neal than Jumaine Jones.
The eventual Finals MVP did more than just put his stamp on series-tying contest. He turned in a stat line of gargantuan proportions: 28 points on 12-for-19 shooting, 20 rebounds, nine assists, eight blocks. Even more impressive was the timeliness displayed as he accumulated numbers.
Shaq may have spent a career rationalizing an "I make them when they count" attitude on free throws, but during a 16-6 third-quarter run, he sank three free of four attempts. (He made just four of 10 in all.) Shaq's final assist was converted from downtown by Derek Fisher to create some breathing room after the Sixers cut the Lakers' lead to three with 2:08 remaining. And with Kobe Bryant the only other Laker scoring above 15, Shaq's dominance on both sides of the ball came at precisely the right time.