USC and UCLA take the field Saturday in a football game close to my heart. After four years spent at USC, it's ingrained in my head to dislike UCLA. I've actively rooted against them since 1990. For six years bartending at Westwood Brewing Company, a decidedly Bruin-partisan establishment, I annoyed many customers with Trojan smack talk.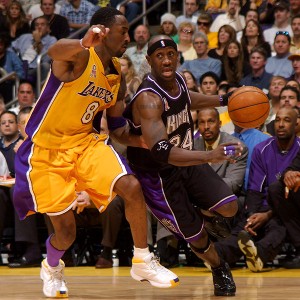 Noah Graham/Getty Images
Bobby Jackson was too much fun to root against, even while battling the Lakers.
I've come to appreciate many Bruins athletes upon leaving -- Arron Afflalo, Trevor Ariza, Maurice Jones-Drew, Jonathan Ogden, among others -- but while student body members, I've wished them nothing but failure. As a rule of thumb, that's how I treat anybody on a team I can't stand. I may respect and admire your game, but I ain't about to like you. With one notable exception:
Bobby Jackson, a core member of those Sacramento Kings teams that feuded heavily with the Lakers.
Ironically, at the height of this rivalry -- the classic 2002 Western Conference Finals -- I made the shift from "closet Bobby Jackson fan" to "I love this dude and if my fellow Laker fans don't like it ... oh well."
I'd long found Jackson an extremely fun player to watch. He was a high tempo, unpredictable, whirling dervish. Seriously streaky, but when he got rolling, points were often accumulated in a blink. On defense, he could create steals, and his undersized stature (a perhaps exaggerated 6'1") was offset by considerable strength, so bigger opponents didn't bully him.
But mostly what I loved was about Jackson was his fearlessness, never on better display than during that classic playoff series. Despite pushing L.A. to seven grueling games, it felt like many key Kings tensed up as the pressure mounted. I vividly recall how in the biggest moments, guys like Chris Webber, Vlade Divac, Hedo Turkoglu, Doug Christie and Peja Stojakovic never seemed to want the ball. At times, it felt like they were playing "hot potato." This came to an ugly head in Game 7, as the first four players cited shot a crippling eight-for-19 at the stripe, while Peja missed nine of his 12 field goal attempts.
Jackson, however, boasted grapefruits for days. This reaction was no surprise in a vacuum, but with his teammates often resembling deers in the headlights, Jackson's heart stood out even more. That a role player, albeit among the best in the league, was calmer under those bright lights made the performance even more inspiring. From then on, my Jackson fandom was solidified. I hated the team he played for and cursed those possessions where Jackson carved up the Lakers, but he was among my NBA favorites, Sacto jersey and all.
(To put this in perspective, Mike Bibby was also an absolute assassin during that series, probably the best King on the court. This prowess wasn't lost on me and objectively speaking, I could appreciate the excellence. But I still HATED Bibby. He was annoying, demonstrative, whiny, and had this bizarre habit of clipping his nails while on the bench, which my mom used to call "bad courtside hygiene." Bibby was the only other King who never looked intimidated, and my respect for him grew immensely during that series... along with my dislike for him.)
I've developed a personal affinity for many players who've battled the Lakers for serious stakes. Tim Duncan. Malik Rose. Brian Grant. Arvydas Sabonis. Steve Nash. Shawn Marion. Ben Wallace. Allen Iverson. Kevin Garnett (before he became a classless, bullying parody of himself). But for whatever reason, I never developed a huge distaste for any of their teams. I even found the Portland "Jail Blazers," a team so unlikable they turned off a fan base among the most loyal and fanatical in sports, too comically dysfunctional to truly hate. They were enemies I wanted defeated, but not necessarily destroyed.
The Kings provided no such ambiguity. Those cats rubbed me the wrong way and I relished their failure. But even while actively rooting for their demise, their was still a soft spot in my basketball-loving heart for Jackson.
As Laker fans, have you ever experienced similar affection towards a player on a rival squad? For whatever reason, you became a fan of this guy despite his stomach-churning jersey? Or do those affiliations simply eliminate that scenario, end of story?