It seemed like a good enough idea at the time. The Lakers had very little money to spend, and needed a guy capable of simultaneously stretching the floor and being tall.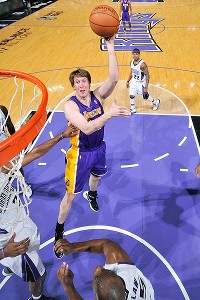 Rocky Widner/Getty Images
Troy Murphy became less a factor as the season progressed.
Enter Troy Murphy. Through stints in Golden State and Indiana, five times he averaged a double-double, and as recently as the 2009-10 season put up 14.6 points and 10.2 rebounds, shooting 38.4 percent from 3, the fourth straight year he'd hovered around 40 percent from downtown. Yes, his 2010-11 campaign was a total disaster and even in his best seasons Murphy was, shall we say, suboptimal defensively, but like clothing from less reputable outlet malls, players found sifting through the veteran's minimum bin all come with blemishes.
If it worked, the Lakers would get plenty of bang for just over a million of their bucks. If not, they didn't spend much to fail. So how did it go?
STATS
59 games: 3.2 points per game, 3.3 rebounds, .9 assists, 41.8 3-point percentage over 16.2 minutes.
HIGHLIGHTS
In one important respect, Murphy performed as advertised. That would be 3-point shooting. He hit half of his attempts in January, including a 4-of-4 night against the Bobcats on the 31st. He followed up with a perfectly respectable 38.7 mark in February. He had nine rebounds in 24 minutes in an overtime win over the Celtics in Boston.
LOWLIGHTS
Like most of the players on Mike Brown's fairly ragtag bench, Murphy's place in the rotation was written in pencil, not ink. After averaging almost 23 minutes a game in February, Murphy's playing time diminished considerably. In March, it was down to 12 minutes, and while April was back to 13.8, in 11 of the 14 games he played less than 12 minutes, or not at all. In the postseason, Murphy barely left the bench. Not that his productivity merited a lot more burn. Murphy's rebound rate (11.2) was a career low, as was his scoring on a per minute basis (though in fairness, as his career low usage rate attests, Murphy wasn't exactly a featured cog in L.A.'s attack). Mostly, though, Murphy's defensive shortcomings limited his minutes.
OUTLOOK FOR 2012-13
Murphy is a free agent, and won't be back.
GRADE: C-
For a decent stretch of the season, he knocked down enough 3's to justify some of his floor time, but overall he couldn't reclaim the higher end form of years past. Maybe the fit wasn't right, or maybe injuries had sucked away too much of his already scarce athleticism. Whatever the cause, Murphy never fully regained old form.