In the wake of Team USA's gold-medal win Sunday over Turkey at the World Championships in Istanbul, ESPN.com's Chris Sheridan delivered his early forecast on what the roster could look like when the 2012 London games roll around.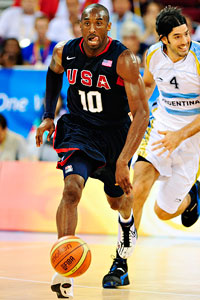 Bob Donnan/US Presswire
That whole Beijing Olympics thing worked out really well for Kobe Bryant. Should he give it another go two years from now in London?
Not surprisingly, his list of guards includes Kobe Bryant.
Watching Kobe help lead the U.S. on a pride-restoring run through the '08 Olympic tourney in Beijing was great fun for many Lakers fans. It also added a summer of fairly intense play to his already loaded hoops docket. When London calls in two years, only incredibly obvious references to The Clash will be more ubiquitous than questions about Kobe's age and mileage. He'll be just shy of 34 years old, and in a perfect purple-and-gold world coming off yet another extended trip through the playoffs. The guy already has more wear than the average player of his age, and by the summer of '12 could easily put another 7,000-plus minutes in the rear-view mirror.
As a team, the Lakers will be entering a critical season. As it stands, the 2012-13 season marks the end of this core's window, measured against current contractual commitments. Only Bryant, Pau Gasol, Ron Artest, and Steve Blake are signed beyond that season, and all four only for one more year.
If you're looking for a spot to add "Potential End of an Era" to the calendar on your Blackberry, three seasons from now is a good spot to do it. If it indeed is this group's last hurrah, shouldn't Kobe be as rested as possible? On the other hand, he's Kobe Bryant, iconic Laker, who brings joy, pride, prestige, and honor to the franchise when he does stuff like representing his country and winning gold medals. Though at that point in his career it probably wouldn't hurt him from a p.r. standpoint to stay home, Kobe wants to play, and for all the right reasons. My stated policy is if a guy wants to play for his country, it's wrong to stop him. The hope is the player will respect his team enough to understand whatever physical condition he's in, and if playing internationally in the offseason at all jeopardizes the upcoming season more than normal activities (remember, almost everyone plays ball in one form or another over the summer). But I'm just one guy, with one opinion. Which brings me to today's QOTD:
Do you want to see Kobe Bryant suit up for Team USA again in 2012?
Would you like to see Kobe Bryant play for Team USA in the 2012 Olympics?customer surveys
As always, your comments are welcome below.