As part of a continuing series, NBA players share the various ways growing up in L.A. shaped their games.
Growing up in L.A., University of Michigan point guard Darius Morris was exposed to a wide spectrum of the city's culture. The Lakers' second-round draft pick first grew up in Hawthorne, but his family uprooted to Redondo Beach and then Carson in an effort to find better educational opportunities for their children. Darius eventually received a scholarship to Windward, a small private high school in Mar Vista, but remained a fixture at various parks across L.A. He led Windward to a state championship while making a name for himself among his local peers.
Andy Kamenetzky: Which parks did you regularly play at growing up?
Darius Morris: There was Del Aire in Hawthorne, when I was a kid. In the South Bay, there was Marine (Sports) Park. And St. Andrew's Park, that was where I played a lot. My dad wanted me to play against tougher competition to make me tougher. Inner-city. So that's where I was.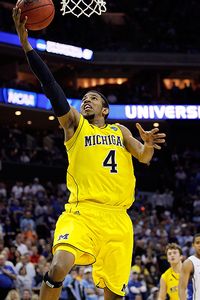 Kevin C. Cox/Getty Images
The road to Ann Arbor began in Los Angeles for Darius Morris.
AK: What was the atmosphere like at St. Andrew's?
DM: Similar to Hawthorne, but in a basketball setting, so you knew you had to play well. The parents would get on you if you didn't. Kind of a different setting than over in Redondo Beach, because you knew at the end of the day, they're not gonna do anything. It's just a different crowd. ... Which kind of helped me, because I was able to adapt. I was fortunate to benefit from both the inner-city and a nicer area of basketball.
AK: Do you remember your first eye-opening experience at St. Andrew's, getting knocked down, elbowed?
DM: I was probably 11. The dudes would get mad if I was playing really well. I would come to the hole, and a little kid my same size would just foul me and hack me really hard. I was like, "Oh, OK." Whereas in Redondo Beach, somewhere like that, I could probably get [the shot] off. Or if it was organized, like playing in middle school, nobody would do anything like that. But he gave me an intentional foul, so I was like, "OK, I have to be aware."
AK: Do you remember the first time you realized you were making a name for yourself at these parks?
DM: Yeah. That definitely started with St. Andrew's, when we won the city championship back-to-back. Everybody was hyped because you get a big banner and stuff like that. You go against all the parks: Rancho Cucamonga, Crenshaw Park, all that. On the park side, that's when I knew I was getting recognition throughout L.A.
AK: So you went from getting knocked down in this park to actually representing them.
DM: Yeah. When I came there, I was good. The AAU gave me a head start. I'd been able to play against [good] people. I'd been traveling around. We'd go to Vegas. Vegas was a big thing back in the day. So it was cool to have that name back in L.A., though.
I played with Roundball when I was 9 years old. Brandon Jennings played on that same team. He was a year older than me. We was playing together, then he went off and did his own team. I stuck with Roundball a little bit more. Then I went to Rising Stars of America, Baron Davis' team. Did a couple of Nike teams. I was a Nike kid, before I ultimately ended up going with Belmont Shores.
AK: Were there any local players you patterned your game after? Even guys who didn't make it to this level?
DM: There were some people when I would go to the games. Going to watch Westchester and Compton-Dominguez play, Gabe Pruitt was good. My brother DeWayne [who actually worked out for the Lakers years ago] really is the person I'd always watch. I was the biggest fan of him. He was going against those guys, so it was kind of tough for me.
AK: If someone asked you to summarize your St. Andrew's experience or what it was about, what would you say?
DM: I would say tough basketball. On and off the court. You had to bring it every day and you definitely couldn't slouch. Your teammate would let you hear about it. You had to bring your game and you had to be aggressive.
AK: When you say "off the court," were there confrontations?
DM: If we weren't playing in our park league and I was just up there. You never know what might happen. So you always had to be looking out because you heard stories about stuff that happened at that park. You just didn't want to be one of those stories.
AK: Were you particularly nervous after you had beaten someone and there could be bad feelings?
DM: Yeah, [but] I kind of knew my place, though. I didn't go looking for trouble. I wasn't that type of dude. I would only talk smack if somebody talked to me. But at the same time, I don't do nothing stupid, though.
AK: Is there any stigma attached to playing for a private school? People thinking you've gone soft or whatever?
DM: Yeah. Not "soft" in terms of my game, but players who don't really know me, somebody from L.A. would be like, "You went to private school!" I'd be like, "Dude, but you already know what I've done, where I've been at. You know that wasn't where I started. That's just where I finished high school. I actually did everything [before] but private school basketball."
AK: What did it feel like to lead Windward to a Division V state championship?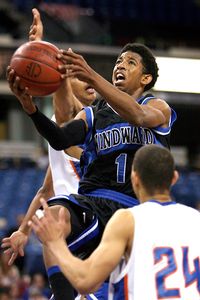 AP Photo/Steve Yeater
Morris helped Windward make history.
DM: That was always my goal, my vision. A lot of people told me going to private school, especially a private school that wasn't known for basketball, I probably wasn't gonna get ranked or get a scholarship. My team was never gonna win a championship. I always told people by the time I leave, that's what we're gonna do. The school had never won one, so I gave them their first CIF championship, state championship, league championship, all in one year. So it definitely was a good feeling to accomplish something you set out to do and told people you were gonna do.
By the end of that, I'm, like, the top point guard in Cali, regardless of [going to] private school. A championship is what they can't take away from you. A lot of these big-name schools that didn't win championships that year, at least I had that.
AK: How nervous were you about enrolling in Windward, knowing they had no basketball rep and recruiters might not pay as much attention to you?
DM: It just put a chip on my shoulder and motivated me even more. I knew that it was possible, as long as I would just put in the work. The opportunity presented itself to play with Brandon [Jennings] at Oak Hill. I decided not to do that. I just wanted to stick it out there. I was proving myself and trying to help Windward prove themselves. It was a hand-in-hand journey.
AK: How did Windward coach Miguel Villegas influence you on and off the court?
DM: He came from South Gate, which is another tough area to grow up in. He played high school basketball for them. And now to be coaching at a private school, I guess it's a little bit different for him as well. He probably saw a little bit of himself in me, as far as my attitude or just the way I go about things. The way I see things.
He definitely was able to [teach] me how to read different situations. He really had a lot of confidence to play me. Regardless of whether it was a private school, I started ever since I was a freshman. He just had a lot of confidence that I could play with anybody, regardless of school. He just felt I was the best point guard.
AK: Can you also talk about your relationship with Dan Tan [a high school friend who died from neuromyelitis optica, a rare neurological disease]?
DM: I met him when I came to Windward. It was ironic, because when I met him, he was walking and talking fine. He could see fine. He was just a funny, funny kid. He was playing on JV, I believe. I just saw him as another person. He was cool. And then gradually over time, I kept going to school, sometimes he would disappear for a week or so. I would wonder about him and ask somebody where he'd been. He'd come back, but in a little bit less health.
He gradually began to lose his sight. Began to get paralyzed from the waist down. We already was friends, and he took a liking to me and followed the team, so we just created a relationship that continued on.
AK: When you played for that championship, was there a part of you playing for him?
DM: Yeah, a little bit, because I know he was part of the team and that's what he wanted to do. He would give up anything to have that chance to go out on that court, so I didn't take anything for granted. Looking at him gave me a lot of inspiration throughout the season. If I had a tough game or tough night, I just looked at him and said, "It's not the end of the world." I get to live and play again, so just take advantage of that.
AK: What do you think he'd say right now seeing you with the Lakers?
DM: He was a huge Clippers fan, so I don't know. [Smiles] But he would be happy. He used to always tell people I was good and I was a pro. He told his mom, "Darius is gonna be in the NBA one day." So he'd be proud of me.
AK: In your mind, what defines an L.A. player? If you saw a bunch of players for the first time, how would you spot the guy from Los Angeles?
DM: He definitely has a certain type of swagger about him. The way he carries himself on the court. A lot of confidence. And I would say he's versatile. A lot of people from L.A. are really versatile, can dribble, shoot, jump. A lot of people say we're soft. I think we're more finesse, but can also get tough with you. I describe all that stuff as an L.A. player.
AK: What is the L.A. in your game, the part of your game that really speaks to growing up here?
DM: I would say my ballhandling and my passing. Having handles on the park, you find creative ways to get things done when there's nobody out there. You see what you see on TV and try to do it your way. My ballhandling and passing skills is definitely something you see and say, "OK, you're from L.A."
AK: Do you remember when you truly recognized how well you handled the ball?
DM: Yeah. As a little kid, I was just dribbling through kids throughout the park. Dribbling in circles. I was able to go wherever I wanted to at 9, 10 years old. So that's something I never had to worry about. God blessed me with that. And from there, it just got better. You gotta keep working hard, and the harder I worked, I was able to perfect it even more.
AK: What was the sickest ballhandling move you ever pulled off at any level playing in L.A.?
DM: I was probably 11 years old at St. Andrew's Park. I never did this before and probably won't ever be able to do this again. I was on the fast break. I had just gone through two defenders and there was this kid backing up. He had this look in his eyes because I already had that name around the park. He was kind of scared, but seemed like he was gonna step up and try to take a charge. I was coming down full speed and just bounced the ball over his head and lobbed it to myself. I couldn't dunk it or nothing like that, so I just lobbed it to myself. I don't think I'll ever be able to get that off again.
AK: How fortunate do you consider yourself as a player for having grown up here?
DM: You don't realize it until somebody asks you where you're from. You say L.A., and they go, "Oh! L.A.!" Everybody has their own visions about L.A., so I think I'm really fortunate. Wherever I go, people recognize where I'm from and they kind of look at me in a different light. It's one of those cities like New York. I think I'm fortunate to be able to say that pridefully, that I grew up here and have been playing basketball here. It definitely gives you a name.
Previous installments