A stunning 1986 performance as Sid Vicious announced a largely unknown Gary Oldman as an actor to watch. He made good on that promise with indelible, often volcanic work in movies like "Prick up your Ears," "State of Grace," "JFK," "Dracula," "True Romance," "The Professional," "Immortal Beloved" and "The Contender." In recent years, he became part of the "Harry Potter" and "Batman" series, reintroducing himself to audiences in sympathetic, likable parts.
In 2011, Oldman solidified his status of one of Hollywood's premiere chameleons with his portrayal of George Smiley in "Tinker Tailor Soldier Spy." Reprising a role made famous by Sir Alec Guinness in a 1979 BBC production of the spy novel, Oldman remains understated and quiet, but powerful nonetheless. The performance earned him a well-deserved Academy Award nomination.
We were thrilled to get Oldman in studio for nearly an hour to talk about "TTSS," his career and even a little sports. THE ENTIRE SHOW CAN BE HEARD HERE , and a breakdown is below with links to specific sections:
- (4:27): Oldman explains his initial terror at following in Guinness' footsteps for "TTSS." A week before shooting began, he debated backing out, but ultimately geared himself up to meet the challenge.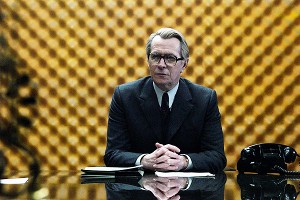 Win McNamee/Getty Images
Oldman's "Tinker Tailor Soldier Spy" performance is a remarkable achievement.
"I viewed it as a classical role that had been played before," Oldman said. "I imagined what it would be like to play Lear or Hamlet and then be measured against all those wonderful actors that had played the role before and that the comparisons would be inevitable... I sort of played a trick on my head. It's all in my head. Yes, Guinness gave this incredible performance. But the dragon, like all dragons, they're in your head and you have to slay them. So I kind of played a trick on myself to get me to walk through the fire."
- (5:30): Oldman explains the differences between playing a iconic character and a real-life icon like Sid Vicious, Beethoven or Joe Orton.
- (14:28): Oldman's "TTSS" role is the polar opposite of what he's spent the majority of a career playing. And that's not by accident. Over the last several years, Oldman's moved away from the eccentric, over-the-top parts that once defined him. In part, because he was concerned about increasingly limited options as a typecast actor. But also because he grew to find these characters dissatisfying on an artistic level, which killed his passion for the craft.
"I was bored," Oldman says. "I was just going through the motions and it just didn't interest me and I lost my love for it. I sort of lost my way a little. I lost my love for acting and did not look forward to it and that was the rut I was in. You deal with sports. There are great players and they're just pitching well or they're not hitting well. ... I found it quite debilitating and boring. I started to sort of hate the job. And I've never really felt [that]. I feel very privileged and very lucky that I do what I do, and it's never, ever really felt like I go into work. Let's face it. And so I went through a patch there."
-(21:05): Like many Brits, Oldman grew up obsessed with the sport known stateside as "soccer." As a youngster, he even drew the interest of a professional team who found him talented enough to perhaps make a career of it. Unfortunately, a growth spurt ruined his blend of speed and balance. (He can still juggle with the best of them.) In the meantime, living in America has created a serious love of baseball.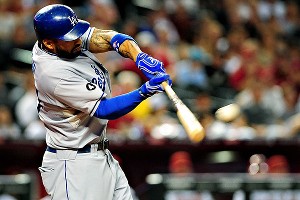 Jennifer Stewart/US Presswire
Matt Kemp has earned the respect of Gary Oldman.
"I think the game of baseball is sort of perfect," Oldman said. "There's just something about it. I think it is miraculous that an individual can hit that ball coming at them at 97 miles an hour, or 102 miles an hour. That takes a special skill. I think when you see these players and they're getting up there, they've got home runs and they're now in the hundreds, that is herculean to me, because I've played baseball. I go to the batting cage with my kids. I mean 70 miles an hour, it literally is, you blink and you miss it. And the fact that that ball can travel that distance, which is as fast as you can blink, and they get time to actually swing and hit it. I'm just, I'm in awe of that."
In a 30+ year career, Oldman's never made a sports movie or a Western, and would love to add both to his filmography. With that in mind, we attempted to create a vehicle combining both genres. I don't picture a studio green-lighting these pitches anytime soon.
- (29:27): Despite being considered among the best actors of his generation by many critics and peers, this is actually Oldman's first Oscar nomination. He shares what the nod (which he deems "the big one") means to him, and what it would feel like to actually win. Being selected took Oldman by surprise to begin with, and he's determined to enjoy the ride, regardless of whether his name gets called.
- (35:30): Oldman may be the only Hollywood actor capable of going dialect-to-dialect with Meryl Streep. He's done everything from New York to Russian to Transylvanian, but as he explains, the hardest was playing Lee Harvey Oswald in "JFK." The man's voice -- a garble of New Orleans Bayou, Russian and peculiar cadence -- was just plain weird. The role required tons of work in general, but his effort reflects the film's meticulous attention to detail and faithful use of locations.
- (45:00): Oldman discusses the ultra-secrecy surrounding the "Batman" scripts. He also shares a hilarious story about Oliver Stone passing a fake script to Dallas city officials in order to film at Dealey Plaza.