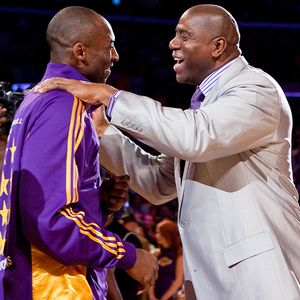 Icon SMI
Two all-time greats, only one can be G.L.O.A.T.
As a date with the Philadelphia 76ers awaits, Kobe Bryant needs just 72 points to pass Jerry West as the Lakers' all-time leading scorer. Yet another milestone in the career of The Mamba. (The dude quite literally shatters records every week these days.) Yet another step towards being not just a face on the purple-and-gold Mount Rushmore, but perhaps the face. The Greatest Laker of All-Time (G.L.O.A.T.)
Like Brian and I discussed in the latest PodKast, a strong argument can be made Kobe's only true competition is Magic Johnson. Based on feedback from fans, Bryant remains the bridesmaid. But could that ever change?
To a large degree, it's a question of whether you prioritize success on the court, or the entire package.
Short of a career-ending injury over the next few days, or a stunning decision to retire before April, it's already safe to not only view Kobe as the franchise's all-time leading regular season scorer, but leading playoff scorer as well (he trails The Logo by a mere 76 points in that category). Thanks to John Hollinger's beautiful mind, we are able to estimate how Kobe's final regular season numbers may shake out. If I might offer a mild understatement, they're impressive. He'll be among the leaders in rebounding and blocked shots, as well as every aspect of scoring one expects. And while Magic's three league MVP awards triple Kobe's one, Johnson never made an all-defensive team while Bryant has been named nine times (and counting). Plus, last time I checked, it was Kobe who racked up 81 points in a game.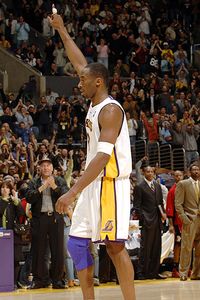 Noah Graham/NBAE via Getty Images
Even a moment like "81" may not
be enough to become G.L.O.A.t.
Assuming one or two more championships (hardly a reach), Kobe's body of basketball work will make him the G.L.O.A.T.
But for many, "greatest" is defined by the entire package, and here's where Kobe, once marketed as the most polarizing athlete of his generation, will take his lumps. Early isolation from teammates, feuding with Shaq (and the eventual breakup of the three-peat core), Colorado, and a messy trade demand complicate our perception of and feeling for Kobe. Thanks to the 2009 championship, and Bryant's increased maturity, these episodes are largely forgiven but they're not forgotten, especially as we contemplate his legacy.
Even now, Kobe's inherent likability has a ceiling. He's exceptionally easy to admire, or marvel at. Even worship. But if it's possible to be absurdly popular without being truly "beloved," that just might be Kobe, who has spent as much time frustrating fans as thrilling them.
The pure joy a player provided fans will go a long way toward determining how fans choose a franchise's "ultimate" player, and that's a major advantage for Magic.
But here's the real kick in the pants. Were Kobe's career entirely free of controversy, he'd still be pitted in an uphill battle against Magic along these lines. Quite literally, Magic had everything going for him. Nickname. Smile. Personality. Style. A position tailored towards "making everyone else better" (a common knock against Kobe). Timing (whether you're talking pinpoint passes, arriving when the NBA needed saving, coinciding with Larry Bird's arrival, or playing before the Internet, TMZ and cell cameras might have compromised his image). Championships. And being the heart of the "Showtime" phenomenon in the city born to host.
The stars couldn't have aligned better for Magic. His current status as Lakers Vice-President and owner don't feel so much like points in his favor (but make no mistake, they are) as acknowledgment of his literally and metaphorically running/owning the team from day one.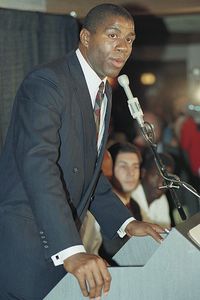 Craig Fujii/AP Photo
Who will ever forget this moment?
Beyond that, Los Angeles is a Laker town, and this franchise is as much a part of the city's fabric as Hollywood, the beach or South Central. Because they're so intertwined, what Magic means to Los Angeles itself can't be ignored. He helped the city rise, building 24 Hour fitness centers, T.G.I. Fridays, Starbucks and movie theaters for the inner city. (Magic Johnson Enterprise's motto: We are the communities we serve.) He brought the city to a standstill, his HIV positive announcement was the sucker punch felt from Pasadena to Playa Del Ray and all points between. (Beyond never forgetting where I was when I heard the news, I remember who delivered it to me on USC's campus: My buddy Scott who, ironically, was wearing a "32" jersey when he got word.) And he provided the city hope, proving his disease wasn't a death sentence.
As impressive as Magic was on the hardwood, you can make a legitimate case his impact was bigger after leaving it. And he's remained an Angeleno, making his every achievement feel connected to his Laker legacy.
Honestly, it isn't even fair asking Kobe to compete with that.
Seriously, what's Mamba supposed to do?
Launch a chain of Gold's Gyms, Applebee's, Coffee Bean's and Imax theaters, all out-earning Johnson's? Master the few areas Magic failed in, which I suppose means making a successful leap from player to coach, then coach to talk show host? (Sheila E is probably available for another go on the drums.) Go the philanthropy route (it's worth noting Kobe's already done a boatload of charity work) and rebuild whatever struggling areas Magic hasn't already improved? Turn that approach on its head and help make Newport Beach, the area he calls home, even swankier? I realize we're entering the theater of the absurd here, but all joking aside, Magic's list of accomplishments is so overwhelming it's comical.
And so is the notion of topping them.
If Kobe has one ace in the hole, it's a legion of fans that stuck by him through a lot of ups and downs. As I've come to learn over the years, that base takes solidarity very personally. When Kobe finally hangs up the sneaks, he'll complete a journey accompanied by thousands of fans who have traveled with him.
But then again, it's not like Magic hasn't fostered a multi-generational appeal himself, and he's got a big-time head start.
Just as I doubt any band will ever widely be considered more important than the Beatles (because reaching those heights inevitably means being compared to the Beatles, a losing prospect), I can't see Kobe or anyone else ever truly unseating Magic.
Honestly, I think the odds of Kobe passing Michael Jordan for the consensus "greatest player ever" honors could actually be higher than passing Magic on the local front.
Seem illogical? Perhaps. But then again, matters of the heart often are, and few if any athletes own the hearts of any city the way Magic Johnson owns L.A.