Many Lakers fans are familiar with the new play "Magic/Bird," the stage rendering of the most legendary pairings ever produced in sports, that of Magic Johnson and Larry Bird, which opened on Broadway April 11. Quite frankly, I have no idea if it's good or not, but at the very least I can vouch for their taste in marquee photo, since it was taken by iconic photographer Andrew Bernstein.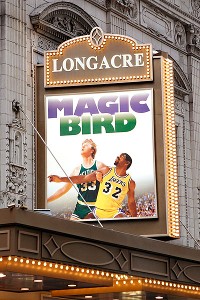 Stephen Freeman/Getty Images
Andrew Bernstein's photography has appeared in many places, but never Broadway... until now.
I had a chance to ask him about it, and like many of his pictures, there's an interesting backstory reflecting the serendipity of sports photography:
"I guess they were looking for the iconic photo that would sum up their rivalry. A picture where one wasn't more dominant over the other, and they found one of my more well known pictures from (the) '84 (Finals), with Magic and Larry kind of jostling for position. It was actually after a free throw situation, which was interesting because as a guard and a forward, they never matched up against each other. It wasn't like Jordan or Magic, or even in today's game LeBron and Kobe. Those guys never D'd up against each other. Once in a while you'd get a switch or something, but the only times you could really get them together were there captains meeting five minutes before the game, where they would shake hands or whatever, a pre-planned photo shoot -- which I did a few times – and jockeying for position after a free throw. That's where my two most well know pictures (of them) came from, off free throw situations."
Take a look at any famous picture of an NBA player shot over the last 30 or so years, and there's a strong chance Bernstein is the photographer. Lakers fans should be particularly familiar with him and his decades of work in L.A.. We collaborated with him on this profile of the '09 title team, (and in an admittedly more prestigious project) he collaborated with Phil Jackson in a fantastic book looking at the '10 champs. Still, while Bernstein has seen his work in a lot of places, Broadway is a new wrinkle.
"I've been published in probably every possible way from print media, TV, Internet, virtual reality," he said. "But to be on a Playbill? To me, I come from a very theatrical family in New York, it was a thrill."