There are things to like about the Golden State Warriors. Their uniform redesign, for example, produced some of the slickest togs the NBA has to offer. Go get yourself a logo patch, and maybe a t-shirt or replica jersey. The Warriors also have dedicated fans, an association with Jerry West (always nice, particularly when it comes to thinking big), and a very young, appealing franchise player in Steph Curry.
Plus, David Lee is from St. Louis, always good for cheap points on this site.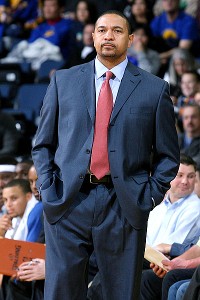 Jack Arent/Getty Images
I'm sure Mark Jackson will look a little more excited once the Warriors are playing better.
What they don't have these days is a culture of consistent winning.
Since 1994-95, Golden State has won more than 38 games in a season twice, 26 or fewer seven times, and have made the playoffs once. That ain't good. For a long time the Warriors were saddled with brutally bad ownership under Chris Cohan. Now new rich guys are in charge, led by Joe Lacob and Peter Guber, so there's hope the Warriors might turn a corner. Still, it won't happen quickly. New coach Mark Jackson has tried to instil a defensive mindset, and with the understanding all things are relative, in the early going has had some success. Through TK games, Golden State has shaved about four points off opponent's scoring per 100 possessions. Still only good for 22nd in the league, but better than the three previous seasons (26th, 29th, 28th).
Unfortunately, that defensive improvement has come at the expense of Golden State's offense. Once a juggernaut putting ball through hoop, the Warriors have thus far been among the league's most anemic teams, 25th in scoring (90.3 ppg) and efficiency (98.9 points per 100 trips), a huge drop from previous seasons. Blame some of that on Curry's recurring ankle problems, but it still amounts to trouble for Golden State folks may not have expected.
To get a little more insight into tonight's opponent, I sent some questions to Ethan Sherwood Strauss of WarriorsWorld.net, your GSW stop on the TrueHoop track.
1. Not to get all judgmental, but things seemed to go off the rails up there as the Don Nelson era wound down, and didn't improve under Keith Smart. How has Mark Jackson impacted the Warriors culture?
Ya, it did get pretty dark and weird back there with Nellie, huh? The best was when he slurrily called a sports radio show from an Indianapolis bar, made loud mention of his scotch in hand, and lamented Stephen Jackson's terrible trade value. The culture has calmed down since then, but in the wake of cultural chaos we're left with mediocre talent. Perhaps Mark Jackson can motivate athletes, but this team might have no way to pair with a will.
2. What are the prospects for Year 2 of the Monta Ellis/Curry/Lee core? Can it become a playoff contender, or do more changes have to be made?
The prospects are bleak, the team must decide on Monta vs. Steph. It feels as if the catharsis of making the decision matters more than making the right decision. Lee has immense defensive flaws, but I'm enjoying his progress as a pick-and-pop big.
3. What the hell happened to Andris Biedrins?
I wrote about this the other day, but you Laker lovers probably missed it in favor of, you know, following a relevant, storied franchise. Andris fell apart from the free throw line, and fear of freebies seeped into his game. While most players are drawn to the white stripe like Pepe Le Pew, Biedrins jumps so far from contact that he lands on the bench.
4. What is Stephen Curry's ankle made out of?
Silly string. Wet silly string.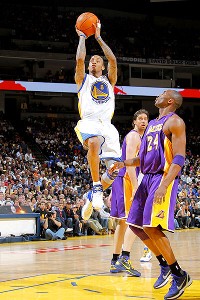 Rocky Widner/Getty Images
The Lakers will try to put a lid on Monta Ellis Friday night.
(BK's Note: He's wrong. The correct answer is "The tattered hopes of my fantasy basketball team." In related news, Curry is questionable for the game, after hurting his surgically repaired ankle for the second time this season.)
5. In a matchup with the Lakers, what do the Warriors have to do in order to win?
Monta Ellis needs to fly around the Lakers like an untied balloon. Give em' the Aaron Brooks treatment.
BONUS:
So... Kwame Brown?
He's been decent! He even caught a pass or two. Who needs Chris Paul and Tyson Chandler?
________________________________________________
Thanks to Ethan and the WarriorsWorld gang for kicking in.
A few more observations for Friday's game...
1. It's got to be Monta, or everyone else.
But not Monta and everyone else. Ellis is a potentially devestating scorer who can hit almost any shot on the floor against almost any type of defense. Particularly if Curry is on the sidelines, Ellis will have more than his share of opportunities to light up the board. And it's fine if he does, just as long as the Lakers don't give him a sidekick. While he's not exactly programmed for ball distribution first, Ellis certainly can move the rock when he's inclined. The Lakers either have to make him a scorer, or shut him down and make the supporting cast beat them. What they can't have happen is a big game from Ellis and strong performances from the other guys.
I'm sure L.A. will be conscious of containing Ellis as the ball handler on pick and roll sets (an area in which, as demonstrated Thursday against Portland, the Lakers still have room for improvement), but it will also be important to avoid overplaying him in penetration, leaving easy opportunities to set up teammates for high percentage looks.
2. Once again, get down low.
Via Synergy, the Lakers average almost 1.1 points per post up, best in the league. While Beidrins is a talented weakside shot blocker, the Warriors aren't equipped to slow L.A. down on the block. Brown is a solid post defender, but doesn't do well in space or with help. Ekpe Udoh is still raw, Lee has never been more than an ordinary defender. Friday shapes up as another strong game for the bigs. Metta World Peace should be able to work there, too, if he can get good position.
3. Make a shot on the perimeter.
After Thursday's 0-for-11 performance from downtown, the third time this season they've been in single digits, the Lakers are the NBA's 28th ranked 3-point shooting team, at 24.8 percent. That number leaps! up to 30 percent at Staples. Better than their 10 percent road mark, but still not enough to keep defenses honest in the long term. They have to build some credibility from the perimeter, sooner rather than later. Expect Golden State to collapse on L.A. down low. There will be opportunities for clean jumpers.
Might be nice to make a few.