For the second time since Pau Gasol swapped places with Kwame Brown, the Lakers have dropped three consecutive games. It's hardly the sign of a falling sky. Frankly, most franchises would kill for these kind of "problems." But it's nonetheless indicative of a team not playing to their established high standards. Even worse, the losses have evolved from "good play overall, but somebody had to win" (Utah) to "bad overall play, and they didn't deserve to win" (Memphis).
Thankfully, Houston also isn't playing like a contender at the moment (all season, really), so there's a legit chance to right the ship. Unfortunately, there's also a chance to keep snowballing in the wrong direction, should a few issues remain unaddressed. Here are a few items to be mindful of once the ball is jumped:
Kobe Bryant's decisions and shot count against Shane Battier
Notice, I didn't say "Kobe Bryant vs. Shane Battier," because the showdown isn't the whole story now. Sure, as mentioned during the Week In Preview, these guys squaring off is among the best matchups NBA roundball offers. Beyond the "all-time great scorer meets an elite wing defender" angle, you've got two of the league's smartest cats butting heads. Measuring acumen on both sides of the ball, an argument could be made Kobe is the brainiest dude in the league.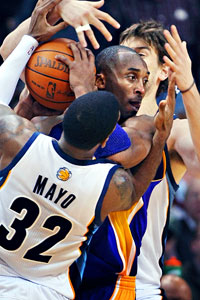 AP Photo
Not giving up the ball enough can lead to situations like this one.
Unfortunately, Kobe is also the most stubborn dude in the league when he puts those same brains to it, and Tuesday's loss to Memphis was an example of doggedness gone bad. Throughout the game, Kobe was in permanent "head down, iso-centric, rock-pounding, I don't care if it works, I'm gonna keep on doing it" mode, despite the lack of hay being made. As a result, Bryant's wasn't just missing shots -- 10 straight at one point between the second and third quarters, plus three turnovers -- his approach threw the Lakers' offense out of whack. Teammates appeared unsure of their role as Kobe did work, and nobody developed a steady rhythm.
This comes on the heels of a performance from Kobe that wasn't entirely "bad," but shared the same ball-dominant characteristics. The same ending was also shared, one where the Lakers didn't win. Should Bryant replicate this approach against Battier, a defender capable of preventing the sweet spots on the floor from being reached, the first four-game losing streak of the Pau era doesn't feel far-fetched.
As Brian mentioned in his earlier post, it's not purely the number of shots Kobe fires that matters most, but the quality of shots while creating that figure. I agree with that philosophy, but the situation nonetheless can't be entirely boiled down so simply. In the five games where Kobe's taken his highest number of shots (between 25-33), the Lakers are 2-3, and both wins came against the Minnesota Timberwolves, who don't exactly constitute high competition.
Debate all you want about what prompted that high volume, but at the end of the day, it doesn't change the fact the more Kobe shoots, the less effective the Lakers tend to be. This trend has been in effect for quite some time, in large part because it reduces Kobe's considerable talents. He's the NBA's most complete player, so it makes no sense, unless absolutely necessary, to forgo those considerable play-making skills to embark on a single-minded mission of scoring. He's likely to fill a bucket in any event, regardless of the process, so why not operate as a better-rounded conduit for points?
Against Indiana and (especially) Memphis, the Lakers haven't resembled themselves offensively. Too little ball movement. Too little action created inside by Pau, Lamar Odom or even Kobe at times. Too little group mind. It's important the Lakers make a concerted effort to function as a purposeful unit, and honestly speaking, this typically begins with Kobe. This squad has always taken cues from Bryant, and more often than not, that's a good thing. During the last two games, however, they've had no choice but to follow his lead. The more Kobe dominates the ball, the greater the onus to do good things with it.
Lamar Odom's shot count
If Kobe needs to be more judicious with his shots, LO needs to go on a bender. Like his longtime teammate, Odom's attempts have a specific effect on the Lakers' fortunes, but in the exact opposite way. Three of the five defeats feature eight or fewer field goal attempts from LO. Yes, there were also wins where Lamar shot eight times, and the Phoenix loss boasted 18 shots from Odom, his highest count for the year. But that was also a game where LO was among the standout Lakers, so linking his aggressive offense and a loss feels like a stretch.
Whether you label him the "X Factor," the "bellwether," or just a talented and versatile player capable of creating an automatic mismatch, there's no question when Lamar is fully engaged in the offense, the Lakers are almost impossible to beat.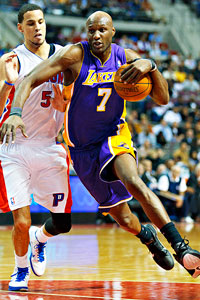 Win McNamee/Getty Images
If Kobe needs to dial back his scoring instincts, Lamar needs to crank his up.
As I've always maintained, it's not necessarily amount of points LO racks, but rather presenting himself as a steady threat to score. I've always appreciated Lamar's desire to set up teammates, and the willingness to spread the wealth at his own statistical expense makes him a unique player. But when he goes too far in the selfless direction, his influence can be diluted.
Kyle Lowry
Aaron Brooks remains on the shelf with an ankle injury, offering a nice break for the Lakers, and specifically, Derek Fisher. After El Presidente's rough night containing Mike Conley, a back-t0-back assignment against Houston's water bug feels less than appealing. However, Brooks' absence doesn't guarantee Fish -- or the Lakers -- a night of peaches and cream.
Lowry has long been one of my favorite role players in the league, and definitely among the more underrated. Since taking over for Brooks, he's averaging 7.3 dimes per contest, and plays with the same bulldog tenacity as Fisher. It's a pairing likely to fly under the radar, particularly in light of the Lakers' recent skid, but capable of providing entertainment in its own right.