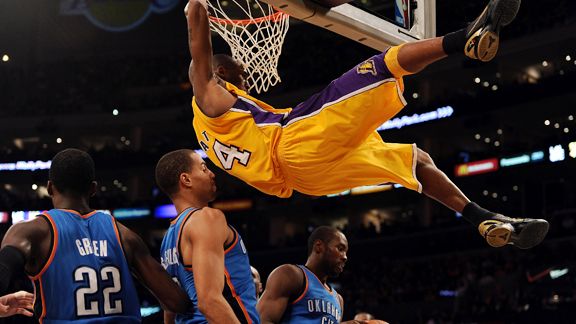 Harry How/Getty Images
This is among the higher percentage looks Kobe has had over the last 12 games, but he's been hitting shots from all over the floor with serious efficiency.
Dissecting Kobe Bryant's game is basically a full time job for fans and media alike, and while he's frequently described as efficient -- darn near ruthless, actually -- in the economy of his footwork, the speed at which he can dial up his offensive game or reach sweet spots around the court, Bryant isn't necessarily viewed as an ultra-efficient scorer. Those finding fault more generally with his game call him a volume shooter, latching on to games like Dec. 28 in San Antonio as an example of how, when push comes to shove, he'll always scuttle the offense. No question, from time to time it happens, but overall Kobe measures games very well. As a team the Lakers have assorted issues this season, but fundamentally don't have a Kobe Problem. Not even close.
Particularly right now.
Over his 12 most recent games, Kobe's shooting percentage is a robust 49.3, and the economy in his game has been outstanding: 25.1 points a night on only 18.41 shots a game, all while averaging nearly five assists (4.83). Only twice has he shot worse than 45.5 percent from the floor.
That the Lakers are 10-2 in these games shouldn't come as a shock.
Particularly impressive is the shot distribution, which you can look at thanks to the fine folks at Hoopdata.com. If Kobe had laid off the three a little more (13-46, 28.2 percent), his figures would likely have been even higher. His most effective spots won't come as a surprise:
At the rim: 28-38, 73.7 percent.

Inside 10 feet: 19-42, 45.2

10 to 15 feet: 21-34, 61.7

16-23: 28-61, 45.9
The numbers reflect some of the changes in Kobe's game over the last few seasons. He can still get to the rim, but the mid-range stuff is becoming so automatic, particularly when he picks his spots effectively (coming off screens, beating a strong-but-undersized defender like Eric Gordon to his spots, something he did frequently Sunday afternoon, and so on) he doesn't always have to. If the lane is available, he can go. If not, pulling up from 13 is often nearly as good.
As Andrew Bynum continues rounding into form and the Lakers get Pau Gasol completely out of his rut and into the groove, this sort of efficiency from Bryant will make the offense far more difficult to stop.