At the risk of offending D.J. Mbenga, the Lakers weren't supposed to miss D.J. Mbenga this season as much as they did.
Unfortunately, the Theo Ratliff Era wasn't. Slowed in the preseason, Ratliff played a total of eight games before a bum knee put him on the shelf, and eventually the operating table in mid-November. It wasn't until a two-minute, "Hey, did you know Theo Ratliff was available?" appearance against the Mavs March 31 that he played again, and from there logged three more minutes through the rest of the regular and post seasons.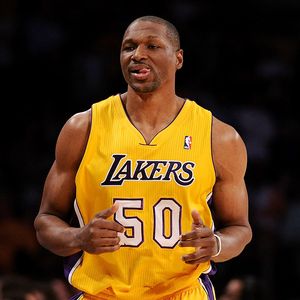 Harry How/Getty Images
The whole Theo Ratliff thing didn't really work out.
He was a nice idea for a team on a budget as a shot-blocking, defense-minded third center capable of stepping in to play minutes when needed, without upsetting the apple cart in the long stretches when not. I'm sure he filled that role beautifully for Lakers fans playing NBA 2K at home.
In theory, the loss of a third-string center on a team front-loaded with serious talent and championship expectations shouldn't be a big deal. In practice, it was. When Andrew Bynum's recovery from offseason surgery took longer than expected, without a credible alternative Pau Gasol was asked to play an unhealthy amount of minutes, straining a lower body already dinged with hamstring issues and completely exhausting any benefit gained skipping international play last summer.
Given how poorly he finished, it's easy to forget Gasol's incredible start to the season, when people were tossing his name into (very, very early) MVP conversations. As the minutes piled up, Gasol's play became more erratic. Even when Bynum returned, Gasol never quite did, completing what was still an All-Star season, but easily his most inconsistent as a Laker. To chalk up all of his problems to Ratliff's absence is too simplistic, but there's no question the demands put on him by a thinned out frontcourt hurt Gasol.
Assuming for now the Lakers keep the band together, tweaking the roster by swapping out the horn section as opposed to singers and guitarists, when all is well with the world, the third-string center will at best play spot minutes in relief of Bynum and Gasol. Foul trouble here, a matchup there.
However, it's a mistake, particularly on a team with Bynum, to presume all will always be well.
The Lakers have plenty of needs this summer. Outside shooting is paramount, and they must figure out a way to get more production from the point. From there, the list (our list, too) moves on to athleticism, perhaps finding another player capable of creating off the dribble, and more. In that context, a third-string center can't be considered the most pressing order of business. Still, there are plenty of ways to undermine the viability of a potentially elite roster. We focus a great deal on injuries at the top, but not enough to what happens to the guys at the end of the rotation. When those guys can't play, whether because they're hurt or ineffective, the impact of their absence trickles up and touches the stars.
Next year, the Lakers would be wise to get themselves a higher quality insurance policy. Fortunately for them, the free agent rolls are actually filled with a decent amount of viable names. Unlike, say, the crop of available point guards.
Scale of Importance (1-10): 5
PREVIOUS OFFSEASON NEEDS POSTS: