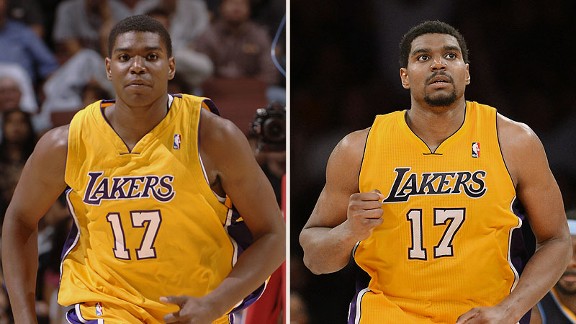 Getty Images
It's been an exciting, productive and often wild seven years for Bynum in L.A.
Andrew Bynum's rookie campaign was low on meaningful moments or minutes, particularly as the season progressed, but there nonetheless was one sequence for the ages. On Jan. 16, 2006, against the Miami Heat, Bynum packed about as much excitement as humanly possible into 3 minutes, 31 seconds of a first-half run. The kid was well outside the rotation, having logged less than nine combined minutes over the previous 10 games. But with Kwame Brown and Chris Mihm both in foul trouble and Shaquille O'Neal on the floor, Phil Jackson's hand was forced. A center newly of voting age was pressed into action.
Little time passed before he found himself on the wrong end of a "Diesel" dunk, a posterization ferocious enough to fear injury would result. (As I described the sequence, "it was like watching the roof collapse on a wheelchair-bound puppy.") It would have been understandable if Bynum had been too frazzled to bring much to the table afterward. Instead, the kid set up between the circles on the right side of the block, then left O'Neal in his dust with a spin move to the rack. So (rightfully) jacked up was the youngster, he opted to deliver a little elbow nudge to Shaq as the two went upcourt. "Superman" responded with a legit forearm shiver, and the two had to be separated.
In that moment, we learned a few things about Bynum: Even while absurdly inexperienced to be playing in the NBA, he contained real potential to become a talented player. This also was not a kid easily intimidated, nor content to bide his time before making his presence felt.
For better and for worse, this has been Andrew Bynum in a nutshell during his seven years as a Laker.
Often, this burning desire to be an integral part of the action has served the Lakers well. For example, the way he seemingly transformed overnight from the kid Kobe wanted to "ship out" for Jason Kidd into the center who convinced "The Mamba" his team was a championship contender even before Pau Gasol's arrival. Fuzzy history has since gone on to credit Kobe's parking lot tantrum as Bynum's motivation to improve, but he'd already been working hard with a personal trainer during the offseason. Bouts with on-court laziness acknowledged, Bynum nonetheless maintains a very high standard for himself as a player.
That urge to be a part of the action also explains why the center dragged himself around on one leg through the 2010 playoffs. After missing the whole postseason party in 2008 and operating as a semi-hobbled afterthought in 2009, Bynum wasn't just itching for a real taste of a deep run. He also recognized, even at a young age, that the opportunities to take true part in a title run can be fleeting. This chance was in front of him, and Bynum was determined not to waste it. By the time Game 7 against Boston rolled around, he was visibly limited and probably couldn't have handled a "Game 8." But make no mistake. Drew showed real guts in this effort to contribute to a title defense, impressing teammates, coaches, the front office and yours truly in the process.
However, that unwillingness to wait or acquiesce also has its downside. Over the past few years, even in his most dedicated moments defensively, Bynum's touches and role in the offense have been a point of contention. When deemed less than satisfactory, lackluster effort and mental lapses are disturbingly possible. And while it was impressive to see his boots fail to quake in Shaq's presence, authority figures often failed to register with Bynum as he grew older. Mike Brown and Mitch Kupchak both were treated dismissively on different occasions during a season marked with petulance. (Plus, that whole handicapped parking incident.) As much as I often appreciated Drew's candid nature, which served as an oasis in a desert filled with cliched soundbites and safe responses, I also wondered whether it reflected a general lack of concern toward consequences of any kind.
During his exit interview this past season, Bynum talked about the importance of playing for his teammates as much as himself and becoming a leader with the Lakers. That opportunity instead waits in Philadelphia, now that he is part of the Lakers' trade for Dwight Howard, but it's certainly Bynum's to earn (rather than take). And I really hope he does make good on this chance. This past season, I frequently expressed exasperation with Bynum's attitude, but generally speaking, I enjoyed my time covering him since the moment he entered the league. And even if I didn't, Drew is a talented player, and it's exciting to see greatness milked for all it's worth.
Bynum has long itched for the situation he's about to enter in Philadelphia. You can debate whether he's ready to handle that responsibility, but either way, it has been apparent for some time that a change of scenery was likely necessary for him to feel satisfied. Hopefully, the setting will prove to be what Drew wants, and he'll take full advantage.