And with that, the Lakers are back above .500 again. Here are five takeaways from the win:
1) Kobe Bryant shot the ball a lot again, but with considerably improved selection
Predictably, Kobe's 6-for-28 disaster in Denver generated the talk typical of games where The Mamba hoists a fair amount of shots to ill-effect. Specifically, people obsessed over the shot count, and whether, in this particular case, "28" represents too many. Among the questions asked... what's the "right" amount for Kobe, especially in a game where Andrew Bynum and Pau Gasol (among others are hitting shots)... Will Mike Brown call him out... Will Kobe come out the next game "aggressive" (code for "hucking like there's no tomorrow") or facilitating (code for "allowing others to touch the ball")?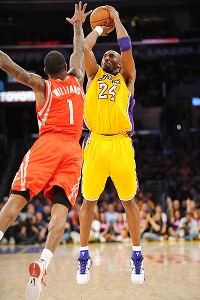 Andrew D. Bernstein/NBAE/Getty Images
Kobe took more shots against Houston than Denver, but controversy won't likely follow.
But largely lost in the conversation was the true issue, which was the shot selection itself. For a natural scorer like Kobe capable of hitting from anywhere on the court, it's not necessarily how many shots go up, but where and how they're launched. Against the Nuggets, Kobe was reckless, launching without conscious, discretion or regard for the consequences. As a result, several possessions ended on empty notes, and the Laker D was constantly on its heels in transition.
But against Houston, Kobe was sensible and methodical about where he chose to let fly. More often than not, Bryant went to work down low, posting up the smaller likes of Kyle Lowry, Kevin Martin and other Rockets absolutely mismatched against his superior size. Whether taking it to the rim or turning around to pop a J before the double arrived, this was a controlled, relaxed scoring display. Yes, it took some time to get cooking, and Bryant finished the first half 5-14 with 15 points, but the shot chart was considerably more pleasing to the eye.
(As an added bonus, Kobe operating like this also meant fewer opportunities to get stripped in space or on an attempt to split a double. Thus, the ball was turned over only twice (against six assists), a decided improvement over Sunday's six gaffes.)
During the second half, Bryant caught heat. And down the stretch, we saw Kobe what's made him a legend: Make difficult shots to close out a game. But again, these monster buckets were generally set up and executed better, with Kobe backing down defenders and making quick, decisive moves, rather than jab-stepping himself to death in isolation. He ended the evening with a reasonably efficient 14-29 clip, but had he missed a few more, I wouldn't have had too many complaints (save one below), because it was generally difficult to find fault with the shots themselves.
All in all, Bryant's 37 points provided a great reminder about how the story isn't found in raw numbers. Context means everything.
2) Andrew Bynum remains in beast mode
Having said all that in praise of Kobe's shot selection, if there was one downside, it's that more than a few of these hoists came at the expense of touches for Bynum, who played absolutely out of his mind. Now in his third game back from suspension, the kid racked the first 20/20 game of his career. More specifically, 21 points and 22 boards, the former number accumulated while Houston's undersized frontcourt struggled to slow the massive center. He could have amassed even more points, but wasn't fed enough during the first half, especially during a stretch when Houston went small and the Lakers didn't capitalize.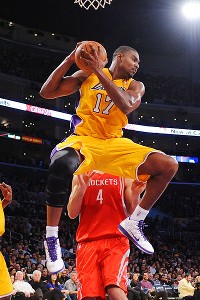 Noah Graham/NBAE/Getty Images
Why, yes. I will do windows.
Coincidentally, Bynum's highlight score and rebound came on the same play in the second quarter. After the Lakers came up dry after two chances, Bynum stretched his hand all the way to Figueroa St. to snag a missed 7-footer from Gasol, then threw the ball down with ridiculous authority despite a foul from Luis Scola. One got the sense the force was due in part to frustration over the amount of times the ball missed him down low. Can't say I blame the guy.
3) The Lakers were careless guarding the three-point line
In the first half, the Rockets missed 12 of their 15 three-pointers, but that was often more the result of bad luck than excellent perimeter D from the Lakers. A lot of clean looks just refused to cooperate. In the second half, the visitors' fortunes turned. 50 percent of those bombs ended up wet, a big reason why they kept matters so close. Houston entered the game shooting 34.7 from behind the arc, which is basically middle of the back. Thus, I'm placing more blame on the Laker defenders, rather than a collectively hot hand from the Rockets.
4) Metta World Playmaker
With the clock running down to end the first quarter, Metta World Peace dribbled down the clock with the floor spread, obviously the one calling the shots before the frame ended. We've seen MWP quarterbacking possessions, but typically while doing his best impression of a bulldozer laying out smaller defenders. Metta in space is an unfamiliar look, and I'd be lying if I claimed not to have held my breath. But MWP came through, finding Steve Blake in the corner for a made three. It was one of a few such dimes for Metta, who's finished the night with five (and no turnovers), and is clearly growing more comfortable each game as a second unit facilitator. If he's capable of setting up teammates from all over the court, the reserves will in turn jell that much more.
5) If Jason Kapono ever changes his name, it will not be to "Metta World Playmaker."
Tonight, we saw perhaps the first two passes from Kapono this season offered with the intent of setting up a teammate, rather than just moving it along before drifting to spot up. The first an awful lob to MWP on the box, chucked with all the elegance of a shut putter. The second was rifled to nobody in particular. As the saying goes, let us never speak of this again.