On Jan. 22, 2006, a Sunday game between the Los Angeles Lakers and the Toronto Raptors turned into a piece of NBA history. It was a game in which Kobe Bryant -- with the Lakers down 63-49 to their 14-26 guests from Canada -- strapped the supporting cast on his back and told everyone to get out of his way.
The result was 55 second-half points. 28-for-46 from the field. Seven makes from downtown. Just two misses in 20 trips to the line.
By the time he took a final seat to a thunderous ovation, Bryant had scored 81 points, the second-highest single-game total in NBA history. Since that iconic moment, so much has changed regarding Kobe.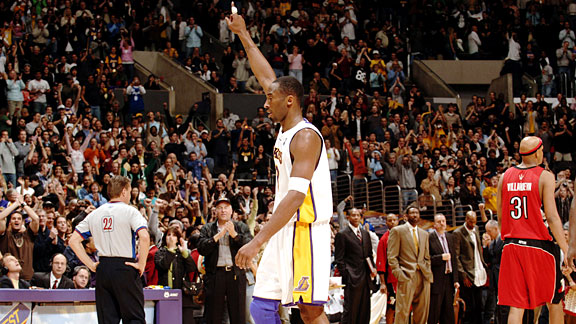 Noah Graham/NBAE/Getty Images
Just say "81." Every basketball fan knows what you mean.
He's grown as a player, with a desire to improve that is unmatched by any elite player in the league. He's grown as a leader, having developed the ability to communicate high standards for teammates without alienating them in the process. He's grown as a basketball mind, typically a step or two ahead of the competition mentally. And he's grown as an NBA face, now as popular as he was before scandal derailed his image.
Trust issues still surface -- most recently in a San Antonio loss admittedly too heavy on "takeover," and most famously during Game 7 against Boston -- and the balance between imposing will and empowering teammates will always remain a work in (largely positive) progress. But the changes over the past five seasons have nonetheless been remarkable.
Looking back on Kobe at the time of "81," the most striking change is arguably the teammates surrounding him.
Among those playing for the Lakers in 2006, six are now out of the league. Devean George was a decent role player but erratic, and his championship experience was gained largely as an observer. Devin Green was a nice kid but barely a fringe NBA player. Smush Parker had the makings of a competent backup guard, but an attitude so bad the Miami Heat ate a few million bucks just to get him out of their hair.
Aaron McKie has since retired after an excellent career as a role player, but his two injury-riddled seasons with the Lakers were absolutely worthless. If Chris Mihm hadn't lost a career to injuries, he'd have been a nice backup center, but any good team is pushing its luck with him in the starting five. And even as president of the Slava Medvedenko Fan Club, it's a massive stretch to label the master of unintentional comedy "reliable."
Among those still cashing an NBA check, Brian Cook and Von Wafer re-entered the association this season after getting released by former teams. Both have been journeymen, and the odds favor this trend continuing. Kwame Brown's biggest contribution to the Lakers was a salary closely matching Pau Gasol's, and Brown has yet to prove he can bring much to the table beyond God-given size. Ronny Turiaf and Sasha Vujacic have nice roles with the Knicks and Nets, respectively, but each was deemed expendable as the competition at their position increased.
Of the three remaining Lakers, only Lamar Odom was worthy at the time of a central role on a championship-caliber team, and he's since improved as a player. Andrew Bynum has emerged as an elite-caliber big man, but as a doughy, inexperienced rookie he didn't even remove his warm-ups for "81." Luke Walton had his moments as a starter and reserve over the years, but injuries and the influx of more talented teammates have drastically reduced his minutes each season since the 2008 Finals run.
Forget how much better the Lakers' current starting five is than the group announced by Lawrence Tanter on Jan. 22, 2006. With all hands on deck, Steve Blake, Shannon Brown, Matt Barnes, Odom and either Gasol or Bynum comprise the second unit. I honestly like their odds against the 2006 starting five of Smush-Kobe-2006 Odom-Kwame-Mihm. And if the old-school team won out, you'd assume Bryant was the equalizer. Just as he was forced to be time and time again during that season.
That underscores the biggest reason Kobe's life is different, and for the better.
They say too much of anything is a bad thing, and that can even apply to displays of historic greatness. As incredible a feat as "81" was, the sobering reality is that the majority of those points were required to beat a mediocre foe at home. (This truth certainly wasn't lost on Kobe.) Bryant entered that game with exceedingly little to accomplish as a scorer, yet achieved the seemingly impossible as a survival mechanism. He proved beyond the shadow of any doubt that he could put up staggering points.
And happily for Bryant, the odds of having to prove it again are reassuringly low.