As Brian noted in his Week in Preview, Phil Jackson thinks a three-game roadie could help the Lakers rediscover some execution recently lost. Everything from hotel living to unfriendly arenas to a basic lack of familiarity spark relative discomfort, which in turn can lead to a sharpened focus. Like Shannon Brown told me after Sunday's loss to Phoenix, you really have no choice but to play better on the road. Assuming you want to win, that is.
Of the three consecutive contests played outside Staples Center, tonight's date with the Bucks appears by far the biggest challenge. Here are some items to think about once the ball is jumped:
Brandon Jennings the scorer vs. Brandon Jennings the playmaker
The Lakers want the former, not the latter. This season, Jennings is shooting (almost) 41 percent from the floor, and a look at the young point guard's game logs manages to make the paltry clip feel bloated. The kid's managed just two games with a 50 percent success rate, plus five where he didn't even hit 37 percent. The bottom line is he's not yet an efficient shooter.
Even with a reportedly improved tear drop move and a recent hot streak from beyond the arc (10-19 in his last four games), he's still a guy I don't fear calling his own number.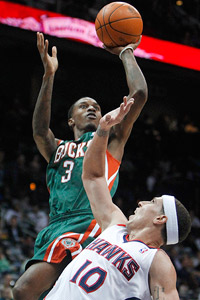 Josh D. Weiss/US Presswire
If Brandon Jennings wants to shoot, generally speaking,
let him.
Calling someone else's number, however, Jennings is arguably the team's blood source. He leads the team in assists (6.3) and for relative NBA novice who often devotes a lot of time dribbling and probing, his turnovers are impressively low (2.5). Moreover, the team averages an NBA-29th 17.6 assists per game, meaning Jennings sets up more than one-third of the team's buckets for an already putrid offense. Cut off this particular snake's head, and I'm guessing you're left with a reptile none too venomous.
Keep a body on Jennings' teammates and deny clean entries. Cut off his passing lanes. Sag off at times and dare him to let fly. If you turn Jennings into a one-man gang for points, he could be a lightning-quick handful, especially heading to the cup (where the most hay is made), but I'll gladly take my chances.
Andrew Bogut vs. Pau Gasol
Whether still recovering from last season's nasty elbow injury or just not getting the touches to develop offensive rhythm, Bogut is off to a slow start. But the skills are the skills, and he's got enough to make Pau Gasol work on the defensive end. More importantly, I'm certain he'll provide a challenge when the roles are reversed.
At seven feet and 260 pounds, Bogut's one of few centers matching Andrew Bynum's mass, much less Pau's, making him a load to push around in the lane. He's among the league's leaders for blocked shots, and even more impressively, gets his swats without picking up fouls. He's also proficient on the offensive and defensive glass, so Pau will need to account for the Aussie's presence at all times around the rim.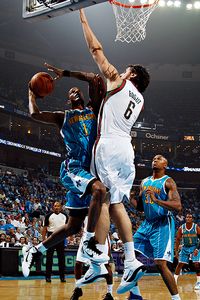 Chris Graythen/Getty Images
Andrew Bogut makes you earn it in the lane.
There's also a general edginess to Bogut, a willingness to confront. He's very outspoken, even if it risks alienating him in NBA circles. A bizarre Twitter war was picked with Bethlehem Shoals and Tom Ziller of AOL Fanhouse, despite not being quite sure which writer he felt insulted by. Even his facial hair feels vaguely "You want some of this, pal o' mine?" I'm sorry, but you don't rock a patchy, scraggly, semi-neck beard that fails to cover the entire underside of your chin or reach all the way to your ears unless you're fine with snarky comments. Or even desirous of them.
Offense vs. Defense
Whether measured by points allowed (89.4, NBA-1st), opponent field goal percentage (42.5, NBA-2nd), or defensive efficiency (95.4, NBA-2nd), Milwaukee is locking down dudes like an overzealous warden at a maximum security prison. Their guests, however, sport the league's most efficient and prolific offense. In theory, something has to give.
Even taking into account Milwaukee's defensive success last season, this year's campaign raised my eyebrows. Beyond Bogut and Luc Richard Mbah a Moute (who'll likely log time checking Kobe Bryant in a matchup worth watching), nobody on this team stands out as a particular defensive force. John Salmons has fans, but also detractors. And the biggest offseason acquisitions were Drew Gooden and Corey Maggette, considered somewhere between indifferent and flat out problematic defenders.
To gain a better idea of the Bucks' defensive prowess, I watched their recent over Golden State. From an individual player standpoint, nothing in particular stood out. From a group standpoint, I couldn't help but notice the non-stop activity. Players remained in constant motion and forced an opponent to working for theirs on every possession. Maybe it's that simple a formula: Hustle, scrap and desire.
In any event, credit Scott Skiles for getting his team to buy in, play as a unit, and forge a sum greater than the individual parts. If the Lakers maintain their triple digit consistency this evening, I'd consider it a legit accomplishment.
Maggette and Gooden: Resident ball stoppers
I mentioned earlier how the Bucks struggle to put up points. Well, at the risk of jumping to conclusions without having seen every game this season, I'm gonna offer a theory:
Maggette's usage rate (29.30) isn't just tops on the team, despite logging just 21 minutes per contest. It's the eighth highest in the entire league, even with a field goal percentage of just 41.3 percent. Conversely, his assist rate (4.22) isn't just the lowest on the Bucks. It's the 19th lowest among NBA ballers, placing Corey just behind noted play-maker Nenad Krstic. Yet somehow, he's good for nearly turnovers per game, despite apparently never passing the rock he covets like Gollum with the Precious.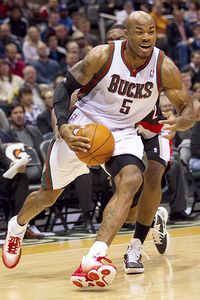 Jeff Hanisch/US Presswire
Corey Maggette likes to drive. Passing? No so much.
Along similar lines, the second highest usage rate belongs to Gooden (24.95), who just happens to rank behind his wing man for assist rate (6.16). Gooden avoids turning the ball over as frequently as Maggette, but it doesn't change the fact his play-making skills appear equally non-existent. Oh, and he's shooting 39 percent as we speak.
I don't know everything about basketball, but assuming I'm understanding the data correctly, with all sincere respect to Gooden's offensive skills and Maggette's ability to draw fouls while driving head down to the rack, if the Bucks want to improve a notably anemic offense, Skiles might wanna request the two dudes incapable/unwilling of doing jack for anyone else --or even enough for themselves -- handle the ball a little less often.
Just one man's observation...