Sam Amick at AOL Fanhouse and Brad Turner of the L.A. Times report the Cavaliers and Brian Shaware close to an agreement, after Shaw apparently aced a couple days of interviews with team officials. (Brian Windhorst of the Cleveland Plain-Dealerwrites the Cavs deny a deal is near completion, but typically an organization won't confirm this sort of thing until there's virtually no chance of the news changing.)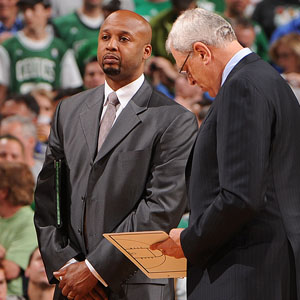 Andrew D. Bernstein/NBAE/Getty Images
If Phil Jackson returns to the Lakers next season, it appears he'll be down one assistant coach.
Amick also details a level of frustration with Byron Scott's camp toward the Cavaliers, indicating he's not likely to get the gig. (That Scott's agent agent e-mailed the AP wishing Shaw well and welcoming him into the fraternity of head coaches is also a strong indicator.)
Most of the basketball universe will digest this information in the context of how it could affect LeBron James. Lakers fans, though, will sift through the tea leaves for signs about Phil Jackson, and whether he'll be on the bench this fall. A few possibilities:
1) Shaw is taking the job in Cleveland because he believes Jackson will return.
2) Shaw is taking the job in Cleveland because he doesn't believe he'd beat out Scott for the job if Phil doesn't return.
3) Shaw is taking the job in Cleveland because there are no guarantees in the world of coaching, and since Shaw doesn't know if P.J. will be back, how long Jackson will stay if he does come back, or if he'd get the gig if Jackson leaves, he's taking a good opportunity with a solid organization. Call this the "Rambis Scenario."
Shaw's departure seems only to indicate one thing for sure: Should Phil Jackson retire, Byron Scott is the overwhelming favorite to be named the next head coach of the Lakers.
From Shaw's P.O.V., the Cleveland gig makes a lot of sense whether James returns or not. If he does, Shaw gets a superstar player and a good shot at success. Assuming the Cavs could figure out a way to put Humpty Dumpty back together again, it could actually benefit Shaw if James bolts to another franchise. He'd get to cut his teeth in an environment where the expectations are far lower. Virtually all the pressure would evaporate, and in a couple of years when the team rebounds, he'd be in better position to lead them to glory.
But these are problems for another city. In L.A., all the focus remains on Jackson Watch '10! and how it'll impact next season.