The transformation of the Denver Nuggets started last season when Carmelo Anthony was shipped off to New York for a massive haul of players. This year, the roster continues to evolve, but the Nuggets are still considered a playoff caliber team, and some like ESPN.com's John Hollinger, consider them one of the Western Conference's best teams.
With consecutive wins under their belt, the Lakers now face a tough pair of back-to-back, home-and-home games against the Nuggets. They'll welcome back Andrew Bynum, giving the coaching staff and fans alike the first chance to see the Lakers with all the component parts in uniform.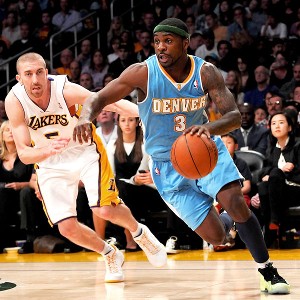 Lisa Blumenfeld/Getty Images
Ty Lawson is one of the many B+ players making the Nuggets a real threat out West.
So what awaits the Lakers this weekend? To find out, we hit up Charlie Yao and Kalen Deremo of TrueHoop's Roundball Mining Company with some questions.
1. The Nuggets are a team without a true go-to star. It worked for them last season following the Carmelo Anthony trade. What are the prospects for 2011-12?
DEREMO: In the NBA, much like in any professional sports league, there seems to be a blueprint regarding the essential tools required to win a championship. While in the NFL you may need a Hall of Fame caliber quarterback or in the MLB a potent starting rotation, you can still manage to win without one of these elements. However, the modern-day consensus among basketball aficionados is that in the NBA, the recipe for a championship consists of on ingredient and one ingredient only: a superstar.
Though the Denver Nuggets sorely lack in this particular department, it hasn't dissuaded the Mile High City's fan base from open optimism about the upcoming season because let's face it, the Nuggets are not the Lakers; failing to win a championship each year is essentially protocol, not an anomaly. Nevertheless, there is a decent-sized faction seemingly unwilling to ignore what history tells us about past NBA champions and are terrified of yet another first-round playoff exit.
Here's the thing: The 2011-12 Denver Nuggets might have the one ingredient necessary to defy the notion a superstar is required to win a championship, and that's a copious amount of depth. As of right now the Nuggets can trot out two separate starting lineups that could probably contend with half of the teams in the league. For example, a starting five of Andre Miller, Arron Afflalo, Al Harrington, Kenneth Faried and Timofey Mozgov would likely be just as effective as one with Ty Lawson, Rudy Fernandez, Danilo Gallinari, Nene and Chris Andersen.
Plus, this doesn't include Wilson Chandler whom the Nuggets will likely get back in late February or early March.
If Denver can fully capitalize on its youth, depth, and the altitude in Denver, there's no doubt that by the end of the season George Karl's run-and-gun squad could be looking at a top four seed out West. Moreover, considering how good Denver has been at home over the last handful of years, I wouldn't be surprised to see the Nuggets run teams out of the building on the way to a first-round playoff victory and possibly a trip to the Western Conference Finals if everything fell in Denver's favor.
2. Did the Chinese government do the Nuggets a favor by not allowing Chandler, Kenyon Martin, and J.R. Smith to sign deals allowing for an opt-out?
YAO: No, but only because Wilson Chandler emerged as a great fit and a key factor to Denver's no-superstar success. He was one of the Nuggets best help defenders and a versatile scorer who could create his own shot. With his restricted status I believe Denver still makes a strong push to retain him while they have flexibility. Kenyon Martin and J.R. Smith are unrestricted and were already on their way out. Both were always destined to sign with other teams.
DEREMO: Wilson Chandler is really the only piece potentially hurting the Nuggets right now as he's Denver's most valuable trade asset. It's widely believed among Nuggets fans that should Chandler not have "taken his talents" to China, Denver likely would have packaged him in some sort of multi-player trade for a guy like Josh Smith or possibly even Chris Paul once he became available.
3. How does George Karl plan on using his top three guards (Lawson/Miller/Afflalo)?
YAO: Karl is still tinkering with his lineups, but so far we've seen him be diplomatic and try to give all three of them significant, starter-type minutes. With the younger Lawson and Afflalo part of the long-term core, my hope is they'll be staples of most lineups and Miller will play a bit less as a bench specialist. Expect it to vary game by game though, with Lawson and Afflalo averaging slightly more minutes than Miller.
DEREMO: George Karl is a man of patterns. He has his eccentricities that he attaches himself to, and no matter how glaringly inefficient they may be, he simply will not stray away from them. The duel point guard lineup is one of Karl's very favorites and when he has two starter-worthy players like Ty Lawson and Andre Miller he tends to abuse this method to death. Last season when Raymond Felton joined the Nuggets, Karl consistently gave both him Lawson and upwards of 25 minutes per game, usually playing one alongside the other.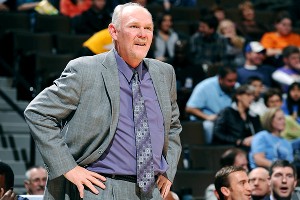 Bart Young/NBAE via Getty Images
George Karl has three high end guards at his disposal. How will he juggle his lineups?
Occasionally it worked, but more often than not it didn't, and still Karl never made adjustments even when more athletic two guards exploited the size discrepancy by simply shooting over the top of either diminutive guard.
4. What kind of defensive identity do you expect from this year's Nuggets?
DEREMO: After the Carmelo Anthony trade in late February of 2011, the Denver Nuggets took on a defensive identity for the first time in years. Though playing solid one-on-one defense was obviously a crucial aspect of this transformation, more than anything, it was fast-break points off turnovers that fully embodied the post-Anthony Nuggets. Look for this characteristic to carry on into the 2011-12 season but perhaps with more assertiveness as the Nuggets are even deeper and more focused on making defense a staple of the Mile High City's lone professional basketball club.
YAO: I expect them to be very aggressive pressuring the ball in pick and rolls, while gambling some in the passing lanes looking for steals. This team has a run-at-all-costs mentality and although they lack great individual defenders, they've got an athletic group with quick hands and enough size to get by. Teams with a lot of off-ball movement and great passing big men will give them trouble since they just aren't very disciplined or experienced.
5. Looking at this weekend's games, what do the Nuggets need to do to be successful against the Lakers?
YAO: Run. Simply put, they've got to establish a fast pace early and keep the pressure on. They want LA taking quick shots in order to keep up. The Lakers haven't still allowed more than 91 points and they've given up only one 30-point quarter in four games. Kobe has enough on his plate and if he has to shoot even more and score 35 to keep LA afloat, the Nuggets could wear them out. They'll also have to control the boards to keep LA from settling into their deliberate, half-court style.
DEREMO: To be quite candid, I believe the Lakers are a good matchup for the Nuggets. While L.A. relies on a few "superstars" to carry most of the load with journeymen role-players filling in the void, Denver is a team built to exploit this type of team structure. In all likelihood Kobe, Pau and Bynum will have a field day with whatever players Denver chooses to throw at them, but conversely, the Nuggets should be able to take full advantage of the Lakers second unit with the firepower that is Andre Miller, Rudy Fernandez, Al Harrington and Chris Andersen, which should counterbalance the Lakers' "big three."
But when glancing at the factors the Nuggets absolutely must deploy at full force in order to win, look no further than speed, pace, youth and depth. If Denver can continue to play solid defense while forcing turnovers, and thus, getting out on the fast-break, the Lakers will have trouble keeping up due to the extensive mileage logged by most of its players. Also, Lawson and Miller must look to fully exploit both Derek Fisher and Steve Blake. Neither of these points guards should be able to handle Miller on the block, but it's a flat-out guarantee that neither of them can handle Lawson off the dribble. Sticking with the point guard theme, it would be wise of Karl to place Afflalo on Kobe Bryant as much as humanly possible because if Bryant finds himself isolated against Miller or Lawson for long stretches of the game, we might be looking at another 81-point outburst from the Black Mamba.