Should the Lakers drop tonight's contest in Minnesota -- certainly a believable outcome, given the debacle in Milwaukee -- it'll be doubly disconcerting because of the story within the story. The Lakers are a team in transition. From Phil Jackson to Mike Brown. From Jerry Buss to Jim Buss. Even the transition from Kobe Bryant to the next Lakers franchise player is on the minds of many a Lakers fan. This season is about reassuring fans a smooth shift is in the works, as well as (hopefully) re-establishing championship credentials. Thus far, it's been rocky at best.
In the meantime, the direction of the Timberwolves, after several years of floundering and creating "Island of Misfit Toys" rosters, actually contains promise. Kevin Love is a legitimate superstar, Ricky Rubio looks like he could be as well, and Derrick Williams has obvious potential. Yes, there are still questionable contracts (Darko Milicic) and draft picks (Wes Johnson), but at least a light at the end of the tunnel can be seen. Granted, it could just be the headlights of a train driven recklessly out of control by David Kahn, but at least there's light. The first 20 games have represented a lot of darkness for the Lakers, on the court and, for those thinking bigger picture, looking beyond.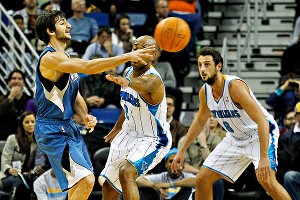 Derick E. Hingle/US Presswire
Doubts about Rubio's NBA-readiness have been quickly silenced.
For the scoop on the Timberwolves, we turned to Myles Brown, who runs A Wolf Among Wolves for the TrueHoop Network. Below are his responses to four questions about a surprisingly competitive Timberwolves squad. And if you'd be so kind, check out my responses to his questions about the Lakers, written before the Bucks game.
Land O'Lakers: At this stage of his NBA career, what does Ricky Rubio do especially well, and what still needs work? And along the lines of playmaking, does anyone else on the Wolves contribute regularly? The team ranks rather low in assists.
Myles Brown: Rubio is obviously an excellent passer. He moves the ball well both in transition and the half court, but not enough attention is devoted to his defense. While there still are lapses in judgment -- he occasionally over-helps and does struggle with quicker guards -- his size has been an advantage. He has exceptionally long arms to contest shots, play passing lanes and recover. Despite a recent cold streak, Ricky's jumper isn't nearly as bad as advertised. It's still essentially a set shot, but he's shooting well from the corners and the elbows and is looking more comfortable pulling up off the dribble.
As for our other playmakers, Luke Ridnour has reportedly been revitalized by Rubio's presence, but he's actually just been freed from the constraints of Kurt Rambis' triangle. He's been particularly effective in transition since defenses must respect his jumper. Kevin Love, who isn't posting impressive assist numbers, is still always capable of creating for others. The Wolves do rank pretty low in team assists, but that could be due to most plays beginning and ending with Rubio.
LOL: What do you make of the Wolves not giving Kevin Love the maxi-est deal possible: (a) a reflection of the front-office shenanigans we've grown to love, or (b) Love not truly being worth that type of commitment?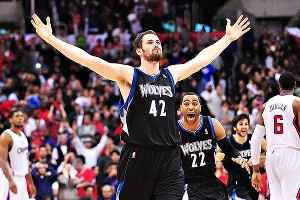 Gary A. Vasquez/US Presswire
Love probably didn't look as celebratory upon signing his extension.
MB: I was particularly upset with Love not receiving the maxy max. Considering this team's history, location and climate, securing a star of Kevin's caliber is of the utmost importance to establishing the credibility that attracts other quality players. He may not be a superstar, but his productivity isn't easily replaced. He will be a Wolf for at least three more years, yet in giving him the option to leave in the same summer that Rubio becomes a restricted free agent and Adelman's contract expires, the team has put an immense amount of pressure on itself to produce a winner immediately.
Why? Well, the party line was that they didn't want to use their only five-year commitment so early and injuries were a mild concern, but we all know that makes no sense. Injuries are always a risk and I doubt they'd use that excuse for the five-year offer they'll presumably make to Ricky Rubio. Which is a dangerous proposition. By apparently slighting Love and attempting to curry favor with Rubio, who we're not entirely sure wants to spend his entire career in Minneapolis, the Wolves may be setting themselves up to get Bron'd. Cleveland couldn't attract free agents because of his tenuous contract situation and were left with nothing when he decided to flee for greener pastures. It would be horrible to see that scene replay itself with our Spaniard.
LOL: There's so much attention on Love and Rubio, but is there someone else on the T-Wolves capable of swinging the game in either direction? And is this a player who might be particularly effective in a matchup against the Lakers?
MB: Considering the Lakers' weakness at point guard, Ridnour's scoring and playmaking abilities could come in handy. Rubio will be enough to keep the defense busy, but another option to keep them honest would be a bonus. As mentioned, Luke works well in transition and is capable of penetrating consistently. Given the Wolves' efficiency from 3-point land and the Lakers' occasional struggles in defending that territory, this could be a big advantage for the Wolves.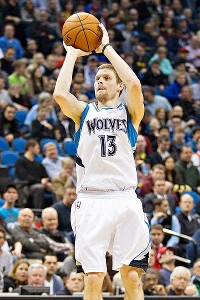 Jesse Johnson/US Presswire
It's not just Rubio the Lakers have to worry about running Minny's show.
A couple of others who could make a difference are Michael Beasley and Nikola Pekovic. Beasley is just returning from a bum ankle and wasn't at his best beforehand, however, he still can sink the timely buckets the Wolves will probably need to keep this contest competitive -- especially against the Lakers' second team, assuming he will be coming off the bench. Pekovic isn't a consistent difference maker, but he did have a strong showing against the Spurs the other evening and is just the type of bruiser needed to make things difficult for Andrew Bynum.
LOL: Out of curiosity/the desire to torture myself, how similar is what Adelman runs to the triangle, and how well do you think the Lakers' roster would have operated in it?
MB: Adelman has kept the offense quite simple this year. In discussing their schemes with the team the other night, there were acknowledgments that while they may come up court with something particular in mind, more often than not those plays are improvised by Rubio. This is a far cry from the triangle, of course, which depends on team-wide improvisation. What the Wolves are doing is only possible because of personnel. Again, considering the Lakers' apparent weakness at the point, it's difficult to imagine the same strategy, though Adelman would surely tailor it to fit their strengths.