The 2011 NBA Draft is Thursday afternoon (4 p.m. PT, ESPN). We've spent scads of time taking stock of where the Lakers stand heading into draft day, and now aim to catch up on the rest of the Western Conference.
Today, the Southwest Division...
San Antonio Spurs
2010-2011: 61-21, lost in the first round to the Memphis Grizzlies 4-2
Picks: 29, Round 1. 59, Round 2.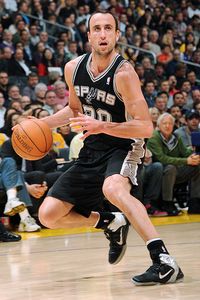 Andrew D. Bernstein/Getty Images
Manu Ginobili will once again lead the Manu/Timmeh/(probably) Parker core, but to say the clock is ticking is an understatement.
Where They Stand: At the tail end of an era. It was a strange year for the Spurs, who remained remarkably healthy for most of the season, earned the best record in the Western Conference, then saw Manu Ginobili hurt himself at the worst possible time and lost in the first round to a Memphis team showing oodles of potential. Now the Spurs have one more year with Tim Duncan under contract and two more seasons with Ginobili to go with Tony Parker for their Big Three. I suspect the trio will make at least one more run together, and as the 61 wins from this season attest, it's still a very competitive core. Add in solid role players like Gary Neal, George Hill, DeJuan Blair and Tiago Splitter, and the Spurs have every reason to give it one more go.
In terms of significant pieces likely gone for next season, the only big name is Antonio McDyess, likely retiring after a distinguished 16-year career. Whether he shelves the sneaks or not, the Spurs need some size to bolster the frontcourt and prevent Duncan from being overtaxed. Explosiveness on the wings wouldn't hurt, either, because Richard Jefferson essentially became a spot-up shooter last year, with nearly half of his shots coming from beyond the arc. Parker and Ginobili still attack the rack, but one more guy would take a lot of pressure off a core needing every break it can get.
A little defensive help would be a nice touch, too.
Projections (Round 1): Chad Ford, ESPN.com (Insider Required)- Davis Bertans (SF, Latvia). DraftExpress- Nikola Mirotic (PF, Montenegro)
--Brian Kamenetzky
Dallas Mavericks
2010-2011: 57-25, won the 2011 NBA championship
Picks: 26, Round 1. 57, Round 2.
Where they stand: With bigger fish to fry than the draft. Tyson Chandler, J.J. Barea, and DeShawn Stevenson all could depart after playing critical roles in capturing the franchise's first title, and Caron Butler, their second best player before a season ending injury, is a free agent as well. The Mavs outlasted the field in part because of their superior depth, thus their bid to repeat depends in large part on retaining as many useful players as possible to surround their lone superstar (Dirk Nowitzki, for the benefit of the thick).
Still, there are needs beyond maintaining continuity. With Roddy Beaubois an unproven commodity, covering their bases with another point guard wouldn't be the worst idea. Shawn Marion will need a backup if Butler isn't re-signed. And while Jason Kidd isn't quite ready yet to drive a Rascal, every year spent counting on a player pushing 40 carries inherent risk. Equally risky is penciling in a shrimp like Barea as a 30-40 mpg lead guard of the future. Again, factors pointing to bolstering the backcourt.
But really, given the team's collective age, prospects at any position are justifiable, particularly since the likelihood of finding a player able to help immediately from their draft position is unlikely.
Projections: Chad Ford - Josh Selby (PG, Kansas), Draft Express- Justin Harper (PF, Richmond)
--Andy Kamenetzky
New Orleans Hornets
2010-2011: 46-26, lost in the first round to the Los Angeles Lakers 4-2
Picks: 45, Round 2.
Where they stand: Seated across different areas of Chris Paul's back. Yes, they got off to a shockingly strong start and were the last team in the league to post a loss. And yes, first year coach Monty Williams appears to have a terrific career ahead of him. But at the end of the day, as the playoffs made abundantly clear, the All-Star point guard is the lifeblood of the Hornets. However, even players capable of winning games by themselves are human, so there's a critical need to take some pressure off his shoulders.
So much about the team's immediate future, beyond the whole "Will they or won't they trade CP3" thing, centers around David West. The power forward, enjoying his typical All-Star caliber season, tore his left ACL in late-March, creating uncertainty not only about how effective he'll be next season, but where the free agent wil lbe playing. If West isn't resigned, the Hornets could do worse than Carl Landry (particularly against the Lakers), but it would make sense to find another big man. Perhaps a few big men, if Aaron Gray opts to test the open market as well. Save Paul and Marco Belinelli, the Hornets are short on threats from behind the arc. And if you prefer marksmen who can actually defend or do anything except shoot, you're basically left with Paul.
Again, poor lil' guy does enough heavy lifting as it is. But without a first round pick, the Hornets likely won't find Paul any help until free agency season begins.
Projections (Round 2): Draft Express - Andrew Goudelock (G, Charleston)
--AK
Memphis Grizzlies
2010-2011: 46-26, lost in the second round to the Oklahoma City Thunder
Picks: 49, Round 2
Where They Stand: Up and coming. Memphis' roster boasts a nucleus of Zach Randolph, Mike Conley, Rudy Gay, O.J. Mayo, and (a presumably re-signed) Marc Gasol, plus improving role players like Darrell Arthur, Xavier Henry, Greivis Vasquez and Sam Young. Beyond being enviable, it's a core hardly lacking for youth. If anything, free agent Shane Battier's potential departure underscores the need to add more veteran know-how beyond Tony Allen. Thus, their semi-bystander status in the draft doesn't kill them.
However, that's not to say Memphis doesn't have work to do. Mayo is only still a Grizz by virtue of crossed wires at the trade deadline. Asked about the former Trojan's future, G.M. Chris Wallace was flowery but non-committal. Were Mayo relocated, Allen, Henry and Young are all solid-with-potential, but difficult to rely on as scoring threats. A more explosive option could be nice at the two. The Grizz worked this season in an offense almost completely without 3-point shooting, taking by far the fewest number in the league, and hitting at a 33.4% clip, good for 27th in the league. Already limited options on the perimeter decrease even further if Mayo and Battier leave. Wallace needs to find someone who can hoist the rock.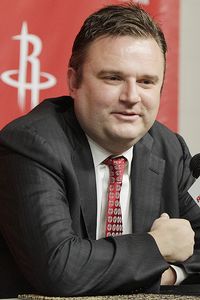 AP Photo/Pat Sullivan
Rockets G.M. Daryl Morey has a lot of goodwill built up in the basketball wonk community, but at some point more wins need to come, too.
Up front, Hammed Haddadi has yet to earn regular minutes, and if we've learned one thing during these playoffs, it's that los hermanos Gasol can get tuckered. If the Iranian export can't serve as a viable backup center, someone else must step in.
Projections (Round 2) Draft Express- Ben Hansbrough (G, Notre Dame)
-AK
Houston Rockets
2010-2011: 43-39, missed the playoffs.
Picks: 14, 23 (Round 1). 38 (Round 2).
Where They Stand: Too close to the ground. Houston has some high quality talent, starting with the highly efficient Kevin Martin (4th in True Shooting Percentage), and moving to the crafty Luis Scola up front and Kyle Lowry at the point. The Rockets have effective role players on the wings in Chase Budinger and Courtney Lee. What they don't have, though, is reliable size, particularly defensively. Yao Ming is a free agent with huge question marks surrounding his future, whether it comes in Houston or anywhere else. Brad Miller, while far more effective than expected this season overall, has all the mobility at this point of a tree planter. Chuck Hayes, while almost absurdly undersized as a 6'6" center, did yeoman's work this season, proving Houston's best post defender (it's like trying to back down a sawed off oak tree) while giving more offense than expected.
He's also a free agent, and despite the improvement isn't exactly ideal as a starting center.
It's an interesting time for the Rockets. G.M. Daryl Morey has for a few seasons been considered one of the best, most forward thinking G.M.'s in the league, but his teams have only won one playoff series and have missed consecutive postseasons. On the other hand, Morey's squads have been hammered by injuries, most notably to Yao, around whom the entire roster has, more or less out of necessity, been constructed. Houston's roster is fairly light on questionable contracts, and with a handful of first round picks in the next two drafts, Morey has a wide variety of options at his disposal. The Rockets are close to becoming a very good team, and the pressure will be on Morey to make it happen.
The most glaring need with Houston is size, but the Rockets steadfastly refuse to draft based on need. Not a bad strategy, but when combined with Morey's history of activity makes it nearly impossible to predict what Houston will do Thursday, and into the offseason.
Projections (Round 1): Ford- Nikola Vucevic (C, USC), Darius Morris (PG, Michigan). DraftExpress- Bismack Biyombo (PF/C, Congo), Vucevic
--BK