It's been nearly a week since the Lakers put a very unexpected beatdown on the San Antonio Spurs at the AT&T Center without Kobe Bryant. Since then, the Lakers have ripped Mamba-free wins against Denver and Dallas, and are steadily jelling as a well-rounded team in ways not witnessed all season. Of course, this was also a game in which Andrew Bynum grabbed 30 rebounds and the Spurs' Big Three (Tim Duncan, Manu Ginobili, Tony Parker) combined for 27 points. In other words, more extreme circumstances than reliable outliers in terms of gauging how these teams match up in a series. The Spurs haven't been one of the NBA's best all season by accident. Assuming they play at full strength (always a question mark with Gregg Popovich), I expect a tighter sequel.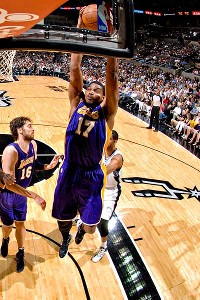 D. Clarke Evans/Getty Images
Gobble them boards, Drew!
For some thoughts on Lakers-Spurs Part Deux, I had an IM conversation with Timothy Varner from the True Hoop network's 48 Minutes of Hell blog. Below is the transcript.
Andy Kamenetzky: What was the cause of the Spurs' collapse in the first meeting? From start to finish, they just laid an egg.
Timothy Varner: Those who think the Spurs are legitimate contenders always qualify their confidence by saying, "But they're not great against size." For the most part, I agree, although the Spurs did sweep Memphis this season. I suspect the first game was something of a tempest in a teapot. The Spurs should play better against the Lakers in the postseason. However, I will say this. DeJuan Blair is a major defensive liability. He might assume the unusual distinction of starting the majority of games this season, then find himself outside of the playoff rotation. The Spurs' best big-man rotations feature one of Tim Duncan, Tiago Splitter, or Boris Diaw with ... Matt Bonner. Odd, huh?
So is Bynum capable of playing that way for an entire series?
AK: "Thirty rebounds a night" capable? No. The kid's talented, but a joke's a joke. But dominating a series is absolutely realistic. And it's important Drew makes domination a goal. More than any player on the Lakers, Bynum dictates wins or losses. There was a three- to four-week stretch after the All-Star break when his effort and intensity fluctuated, particularly on defense, and the team suffered. Over the past few games, he's been focused, and the difference is as massive as his frame. Bynum's presence on the boards and in the lane makes or breaks the Lakers.
You mentioned Blair's defensive issues. On the season, the D has been merely acceptable for San Antonio. Given how the Lakers have evolved into a team with an increasingly prolific and varied scoring attack, do you picture S.A. able to slow them?
TV: Honestly, I don't. If these two teams met in the playoffs, it would be a contest to see who could score the most points. In that respect, the Lakers' starters have an advantage over the Spurs' first five. But San Antonio's bench put up 80-plus points in a game this season. The best argument for Gregg Popovich as COY has been his transformation from Tom Thibodeau to Mike D'Antoni. It's not hard to argue that San Antonio is the best offensive team in the NBA. The Spurs currently rank second in John Hollinger's offensive team rankings, and they've done so without Ginobili for much of the season and by constantly changing rotations to rest their best players.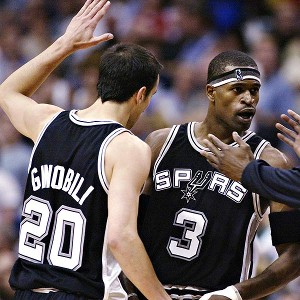 Jed Jacobsohn/Getty Images
Jax and Manu lead a potentially explosive bench for San Antonio.
AK: Your bench scares me silly. I ain't gonna lie. Pop's been going even deeper into his rotation the last few games. Do you think he'll continue playing 10 or 11 guys Tuesday, and maybe even beyond? If so, what does that do for the Spurs?
TV: Yes, I do. This is a team in the purest sense. The Spurs are at their best when Pop uses 10 or 11 players, mixes lineups, exploits matchups, and rides the hot hand. In the playoffs, Duncan's, Parker's and Ginobili's minutes will increase, and Blair's and Neal's should go down considerably, but San Antonio will still use most of their guys. The Spurs should be fresh for the postseason, and I suspect they'll stay fresh because of their ability to run bodies in and out of the game.
But generally speaking, this also means Popovich is giving many B- and C-level players heavy minutes.
AK: So it cuts both ways?
Timothy: Exactly. One wonders if these players can maintain their level of play when matched against the elite players like Bynum, Kevin Durant, Derrick Rose, and LeBron James when those players see an increase in minutes. So I have a simple question for you. Have the Lakers been playing possum all season? Perhaps I'm reading the past into the present, but I can't believe they're barely a top-10 offensive team and not a top-10 defensive team.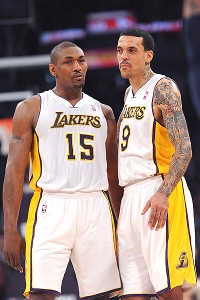 Noah Graham/NBAE/Getty Images
The Lakers' small forwards have stepped up big of late.
AK: Well, at the season's start, they were among the best teams in the league defensively, but encountered major slippage in March as they suddenly discovered how to score. And throughout highs and lows on both sides of the ball, players have been rattled by the prospect of being traded, offered obvious signs of not buying into Mike Brown, wondered openly about the franchise's direction, etc. Until the last four to five games, a month or two passed in which the team didn't appear consistently invested mentally or physically. Frankly, playing possum requires far too much orchestration for this chaotic of a season.
So finally, who wins on Tuesday?
TV: It depends on which game Popovich tanks, and how he decides to tank. The Spurs are playing a back-to-back-to-back. If Pop tries to win at Golden State on Monday, I could see him resting his key players against the Lakers, and then going for another win on Wednesday, and trying his hand at honestly contesting the Lakers on Friday.
AK: I'm also picking the Lakers, regardless of who Pop plays or Kobe's participation. (All signs currently point to him sitting.) The Lakers are in a nice groove at the moment, and for a game against a high-end opponent, I picture them geared up, even if Pop isn't.