After a few weeks of middling and even disinterested looking performances, Wednesday's victory over the Clippers felt like just what the doctor ordered. The Lakers were dialed in for 48 minutes, often executed with precision, and seemed unwilling to accept anything but a win. In theory, that showing should provide fans with a good feeling heading into tonight's contest with the Rockets. In reality, however, it could be meaningless as an indicator of what lies ahead.
As I've maintained all season, the Lakers can only be counted on to perform well against teams they genuinely dislike. In my estimation, those squads are the Clippers, Mavericks, Celtics . . . and disappointingly few else. Maybe the Suns qualify, since the Lakers often go as Kobe goes and he admittedly hasn't gotten past Phoenix bouncing his teams in 2006 and 2007. (Or he's just lashing out at anybody who reminds him sharing a backcourt with Smush Parker.) And if you're feeling generous, maybe a hard-fought win at Staples over the Heat means they've developed a distaste for LeBron and the gang. But to the best of my knowledge, the Lakers have nothing against the Rockets, and without tangible evidence of animosity -- or inherent professionalism -- it remains difficult to bank on the Lakers showing up. However, I'm willing to see my theory disproved, and tonight's as good a time to start as any.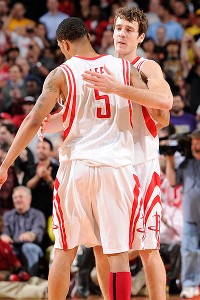 Bill Baptist/NBAE/Getty Images
Dragic and Lee are just two among many keeping the Rox in the playoff hunt.
For more knowledge about the Rockets, we called upon Rahat Huq from the True Hoop network's Red94 blog. Below are his thoughts on four questions about Houston's squad.
LO'L: The Rockets have managed to stay afloat despite prolonged absences from Kyle Lowry and Kevin Martin. Who/what has allowed this to happen?
Rahat Huq: It's been a collective effort. Goran Dragic and Courtney Lee have played even better as a duo than the men they replaced. Chandler Parsons has evolved into a new-and-improved Shane Battier, doing a little bit of everything from defending the opposition's best player to spacing the court on the perimeter. Luis Scola has regained his touch and rebounding form. Chase Budinger has hit big shots in timely moments. Marcus Camby has filled the lineup's previous sole true hole. Early Boykins has stood tall. Everyone has chipped in to an outcome in the standings which, from any vantage point, is truly remarkable.
They won't win the title but the fact that the Rockets are alive is a great story.
LO'L: During the last meeting in Houston, Chandler Parsons did a nice job checking Kobe Bryant, but this was also during a stretch where he wasn't shooting the ball particularly well. Kobe, however, enters this game in a nice groove. What are your expectations this time around, if McHale chooses to go Rookie vs. Mamba again?
TH: Even if Lee starts on Bryant, rest assured Parsons will see time in that matchup. Kobe might torch him. Kobe might go cold. It doesn't matter. As the Rockets have learned over the years, you can live with Kobe taking jump shots. If he's on, there's nothing anyone can do. That last game was lost by the Lakers not because the Rockets beat them but because they beat themselves. Andrew Bynum got tossed and Mike Brown inexplicably went away from Ramon Sessions when he was completely picking the Houston defense apart.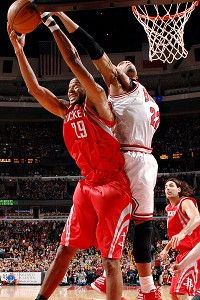 Ray Amati/NBAE/Getty Images
Camby is still doing what he does best with Houston.
LO'L: What type of effect has Marcus Camby had since joining the team and how effective do you think he'll be against Andrew Bynum?
TH: He's been a revelation. In his last 3 games, Camby has averaged 9.7 points, 12 rebounds (3.3 of them offensive), 2.3 steals, and 3.3 blocks on 52% shooting. I don't know if they'd still be in this thing without him. He's changed everything, allowing Kevin McHale to keep a shot-blocker in the game for all 48 minutes. The Rockets' Achilles heel prior to the deadline was there bench interior defense. They'd get crushed when Samuel Dalembert went to the bench and lost many games due to that hole.
I don't know how effective Camby will be against the West's best center but I do expect to see him play alongside Dalembert in stints. The Rockets will have to try and throw size at the Lakers' twin towers.
Land O' Lakers: Has Earl Boykins been able to stabilize the "nobody else at point besides Goran" problem at all?
TH: Boykins has been great and a huge step up from rookie Courtney Fortson. Still, the Rockets hope to get Lowry back soon to turn the point guard spot back into a position of strength. Their best lineups came with both Lowry and Dragic together in the backcourt and the Rockets' only hope in the postseason is if the former is at full health.