(With the Lakers-Heat Christmas Day showdown still several days away, below is an early peek at one of the big issues shaping Saturday's game.)
Kobe Bryant, Pau Gasol, Lamar Odom, Andrew Bynum, LeBron James, Chris Bosh, Dwyane Wade. When the Heat and Lakers take the floor Saturday afternoon at Staples Center, these will be the rock stars. The guys most likely to suck up camera time, be the focus of fancy graphics packages, and so on. They're also the guys for whom Christmas comes not just on Dec. 25, but every time a paycheck lands in their bank accounts. (Unless, of course, they insist on being handed a giant sack of cash on payday. Which, at least once, would actually be pretty cool.)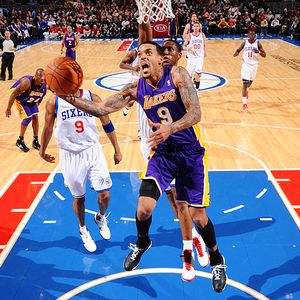 Jesse D. Garrabrandt/NBAE/Getty Images
Matt Barnes has been a monumental success at an even more monumental bargain for the Lakers this season.
Don't confuse money with influence. Each team's roster sports players in, at least by NBA standards, a different category financially, but could still make a major impact on the result of Saturday's game. Below are five guys, each earning $5 million or less, able to make or break all the work done by the headliners:
LAKERS
Matt Barnes ($1,765,000): When he arrived in Los Angeles after appearing to land in Toronto with a contract far richer than the one he signed with the Lakers, I figured Barnes would provide some much-needed depth on the bench. Last season, for all intents and purposes, Kobe Bryant was the team's primary backup at small forward, something they couldn't afford to do again this season given the myriad physical problems Bryant fought a year ago. What I didn't have was a feel for how Barnes would fit in, or even how much he'd play.
Shows what I know.
While no player will likely ever step into Phil Jackson's offensive system in the way Pau Gasol did after arriving from Memphis, on a far smaller scale Barnes has done something similar, even while he learns the ins and outs of the offense. It works for Barnes because he never stops moving. "We don't have things set in stone. We play basketball. The idea is to always take the direct line in basketball which means if you're open you go to the basket," Jackson said after Friday's win in Philadelphia, in which Barnes scored 15 points in 28 minutes. "Matt's very efficient at doing that. There are some times we ask him why he didn't space [out the offense] but you can see why he does it, because his cuts are rewarded."
Miami, despite its struggles through November, remains an elite defensive team, capable of clogging up even the most talented offenses. When shots don't fall and clean looks become harder to create, Barnes' willingness to make hard cuts or crash the offensive glass becomes infinitely more valuable. In the latter category, Barnes has been particularly good, grabbing the second most ORBs per game among small forwards despite playing fewer minutes per game than every other SF in the top 20. On a per-minute basis, no 3 in the league bests him on the glass.
How he matches up defensively against Miami is a little tricky -- he doesn't have the strength to body up LeBron James in the same way Ron Artest can, and as far as I can tell the two haven't played at the same time all season -- but his activity level could be a boon for the Lakers on Saturday afternoon.
Shannon Brown ($2,149,200): A year ago, Brown looked ready to make himself a lot of money in the free-agent market before an injury to his right thumb scuttled most of his progress, turning him into as inconsistent a member of the bench as everyone else the Lakers had there. His (financial) loss was the team's gain. When the summer came, Brown was unable to secure the kind of offer the Lakers wouldn't have the flexibility to match.
Rather than sulk, Brown worked, improving his jumper, but more important, developing a better handle and increasing his understanding and comfort with the offense.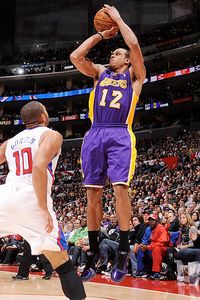 Noah Graham/NBAE/Getty Images
A vastly improved jumper has turned Shannon Brown into a dangerous scorer off the bench.
Through Sunday's win in Toronto, the Lakers are 11-1 when a reserve scores 15 or more, something Brown has done eight times this year, thanks to some rock-solid shooting. He's at 44 percent from downtown, 91 percent from the stripe, and a perfectly reasonable 46 percent mark from the field, generally. Not simply a dunker, Brown knows now where to find open shots, and has the confidence to take them, or put the ball on the floor. Technically, Bynum (currently) and Odom (eventually), are the team's best reserves, but frankly are both treated more like de facto starters. Brown is the primary scorer among players exclusively pegged as reserves. If the Lakers are to win the battle of supporting casts, Brown will almost certainly need to play well.
HEAT
If he earned a penny more (or the spot was called "Five players earning less than $5M to watch," Mike Miller ($5 million), wouldn't qualify for this feature. At some point, he's expected to become the impact "fourth guy" on the floor to spread the floor and make things easier for Miami's high-profile triumvirate, not simply because he's a shooter, but for his excellent passing and rebounding skills. Long term, Miller could make a massive impact on the Heat. Predicting how he'll change Saturday's game is tougher, because after Miller missed Miami's first 29 games following surgery on his right thumb, the template for how, and how much, coach Erik Spoelstra will use him has yet to be formed.
Assuming he's willing to shoot when opportunities present themselves (something he hasn't necessarily done over the last couple of seasons) Miller gives the Heat something they really don't have: a true-to-life secondary scorer, as opposed to three stars learning to take turns night to night. If Miller is up to speed, it becomes a far riskier proposition for the Lakers to overplay the Big Three.
Ironically, there was a point last summer it looked like Miller could end up in purple and gold. Instead, the Lakers signed Steve Blake with their midlevel exception, then used the leftovers on Barnes. A fair trade for sure, but a "what if?" moment nonetheless.
James Jones ($1,146,337): He is the basketball equivalent of the situational lefty. Jones doesn't pass, nor rebound much (on a per-minute basis, he's not much more prolific than either of Miami's lead PGs, despite topping out at 6-foot-8. Need someone to handle the ball? Pick up steals? Block shots? Look elsewhere, because Jones tends not to pile up that stuff. All Jones does is shoot 3-pointers. That's it: 131 of his 155 shots (84.5 percent) this year have been from behind the arc.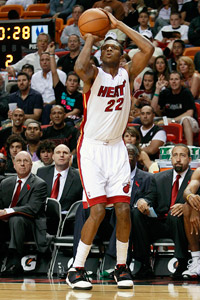 AP Photo/Matt Diaz
Dear Lakers, Cover this man.
Fortunately for Miami, Jones is really, really good at it.
Through Tuesday, Jones is hitting 45 percent of his triples, and on the strength of that stat has easily the highest true shooting percentage (66.6) the Heat have to offer. He'll take the floor as the Heat's fourth leading scorer among available players (at least those playing more than a couple of games), and while Miami has won plenty of games when he doesn't go off, before their loss Monday against Dallas, the Heat had been a perfect 8-0 when Jones hit three triples or more. In those eight games, he averaged 13.4 points, explaining, in part, the gaudy record. When the peanut gallery pitches in supporting Miami's stars, the results can be crippling for the opposition.
Jones won't impact games in the same way as Miller, a much, much better player, but what he does elevates the Heat, and because Jones is so accurate, he requires very few possessions. The Lakers defend the 3 well, holding opponents to 33.2 percent, the sixth best figure in the league. Not quite a classic "something has to give" scenario, but adjacent, if nothing else.
Miller's return could very well make Jones more an afterthought in Miami's rotation, but it may not happen by Saturday. Chances are if fans leave the building remembering Jones was in the game, it's a bad sign for Lakers fans.
Joel Anthony ($3.3 million): This slot could just as easily be filled by Zydrunas Ilgauskas ($1,352,181) or Erick Dampier ($713,666). Big Z is a floor-stretching center who won't necessarily be pick-and-rolled to death by the Lakers, who run those sets less than most teams. Dampier was brought to Miami literally for games like this, against teams featuring serious size the Heat otherwise were ill equipped to handle. (While the hoopla surrounding the pursuit and signing of Dampier had more to do with scarcity of available resources than a reflection on how good he actually is, Dampier was still an upgrade for Miami's roster.)
But I'll go with Anthony, because in a lot of ways he embodies all the criticisms regarding Miami's roster. Yeah, they have the Big Three, but how do you win a title with Joel Anthony at center?
He neither scores nor rebounds, but Anthony, despite a lack of length at 6-9, is a stout defender inside. His impact on the game, and Dampier's alike, will be measured in large part by the statistics for Gasol and Bynum, and whether or not Miami is forced to double consistently on the post.
If those guys go off, the Heat will be in trouble. If Anthony and Co. contain L.A.'s bigs, the pressure on the Lakers' backcourt will be enormous. Probably too much to overcome without a supremely good effort defensively.