As part of a continuing series, NBA players share the various ways growing up in L.A. shaped their games.
Darren Collison grew up in Rancho Cucamonga, a suburb of the Inland Empire, which is about 35-40 miles from Los Angeles. However, it might as well have been 140 miles, considering the difference between these worlds. Whether socioeconomically or in the quality of basketball, Collison witnessed firsthand the dichotomy while regularly commuting to inner-city games. Nonetheless, he stepped up his game to match the competition and helped elevate Etiwanda High School and the entire Inland Empire as a legitimate roundball force. Collison eventually hit the larger stage of UCLA and Los Angeles in general, but at heart, remains a kid from the I.E. When deciding the location for his first camp, he naturally chose Etiwanda, his "basketball birthplace."
Andy Kamenetzky: Where did you grow up playing?
Darren Collison: Actually, when I started playing basketball, it was in the inner-city L.A. My mom used to drive me down to the L.A. inner-city to play with some of the guys in travel ball. So that's when my game first started to grow. I don't know specifically [where we played]. But all around Los Angeles. From Hawthorne to Leuzinger [High School] to Inglewood. Little kid tournaments. That came to seem like the place where I started playing because the competition at Rancho wasn't as good.
I remember meeting the coach at Rancho. He had a travel ball team and he would always take his kids down to L.A. to play in tournaments every weekend. And I mean, every weekend from Friday to Sunday, playing like, three games a day. We'd go down there to L.A. and showcase our skills against other kids in the inner city.
AK: I guess that's when you realized Rancho is a different world than L.A.
DC: Yeah, it was a completely different world. You're playing with kids that didn't necessarily have things you had. All they had was basketball. They would do whatever it takes to be successful on the court. Some of them didn't have good grades. Some of them was just playing to stay out of trouble. But for the most part, that competition helped me as a basketball player to get better.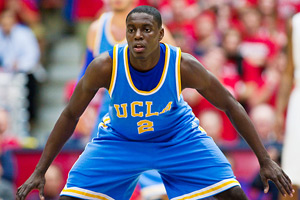 Chris Morrison/US Presswire
The "LA" in "UCLA" stands for Los Angeles, but Collison always reps the Inland Empire first.
AK: Did it take a while to adjust to those differences and become comfortable?
DC: I wouldn't say [I was] uncomfortable, because growing up playing and the reason my mom would take so much time for me to play down there, I knew how important it was. And it was fun. So it wasn't uncomfortable. It was fun playing down there. But it took a long time to adjust to the skill level. The guys from the inner-city were way better than the guys that weren't in the inner-city. I knew I had to work on my game to get better if I wanted to compete with guys like that.
AK: Was there an adjustment to physicality or anything?
DC: Part of it was physicality. The other part was just playing that hard. There's a difference between kids where everything is given to them and you don't really have to work hard and kids that have to work hard while they're young because nothing is given to them. When it comes to on the court, there's a big difference between that. I think a lot of those kids in the inner-city, they had a lot of family issues and the basketball was their way of getting away from all that. They had an extra motivation of playing hard and actually being better.
AK: Was there a specific moment when you realized you had to step up your game to compete?
DC: The thing about inner-city basketball, even when we were young kids, the gym would be packed like you were at the top high school games. There were tournaments and games where we'd play against inner-city teams. They'll score on these fancy moves and you got the crowd in the stands going crazy. We're like nine, 10 years old, little kids just trying to play the game. That's when I realized it's real up there. The competition is totally different. The atmosphere is totally different.
That's just how L.A. is. They enjoy watching basketball. No matter what the age is, they have respect for it. But I knew I had to get better at my game if I wanted to compete at that level and so to speak, not get dogged.
AK: On top of trying to make it in a place like Rancho, were there obstacles inherent with your size?
DC: The main obstacle was knowing the inner-city kids were the ones being looked at. Kids from my area, it wasn't known as a good basketball city. It just didn't have that recognition. They never had the opportunity, so once a couple of kids got put on the map as far as the Inland, more and more college coaches were going out there to do scouting. Now there's a lot [of players] from the Inland Empire. So I think that was the biggest obstacle right there.
AK: How strong a program was Etiwanda before you played there?
DC: It was pretty decent. Etiwanda had some players. I think the problem was that we never had players that went to a lo of universities, because they never got looked at. There was a time where L.A. city kids, that's all you knew about. L.A. city kids going to good universities. So Etiwanda was good talent-wise. It just never had the opportunity.
AK: Who were some of those unrecognized players?
DC: [Etiwanda] had a kid named Romel Beck. He was one of the top kids out of that area. He ended up [playing against the USA Olympic team, like, two years ago for Mexico. He had [20] points in that game. (AK's note: Some Lakers fans may remember Beck crossing over Kobe Bryant on a slick -- if ultimately meaningless -- four-point play.) We had a kid named Aaron Gipson. He ended up playing football for Oregon. But nothing successful as far as basketball-wise. Jacob Johnson. Now he's just out there just working and stuff.
But the list could goes on and on. There's a lot of guys that could have been successful. They just never had that major opportunity. They were [overshadowed] by L.A.
AK: Can you talk about the influence Dave Kleckner had on you?
DC: He had a strong influence. So many things he taught in high school are things I still do to this day. There are lectures and times where he got on me that I still remember, and that means a lot. To remember it, like, five or six years from now. I definitely respect him, not just as a coach, but as a person.
AK: What specifically did he instill in you?
DC: Just being a better person. He taught me basketball should never come before your family. It sounds so cliche, but it's the truth. Work ethic. Always stick by my defensive principles. Just little things that helped my game grow as a player and a person.
AK: Kleckner's an old school coach, defensively-oriented, with a grind it out style. On top of attending a school like Etiwanda, does that style make it tough to showcase yourself for college?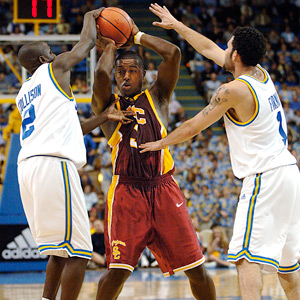 Icon SMI
Collison and Farmar have linked for quite some time.
DC: That's a good question. I think things that we did at Etiwanda were slightly different than what we did at UCLA, although they were probably the same principles. When you talked about grinding it out, he used [those words] all the time. And those are the things we did at UCLA. But as far as showcasing my talent, I think Kleckner did a good job of trying to get me out there and just let me play.
When you're with UCLA, you're with other NBA future talents, where it's not just you being the guy. I was fortunate to play with guys like Russell [Westbrook]. Jrue Holiday. Jordan [Farmar]. Arron [Afflalo]. All these other NBA talents, that it wasn't just me at that school. It was other guys showcasing their talent as well.
AK: You led Etiwanda to the Div-I state finals your junior year and eventually lost to Long Beach-Poly, but upset Taft and Farmar along the way. What did that win mean for Etiwanda and the Inland Empire?
DC: It means a lot. To know that basketball can be played anywhere, in any city and at any level, not just in L.A. You got guys in the Inland Empire that can compete just as much as guys in L.A. Beating them meant a lot to us as a program and for the city.
AK: Were you aware of the significance at the time?
DC: I think the game, trying to win a state game meant more to us. Of course, that's all in the back of your mind. You're always thinking that. But it wasn't the primary focus, "We gotta beat these dudes because they're from L.A." But at the end of the day, it does feel good knowing a team from the Inland Empire can compete with anybody from L.A.
AK: Between competing against Farmar in high school and for playing behind him at UCLA, even if you got along, did you feel a sense of rivalry?
DC: No. At the time when we were playing [against him] and knew about him, he was a McDonald's All-American, and that was all the fuel I needed to try to lift my game up to another level. And when we got to UCLA, it was pretty much the same thing. He was the starting point guard and I was trying to start myself. So it wasn't nothing like a crazy rivalry, but it was great competition because of what the stakes were.
He pushed me hard. He kicked my butt my whole freshman year. That had a lot to do with me getting better throughout my years in college.
AK: Did you remind him occasionally when he was kicking your butt whose school beat whose in high school?
DC: Nah. (Laughs) I try not to bring it up. I try to be humble. I don't really brag about that stuff.
AK: How did your game evolve under Ben Howland?
DC: I think Coach Howland made me realize the physical attributes I have, as far as quickness. I knew I was quick, but he used to always to express, "You're extremely quick." I'd be like, "Okay, I know that." And he'd be like, "No. Seriously. I don't think you know how quick you are." That says a lot, because once you believe your physical attributes, that's all the things you can rely on, as far as the NBA. You're either real quick, or real athletic, or you can really shoot the ball. I definitely started understanding how quick I really was and using it more to my advantage.
AK: That's pretty ironic, since Howland is known for slowing the game down. Were there ever times when you thought, "Yeah, I'd actually like to go a little faster, Coach?"
DC: I won't catch myself saying that right now. (Laughs)
AK: Did it feel like you were repping the Inland Empire while at ULCA?
DC: I think it was on my mind almost every day and every game. In practice, I told them about Etiwanda. I told them we got the best players in the Inland Empire, even though that may not be true. But I let them know where I was from and I let them know how much I cared about the Inland. I knew how hard it was to get out. Getting to play at UCLA was a dream come true when it came to that. It was always on my mind and it helped push me even more.
AK: What is "the L.A. in your game?" The aspect of your game that most reflects having grown up in the L.A. area?
DC: You can tell an L.A. player. There's a lot of swag behind him. I wouldn't say [Inland Empire players] didn't have swag, but they were more serious. Really fundamentally sound players. L.A. kids just go out there and just play. Just growing up playing [in L.A] when I was a little kid and playing with players at UCLA that was from that area, it kind of rubbed off me on me, too. I kind of have a little mixture of both.
AK: But for you specifically, being fundamentally sound reflects growing up in the Inland Empire?
DC: Just making sure, whether it was defense or offense, the footwork was down pat and right. It was probably a little more methodical and straight forward, you know what I mean? To the details and stuff.
When you talk about "fundamentally sound," you can't help just to become better. If you're skipping the steps, some players can get away with it and score without being fundamentally sound. And that's most L.A. players. They just go out there and just play. But when you're fundamentally sound, you know for a fact you can get better, because you're working on every little step. I think that's what it was for me.
AK: Does a player of your size and build have to be especially fundamentally sound to succeed?
DC: A little bit, because from my size, you have to know how to use your speed and be deceptive. You can't just go all the way to the basket for a layup. You gotta be able to know how to create space between the big and yourself to get that little tear drop and that floater. You gotta be able to know how to come off screens the right way, because of your size.
AK: Can you summarize what growing up in the L.A. area has meant to you as a basketball player?
DC: I meant a lot. It taught me things not just on the court, but off the court. It wasn't just about basketball, playing against those kids. You understood that those guys that you're playing against from the inner-city, they didn't have nothing as far as economic-wise and all these other things. So that made them play that much harder.
But on the court, just going out there and just playing, it doesn't matter where you're from, basketball is just basketball.
Previous installments