Christmas comes early for the Lakers, who've been due to catch a break of any kind. The league has decided to reduce Andrew Bynum's five game suspension by one for his playoff elbow to J.J. Barea. With the seasoned shortened to 66 games, the punishment was tailored to fit the schedule (if not necessarily the crime). Normally, five games equals six percent of the season. Ditto four games during this truncated campaign. Math is a wonderful thing. Shout out to Carl Friedrich Gauss.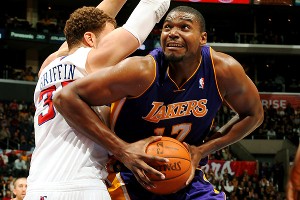 Andrew D.Bernstein/Getty Images
Andrew Bynum will now return to the Lakers' lineup after four games, not five.
The implications of this decision are pretty huge. Every game truly counts this season, and Drew's presence obviously increases the odds of winning as the hiccups and bumps of their learning curve are negotiated. Josh McRoberts and Troy Murphy may be solid enough role players, but they're not Lamar Odom when it comes the Laker tradition of compensating for Bynum in street clothes. And Kobe Bryant shouldering an increased load is never an ideal development at this stage of his career, much less with a shredded ligament in his right wrist. Even if it's just one less game eating first AND third at the proverbial "buffet," I'll take it.
Plus, as last season demonstrated, Pau Gasol playing big minutes at center (likely the case with Drew gone) is a taxing assignment. He'll start out this season doing so in three consecutive games against Chicago, Sacramento, and Utah meaning plenty of challenging run against Joakim Noah and DeMarcus Cousins. After a day off, it's a date with the Knicks and Tyson Chandler, probably the NBA's best defensive center other than Dwight Howard and maybe Drew himself. The fifth game Drew was originally slated to miss comes against the Nuggets and Nene, an extremely physical big. Better to have Drew in the middle, especially since the Lakers fly immediately to Denver and its thin air for a rematch. Thus, Drew saves Pau some bruises on day one, then prevents him from being too gassed the next day.
Finally, this team needs to compete at full strength in order to develop chemistry, master the playbook in a game setting, and allow Mike Brown to solidify his rotation. The sooner, the better, which means "better" now arrives 24 hours earlier.