As far as livings go, "professional athlete" isn't the worst by which to make your money. For starters, said money is often ludicrously good for stars and even generous for those along the fringes. On top of that wealth, your world becomes an oyster filled with swag, per diems, and comped meals and drinks, allowing the rich to get richer. Life on the road consists of private jets and swanky hotels. Adulation, worship and -- for those into this sort of thing -- "companionship" often come with the territory. Plus, the whole "playing a game you love for a living" thing is pretty sweet.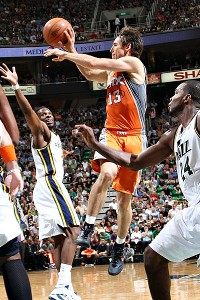 Melissa Majchrzak/Getty Images
Whoever was on the receiving end of this pass was likely smiling.
But that's not to say there's no downside whatsoever. Professional athletics are physically and mentally taxing, and 24-hour news cycles and social media crank up the throttle on a traditionally pressure-cooked existence. Not that most jobs don't carry inherent pressure, of course, but it's certainly different sweating as a public figure. Scrutiny gets breathed in like oxygen. Privacy is often nonexistent. You can be relocated at the drop of a hat.
Plus, the dirty little secret. Being a professional athlete isn't always fun.
Sports may be fun to play, but once they put food on the table, they become a job. Period. And there's no such thing as a job foolproof against feeling like a pain sometimes. It doesn't matter what the gig is or how passionate you are about it. Nobody feels like punching that clock every day.
How do I know this? Because I've spent the past two seasons covering the Los Angeles Lakers, and as noted by BK and me on several occasions, these campaigns have been low on joy and fun. An enthusiastic 2011 three-peat quest turned quickly into a definitive slog. The core players were visibly exhausted and burned out, while Phil Jackson grew disconnected with a team he had to talk himself into coaching an additional season. Still, this was a party compared with 2012, between the scuttled CP3 deal, Lamar Odom's exit, the awkward adjustment to life under Mike Brown, Pau Gasol's limbo, and the second consecutive conference semifinals bounce. Scattered smiles emerged, whether after a few signature-ish wins (against the Clippers, Celtics, Mavericks, Heat and Thunder in double OT), during Month 1 of the Ramon Sessions "era," or in reaction to a choice Metta World Peace quip. But those instances were certainly exceptions proving the rule.
By and large, the Lakers have been little fun to watch over the past two seasons. They've been little fun to cover. And judging by demeanor and body language, the players themselves have been experiencing just as little fun. You won't convince me this hasn't played a role in weighing the team down like an anchor. The time to abandon any hope of trudging toward banner No. 17 has long since passed.
Enter Steve Nash, gatekeeper of all things fun and joy in basketball.
It's common knowledge Nash is regarded as quite possibly the most fun guy in the NBA with whom to play, and for the exact same reasons he's a gas to watch. Nash is among the most capable and conscientious basketball players I've ever seen when it comes to involving teammates. Those running the floor with the point guard aren't just hyperaware of his desire to create looks for them, but the skillful way he makes anybody a potential scorer. (There's arguably no player in the NBA who requires teammates to keep their hands ready at all times more than Canada's favorite son.) Always feeling like part of the action dials in and empowers teammates, which makes the process innately more enjoyable from jump street. The effect has been endorsed by none other than Bill Russell, who certainly knows a thing or two about winning: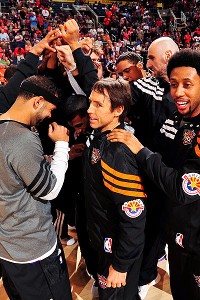 Barry Gossage/Getty Images
Nash has been known for bringing players together.
"Part of the reason that he's so good and so effective is that the guys like playing with him. He creates an atmosphere where they win games."
Of course, happy aesthetics aren't necessarily priority No. 1 for Nash. The dude is hypercompetitive. Nobody plays through an unstoppably bloody nose... or with a nose rearranged in-game... or with essentially one eye unless winning carries deep meaning. In Jack McCallum's fantastic ":07 Seconds Or Less: My Season on the Bench with the Runnin' and Gunnin' Phoenix Suns," a chronicle of the 2005-06 campaign, the author describes how Nash would yell out the time remaining on the locker room clock before tipoff during the playoffs. While this became a running postseason in-joke, the Suns' captain was nonetheless making it clear everyone needed to follow him onto the court, and pronto.
Don't let the laid-back, upbeat persona and quirky movies fool you. Nash competes very hard and expects those around him to follow suit.
(On a related note, Nash in the purple-and-gold fold makes the already terrific ":07 Seconds" a must re-read. McCallum devotes several chapters to the first-round playoff series between the Lakers and Suns, which grew increasingly nasty and personal. Genuine animosity was born -- elephants marvel at the long memory Kobe carries over these battles -- which creates a hilariously ironic context in 2012.)
Obviously, fun isn't a panacea or magic bullet for the Lakers. Players have to complement each other in a system still being fine-tuned. Hard work must be put in. And the league isn't getting any easier to conquer. It's going to take more than happy aesthetics and personal enjoyment for Kobe to size his finger for a sixth ring and Nash his first. But at the same time, the importance of this element shouldn't be dismissed. LeBron James has credited his strong season (and especially his strong playoffs) to rediscovering his love and joy for basketball. When we spoke to Gary Oldman last February, he explained how a period of uninspired roles resulted in going through the motions and bitter feelings toward acting for the first time in his life. Only after radically against-type parts in the "Harry Potter" and "Batman" franchises was he able to reconnect with the craft.
Generally speaking, people perform much better at their job, no matter what that job is, when they're genuinely enjoying themselves. Nash is a savant at allowing players this luxury, and I wouldn't sleep on just how much this may help the Lakers.