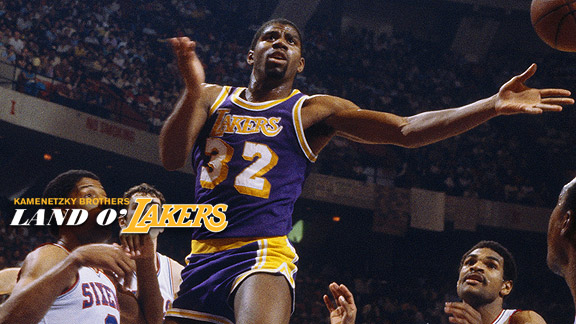 Getty Images
With Kareem Abdul-Jabbar on the sidelines, Lakers rookie Magic Johnson started Game 6 of the 1980 NBA Finals at center. He'd go on to score 42 points with 15 rebounds and seven assists.
May 16, 1980.
NBA Finals, Game 6. Lakers at Sixers.
Kareem Abdul-Jabbar didn't make the flight to Philadelphia, thanks to an injured ankle. The hope was maybe -- maybe -- he could suit up for Game 7. With Spencer Haywood suspended, Lakers coach Paul Westhead was short on options at the pivot. He turned to his 6'9", 20-year old rookie point guard -- a player so confident he sat in Abdul-Jabbar's customary front row spot on the team plane and announced with a smile, "Never fear, E.J. is here!" -- and asked him to start the game at the five spot.
The Philly crowd buzzed in anticipation before the game. Everyone, including Sixers coach Billy Cunningham, thought Abdul-Jabbar would play. "I'll believe he's not coming when the game ends and I haven't seen him," Cunningham said. When Magic Johnson made his way to the center circle, Philadelphia's Caldwell Jones looked at him incredulously. "You gotta be joking, right?" (Watch the moment at the 1:10 mark of this clip.) Jones won the tip, but Magic won everything else. His first shot was a turnaround hook, one suspiciously in the style of L.A.'s hobbled captain. From there, Magic dominated, playing every position on the floor, scoring 42 points and adding 15 rebounds, seven dimes, three steals and a block as the Lakers knocked off Philly 123-107 for the title.
In his postgame interview for CBS, Johnson delivered a message to Kareem. "We know you're hurtin', big fella," he said. "But we want you to get up and do a little dancing tonight." Lakers fans certainly did.
Combined with the context -- rookie player on the road, in the clinching game of an NBA Finals -- the amazing performance helps make Johnson's moment one of the most iconic in NBA postseason history.
ESPNLA.com and Land O' Lakers are counting down the ten greatest playoff moments in Laker history. Upon completion, fans will be asked to vote on the single greatest moment of all. Previous moments include:
-Shaquille O'Neal's near quadruple-double in the 2001 NBA Finals, Game 2
-Elgin goes for 61 in '62
-Worthy's Game 7 Trip-Dub in 1988
-Kareem's sky hook marks the end of Boston's dominance over L.A.
-Horry wins Game 4, Western Conference Finals, 2002