By the time a series reaches Game 6, the chips are basically on the table. Sure, there are adjustments still to be made, maybe some rabbits still lingering at the bottoms of hats, but everyone basically knows what has to happen for one team to beat the other. Particularly these days, when no number goes undiscovered. (I'm sure someone somewhere has computed Alvin Gentry's PER in courtside vomiting after Game 5.)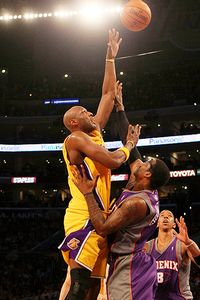 Jeff Gross/Getty Images
Lamar Odom has been called an x-factor so many times, it might as well be added to his birth certificate.
You know the Lakers need to control the boards, get the ball in the seam of the zone, aggressively defend the pick and roll, and keep Amare Stoudemire off the line (among other things). So will they do it?
Here are five true/false propositions to occupy your time before tonight's tip...
1. True or false: The Lakers will get more than 12.5/8/2.5 and 37 percent shooting from Lamar Odom.
These were his major-stat averages in Games 3 and 4 in L.A.'s first visit to Phoenix, compared to home averages of 17.67/14.33/3.67 on nearly 64 percent from the floor. The guy has been called an X-factor so often, X-factors on other teams are just called "Lamar." But there's no question Odom is a barometer for the rest of the group. They can (and often do) win when Odom isn't active, but rarely it seems they lose when he goes off. If Odom doesn't settle for jumpers, his ability to run the floor, handle the ball, and get inside via the post, pass, and off-ball movement makes him a great zone-busting weapon.
Game 3 was easily Odom's worst of the series. He was discombobulated and in foul trouble. While Game 4 wasn't bad (15 points, 10 boards), it wasn't high impact. But what should encourage Lakers fans are his 12 attempts a night on the road, three more than he averaged during the regular season. It's easy to live an off night from Odom as long as he's at least trying to find offensive opportunities. It's those five FGA nights the Lakers can't afford.
VERDICT: True. Odom will improve on the 37 percent mark from Games 3 and 4, and earn a solid double-double.
2. True or false: The Lakers will have a free throw differential less than -10.
To say the Lakers were outdone at the line in Games 3 and 4 is like saying the Nets were outdone by L.A. in the '02 Finals: something of an undersell. The Suns averaged more than 20 freebies a game than the Lakers at U.S. Airways Center, attributable among other things to the natural tendency for home teams to get more whistles, aggressive play from Stoudemire, and step-slow rotations from L.A.. But ugly FT splits are hardly specific to the road for the Lakers. In two of the three games at Staples, including Thursday's Game 5 squeaker, the Suns went to the line more frequently.
During the season, the Lakers were great at defending without fouling, and important factor because they were near the bottom third across the league in free throw rate (FT's per field goal attempt). It would be neat to say they've fixed the problem, but their postseason rate of 24.6 free throws a game ranks 11th among 16 qualifying teams. Meanwhile, the aforementioned freebie-free D has lost some mojo, allowing the fourth most free throws a game (30.8) heading into Game 6.
VERDICT: False, but the number here to watch probably isn't the straight differential in foul shots- the Lakers can't be relied on to get there enough- but Phoenix's total. Progress would be getting beneath the 37 Phoenix averaged in Games 3 and 4. Anything below the 30 Phoenix has managed at home this postseason would be gravy.
3. True or false: Ron Artest's goat-to-redemption moment will help him turn over a new leaf and become a more responsible citizen offensively.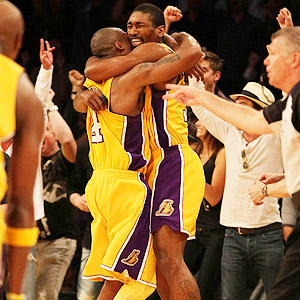 Jeff Gross/Getty Images
Will his remarkable goat-to-hero swing make Ron Artest a more responsible shooter?
Do you really think Artest's thought process is so linear?
VERDICT: False. The Lakers aren't necessarily trying to undo habits built up this postseason, but ones he's honed through a decade-long career. As the Lakers have tried to open up their offense over the course of the season, Artest has suffered. It's not simply a question of his plummeting percentages from downtown, clearly impacted by his hand injuries, but choices with the ball. It still tends to stick, even more so against the zone (really, given his understanding of the system when faced with man-to-man, for a team to go zone on him is actually kind of mean).
He desperately wants to win and absolutely won't take plays off, but to expect Artest to suddenly fit right in is a stretch. If he puts the ball on the floor and attacks as he's done at points during the series, the Lakers can benefit. But where he considers Phoenix's approach of leaving him open behind the arc and daring him to shoot disrespectful, others might have a different word for it: smart.
4. True or false: The Suns will hit their postseason average of 38.6 percent from downtown.
Phoenix made 39.2 percent of their threes in the opening round against Portland and a whopping 46.1 percent against the Spurs in the conference semifinals. Through five games against the Lakers, the Suns are shooting only 32.5 percent from beyond the arc and only once (Game 2) exceeded the postseason average above. Of course, some of that is due to Channing Frye missing 83 straight near the start of the series, but give the Lakers credit, too. At 32.8 percent, L.A. held opponents to the lowest three-point percentage of any team in the NBA during the regular season.
At this point, it's fair to say they're doing something right... On the other hand, Steve Nash, Jason Richardson, Jared Dudley, Grant Hill, Frye, and Goran Dragic all shot above 39 percent from three-point range in the regular season.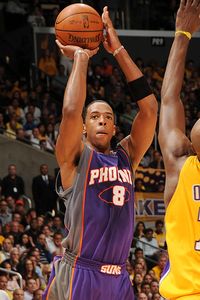 Jeff Gross/Getty Images
True or false: Whenever you hear someone on TV say "Frye," you say it in your head like the teacher in Ferris Bueller's Day Off. True.
VERDICT: False. Even in Game 4 when the Suns rained down triples in the second quarter like, um... rain, they still finished the night hitting only 11 of 30. It hasn't been their long-range shooting, but free throws creating the gap Phoenix has used to win twice at home. If the Lakers can keep doing what they're doing defending the perimeter and cut down on Phoenix's trips to the line, there won't be a Game 7.
5. True or false: There will be a Game 7 Monday night.
The Lakers have a great track record of late in closeout games, particularly on the road. They eliminated Utah and Oklahoma City this season in their buildings, and did the same to Orlando and Denver last year. They won't be intimidated, nor will they relax, comfortable in the idea of having one more game at home. Nobody in purple and gold fails to recognize the danger of an elimination game against such an offensively potent team.
VERDICT: False, but it won't be easy. Something along the lines of Game 6 against the Thunder. For all the problems with free throws in both early games in Phoenix and the inability to get anyone other than Kobe Bryant rolling in Game 4, the Lakers were in position to make a run at both games, but couldn't pull through. Saturday, though, I think they'll manage to get it done.
And not because I'm hawking for a free afternoon on a holiday weekend... not entirely, at least.