As Brian recently noted, an NBA.com survey conducted among General Managers revealed oodles of front office confidence (or resigned acceptance) in the Lakers' ability to Three-peat. 63 percent are predicting another championship, to be exact. And as one would reasonably suspect, other aspects polled in the extensive survey featured even more props for the Laker weaponry.
It would be too lengthy a process to analyze quite literally every mention of a Laker, but I wanted to at least address a fair share of the high points.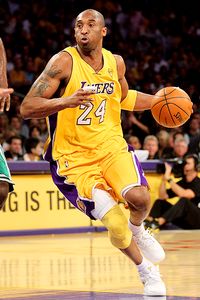 Ronald Martinez/Getty Images
Kobe Bryant was a staple in this poll.
Who will win the 2011 MVP?
Kevin Durant, Oklahoma City (66.7 percent), Kobe Bryant, L.A. Lakers (25.9 percent)
Also receiving votes: Dwight Howard, Orlando; LeBron James, Miami
Last year: LeBron James 69 percent
These numbers somewhat reflect my MVP voting prediction from our panel back in September. There are differences, to be sure. In particular, my opinion Kobe will edge out Durant by a nose. But General Managers are picturing the same front-running pair, as well as a precipitous fall for the two-time reigning hardware owner. It'll take at least one title to quash the backlash currently dogging The King, which I'm predicting won't happen come this particular June. Certainly not before the MVP votes are counted in April, at any rate. I still think it's a two-man race between Kobe and Durant.
If you were starting a franchise today and could sign any player in the NBA, who would it be?
Kevin Durant (55.6 percent), LeBron James (25.9 percent), Kobe Bryant/Dwight Howard (7.4 percent) Dwyane Wade, Miami (3.7 percent)
Last year: LeBron James 78.6 percent
Of any place Bryant was cited, you could argue this represents the greatest display of respect. Put aside any "Who's the best player in the league?" arguments, and simply take the question at its most literal. A franchise is being started from scratch, meaning it might take time to become good. Practically speaking, this means you'd prefer a superstar in his prime (if even that old), which makes a 32-year old Mamba less than ideal. Even taking into account the high level Kobe's still playing at, the shelf life is relatively pronounced. That Bryant sparks even this much anti-conventional wisdom speaks to how valued he is around the league.
Who is the best shooting guard in the NBA?
Kobe Bryant (85.7 percent), Dwyane Wade (10.7 percent), Kevin Durant (3.6 percent)
Last year: Kobe Bryant 89.7 percent
Most predictable of all the positional polls in terms of the expected winner. Where things do get hinky, however, is Kevin Durant's third place finish. At shooting guard? Kevin Durant? Yes, KD is surely considered a generic"swing man" by many, and he did start at the two-guard spot for OKC during his rookie season. But I've always considered Thabo Sefalosha and James Harden the team's main off-guards, with Durant a small forward by trade. Like below...
Who is the best small forward
LeBron James (67.9 percent) Kevin Durant (28.6 percent), Carmelo Anthony (3.6 percent)
Last year: LeBron James 96.6 percent
See? Nearly 30 percent of the vote. But the madness doesn't end here.
Who is the best PF?
Paul Gasol/Dirk Nowitzki, Dallas (28.6 percent), Tim Duncan, San Antonio (21.4 percent), Kevin Durant, Oklahoma City/Amare Stoudemire, New York (7.1 percent)
Also receiving votes: Chris Bosh, Miami; Kevin Garnett, Boston
Last year: Tim Duncan 58.6 percent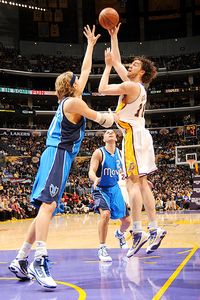 Andrew D. Bernstein/NBAE/Getty Images
You can debate who's better between Pau and Dirk. But you can't debate Kevin Durant plays their position.
We've now entered the realm of the ridiculous. Durant may "play the four" when OKC occasionally goes small, but a joke is a joke. The Durantula is not a power forward. Period. He's just not. When is the last time you've ever heard somebody say, "Man, Kevin Durant can play the hell outta that power forward spot!" You haven't. I love the way today's NBA thumbs its nose at the constrictions of traditional positional labels, but this is jumping the shark.
And by the way, Pau tied for first place, which sounds about right to me. I'd personally place him ahead of Dirk due to his better all-around play, especially on the defensive end and as a passer. However, Dirk is a more talented pure scorer who has spent more years as a team's focal point. If that impresses a voter more, I won't raise a stink.
Who is the best perimeter defender in the NBA?
Kobe Bryant, (35.7 percent), Ron Artest (21.4 percent), Rajon Rondo, Boston (17.9 percent), Shane Battier (7.1 percent)
Also receiving votes: Tony Allen, Memphis; Jrue Holiday, Philadelphia; Mickael Pietrus, Orlando; Thabo Sefolosha, Oklahoma City; Russell Westbrook, Oklahoma City
Last year: Kobe Bryant
Kobe's always a threat for top honors, between his skills and perennial slot in the All-D teams. Still, I would place Artest ahead of Kobe, as he typically draws an opponent's primary wing scorer unless the speed matchup makes it unideal, and his effort flags less often than Kobe's. (As great a defender as The Mamba is, he has a decided habit of turning the Dorrell Wrights of the world into elite scorers by treating them like C-Listers.) All in all, I think Artest is a more consistent defensive game-changer, between his talent, size, relentlessness and decreased offensive responsibilities (relative to Bryant).
Then again, Bryant can hang with certain speedsters better than Ron-Ron, he's smart as hell, and as his Game 7 performance against Rondo demonstrated, the man is a killer even under the most trying of circumstances when fully engaged. Thus, I might not have voted Bryant top dog, but I hardly have a "problem" with it.
Either way, it cannot be overestimated just how big an advantage the Lakers possess with two wing defenders of this caliber in the starting lineup. Plus, Matt Barnes coming off the bench. While I don't think the tatted journeyman's prowess quite matches the rep, there's no question Barnes can effectively harass an opponent. When the defensive weak link among twos and threes slated for the rotation is Shannon Brown, it's fair to say your team is well equipped to take on perimeter talents.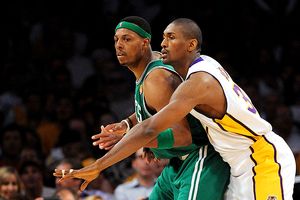 Lisa Blumenfeld/Getty Images
Ron-Ron makes a defense good-good.
Which is the best defensive team in the NBA?
Boston (75.0 percent), L.A. Lakers (10.7 percent), Orlando (7.1 percent)
Also receiving votes: Charlotte, Milwaukee
This goes to show how much D a team needs to play to make a dent in the collective respect for Boston, because the Lakers were often a smothering unit.
Which team made the best overall moves?
Miami (96.4 percent), L.A. Lakers (3.6 percent)
Last year: San Antonio 71.2 percent
No squad had a prayer of topping the Evil Super Team, but considering how little cap space the Lakers were working with, that the Lakers even popped up at all speaks to the quality of Steve Blake, Barnes and Theo Ratliff as acquisitions. When you consider the trio was added for about $6 million combined, it's an even bigger credit to the work of Mitch Kupchak. Speaking of which...
What was the most underrated player acquisition?
Al Jefferson, Utah (21.4 percent), Steve Blake (14.3 percent) 3. Darren Collison, Indiana (10.7 percent), Carlos Boozer, Chicago/Mike Miller, Miami/Anthony Randolph, New York (all 7.1 percent)
Also receiving votes: Raymond Felton, New York; Spencer Hawes, Philadelphia; Joe Johnson, Atlanta; Courtney Lee, Houston; David Lee, Golden State; Shaquille O'Neal, Boston; Luke Ridnour, Minnesota; Hedo Turkoglu, Phoenix; John Wall, Washington
A deserved showing by Blake, as a borderline (if defensively challenged) All-Star, you could make the argument Jefferson is too high profile to even get cited here. But however you feel on the semantics, there's no question Blake will likely make an impact for the Lakers bigger than his ability to sell tickets or attract headlines. He's a luxury as a backup guard and likely a perfect fit in the triangle, all of which should amount to a considerably upgraded second unit. Lest we forget, the bench was an inconsistent question mark throughout 201o. If the Lakers still dominating without knowing for sure what the subs would provide, imagine how strong a more consistent showing will make them.
Who is the best head coach in the NBA?
Phil Jackson (39.3 percent), Jerry Sloan (25.0 percent), Gregg Popovich (21.4 percent), Larry Brown (7.1 percent)
Also receiving votes: Doc Rivers, Boston; Stan Van Gundy, Orlando
Last year: Phil Jackson 37.0 percent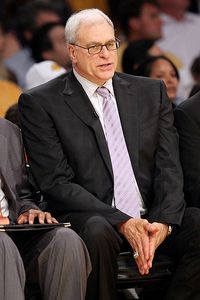 Lisa Blumenfeld/Getty Images
Eleven rings and a good showing in this poll. Go figure.
No shock, and no argument, either. Are there coaches who make run a better system on either side of the ball, manage a game better, run a better play from of a time out, handle the closing minutes better, etc.? Sure. But not many, much less those considered among the best in nearly every facet of coaching.
In particular, Jackson was recognized as hands down the best motivator/manager of players (46.4 percent), which I consider the most important skill for any coach in any professional sport. Save football, the seasons are long and often quite dull until the playoffs grow nearer, especially for a veteran team. You're dealing with tons of egos, varying agendas, distractions, and on down the line. To a large degree, coaching professional athletes is babysitting. It takes somebody very good with people to make everything work, and nobody in the NBA is better at keeping a roster on the same page than PJ. At the end of the day, it's the biggest ingredient to Phil's success.
Which team has the best home-court advantage?
Utah (46.4 percent), L.A. Lakers (21.4 percent), Oklahoma City (7.1 percent)
Also receiving votes: Boston, Dallas, Denver, Golden State, Miami, Portland, San Antonio
Last year: Cleveland 37.9 percent
With all sincere respect to a Laker fan base I've argued countless times finds its passion constantly underrated by the national media, I was pretty surprised to see such a strong showing for the Staples Center faithful. During the playoffs, no question. Rowdy and loud as all get out, particularly as the rounds progress. But during the regular season, it's often, as Vlad Radmanovic once noted, like a crowd watching theater. Maybe it's a matter of players getting caught up in the star gazing or just a product of the temptations offered by L.A. nightlife, but the NBA certainly offers more intimidating arenas. I'm just being honest.
Which player is the best leader?
Steve Nash, Phoenix (32.1 percent), Chauncey Billups (17.9 percent) Kobe Bryant/Chris Paul (14.3 percent), Tim Duncan/Derek Fisher/Jason Kidd (all 7.1 percent)
Looking for a reason the Lakers have enjoyed so much recent success? It's fantastic enough having one player considered among the best leaders in the Association. Two players, however, is thick, tangy, savory gravy.
Which player would you want taking the game-winning shot?
Kobe Bryant (78.6 percent), Carmelo Anthony/Kevin Durant (7.1 percent)
Also receiving votes: Dirk Nowitzki, Dallas; Dwyane Wade, Miami
Last year: Kobe Bryant 89.7 percent
Similar to the "best shooting guard" category, if you pick anybody else other than Kobe, you are either dramatically over-thinking the issue or seriously fond of being a contrarian. I don't care what stats are cited about who is actually more clutch, or has a better game-winning shot percentage. Put all the academics aside and think of it this way: If your life laid in the balance, would you honestly choose anybody else to drain a shot of ginormous magnitude? If so, I'll be the guy with the stunned face. Quite possibly at your funeral.
OTHER LAKER HONORS
Who is the best on-the-ball defender in the NBA: Kobe ( 2nd, 17.9 percent), Artest (T-3rd, 14.3 percent)
Who is the best defensive player in the league: Kobe, Artest (T-2nd, 7.4 percent)
Which player defends the passing lanes best: Kobe, Artest (votes received)
Which player is the best finisher: Kobe (3rd, 7.1 percent)
Which player forces opposing coaches to make the most adjustments: Kobe (1st, 35.7 percent)
Which player is the best at getting his own shot: Kobe (1st, 70.4 percent)
Best International player in the league: Gasol (2nd, 32.1 percent)
Which player has the best basketball IQ: Kobe (2nd, 22.2 percent),
Which player is the best offensive rebounder: Gasol (T-3rd, 7.4 percent)
Which active player will make the best head coach someday: Fisher (1st, 29.6 percent)
Which head coach makes the best in-game adjustments: Jackson (3rd, 10.7 percent)
Which head coach is the best in the last two minutes of a close game: Jackson (3rd, 17.9 percent)
Which head coach runs the best offense: Jackson (2nd, 17.9 percent)
Which rookie is most likely to be a "sleeper" success: Devin Ebanks (votes received)
Which team is most fun to watch: (T-3rd, 7.1 percent)
Who is the toughest player in the NBA: Artest (1st, 37 percent), Kobe (2nd, 18.5 percent)