Are five consecutive wins coming out of the All-Star break enough to ease the minds of Lakers fans with the dreaded Bobcats on the docket? No. Okay, what about the recent trade jettisoning Gerald Wallace (unquestionably the best player in franchise history) to the Blazers? Not there yet. Well, surely a two-game losing streak -- the most recent a 40 point thumping at the hands of Denver -- and the 10-20 road record will push things over the top.
Not so much. The willies are still there.
It's undeniably inexplicable that competition against a franchise with one playoff appearance in its admittedly young history would spark such uneasiness. Then again, eight losses in the last 10 games against Charlotte is pretty darn loopy, too. Ridiculous as it may sound, a few wins will likely be required before nerves are entirely settled. That first step (hopefully) begins today.
For a better perspective on this pesky foe, we called upon Brett Hainline from Queen City Hoops. Here are a few points to consider before the ball is jumped.
Q: With Wallace now in Portland, how different are the Cats? What changes have you noticed in the way they play, or even body language? Also, how much does Nazr Mohammed's absence matter?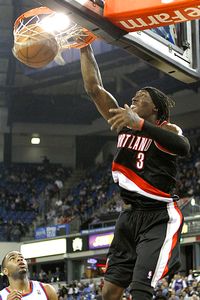 AP Photo/Rich Pedroncelli
Crash looks weird in a Blazer uni.
Brett Hainline: Without Gerald Wallace, the Bobcats are smaller and play smaller. Gerald provided strong rebounding from the 3 spot and with Stephen Jackson sliding over and Gerald Henderson taking over as the starting 2, the Bobcats aren't as strong on the glass as they were. With Gerald, Charlotte got away with starting Boris Diaw at the 4 and letting him ignore rebounding for the most part - they aren't able to ignore that anymore. Gerald Henderson (G2 for the duration) rebounds pretty well for the 2 spot but with a team that struggles to score like the Cats do, anything extra they give up at the other end is just more points they struggle to score.
That "Crash" was also the Bobcats most efficient scorer (among the primary options) only further compounds their shortcomings.
As for Nazr - the fan outcry over Charlotte trading Gerald so overshadowed Nazr's departure that is hard to remember he is gone. As hard as he worked and as professionally as he carried himself, the move made sense for Charlotte to take a look at a younger player in D.J. White rather than continue to trot Nazr out there for the backup minutes in the middle. Nazr is a solid post scorer, for an undersized center. But on a team that's best trait is its defense (as the Cats' still is, despite the drop off from last year), Nazr wasn't a good match, as he was just a bit too slow and too short to rotate and challenge shots from the weak side.
Q: The Cats have owned the Lakers over the past several seasons. It feels inexplicable on paper. Do you have any thoughts as to why?
BH: This year's win is very explainable - the Lakers were at the end of a long road trip and on the tail end of a back-to-back to boot. The last few seasons? Even a Bobcats fan can't give a good explanation for that one - but it certainly has been fun.
(AK's note: I'm just as mystified by this trend, but found a great quote from then-Cat Wallace attempting to make sense of things: "Every team has their one escape route. I guess the Lakers are ours.")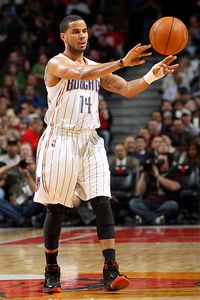 Gary Dineen/NBAE/Getty Images
Augustin is quicker than Derek Fisher or Steve Blake, but hasn't been consistent of late.
Q: "Opposing point guards vs. the Lakers" is always a talking point for fans and media. In the last meeting, D.J. Augustin was in a shooting slump and there was talk he'd be replaced by Shaun Livingston in the starting lineup. How has he played since, and how effective has the tandem been?
BH: A couple of 23 points for D.J. Augustin since then and a handful of less impressive games. It's probably been enough to stave off the Livingston needs to start talk, but more consistency from D.J. wouldn't hurt. As for Livingston, the Bobcats have to be pleased with what Shaun has shown this season - he knows what he is capable of offensively, posting smaller guards and working for mid-range jumpers. Defensively, he provides the Bobcats a good option when the opposition start to take advantage of D.J. at that end of the court - Shaun uses his length and returning quickness to make life difficult for the opposition.
Charlotte's slow paced offense and his decent number of minutes at the 2 next to Augustin have kept his assist numbers down, but he certainly looks like a solid addition to the squad for this season and going forward.
A few additional thoughts
• Hainline noted how the Cats are now forced to go smaller since the Wallace trade, but ironically, they still offer some decent size in the literal middle. The "special skills" section of Kwame Brown's resume includes post defending and... post defending, but he's legitimately good at it. Kwame remains a rock difficult to push off posts or gain position against. Joel Przybilla, acquired in exchange for Wallace, isn't quite the same immovable force, but he's a good interior defender and quite skilled at getting under skin.
Andrew Bynum and Pau Gasol are the more skilled players involved, and fully capable of getting the better end of these matchups. But victory will require some work.
• Jackson is a versatile dude capable of making plays for teammates, but he's just as likely to turn the ball over. A lot. A look at Jax's stats reveal an assist-to-turnover rate of nearly 1:1. With Ron Artest hounding him, he could be pressured into coughing up the rock on several occasions. He's also dealing with a recurring hamstring injury. Jackson is expected to play, but the Lakers should test his ability to keep up on both ends of the floor.
• Wallace was probably the Bobcats' best defender -- the most versatile, if nothing else -- so the lockdown increasingly suffering since his departure is no surprise. In the meantime, Charlotte ranks 28th in points per game (94.3) and 25th in offensive efficiency (101.4). If the Lakers can take advantage of this situation and build an early lead, the visitors will have a brutal time getting back in the game.