The upside of playing a tough team on the heels of a terrible loss? The chance for a win and immediate redemption. The downside of playing a tough team on the heels of a terrible loss? The chance to convince skittish fans you're even worse than they imagine with a loss. Either way, we'll be given the chance to compare Dwight Howard and Andrew Bynum for the 4,573,618th time, despite Drew's stated opinion that this national pastime is in fact a waste of time.
For perspective on the Magic, we called upon Eddy Rivera of the True Hoop Network's Magic Basketball blog. Here are his thoughts on four issues, plus a few thoughts of my own. (I along with the boys at Forum Blue and Gold, provided some Laker perspective in a 3-on-3 for Magic Basketball, and also took part in the ESPN/True Hoop 5-on-5 round table.)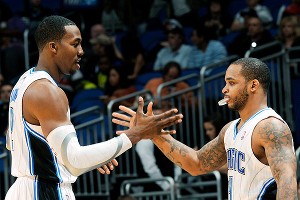 Fernando Medina/Getty Images
Despite whatever madness off the court, the Magic are still winning games.
Land O' Lakers: Unlike the Nuggets before the Carmelo Anthony circus left town, the Magic have managed to play well so far despite questions surrounding Dwight Howard. Considering the bad postseason and they made no substantive changes, how surprising is this? And how is it happening?
Eddy Rivera: It's a little surprising, though not entirely because the Magic are expectedly benefiting from continuity in a truncated season and Van Gundy's coaching. It's happening because Anderson has emerged as Orlando's second option offensively, Hedo Turkoglu is reverting back to his old self, and J.J. Redick is having the best start of his career. With Howard, that trio has aided in the fast start.
LO'L: Ryan Anderson is off to an exceptionally good start. How sustainable is it, and what in particular is he doing well beyond shooting? (Assuming he is contributing in more ways, of course.)
ER: Nothing in Anderson's numbers suggest anything abnormally strange going on. Outside of a spike in his free throw percentage and a much lower turnover percentage, Anderson is just getting more opportunities to score with more playing time. Aside from Anderson's shooting, he's a sneaky good offensive rebounder for his position and although his defense still needs some work, he's adept at taking charges.
LO'L: You mentioned Hedo Turkoglu rediscovering the form of his first stint. What kind of impact is he making?
ER: Turkoglu has been stellar. He's found his mojo again on offense, especially in crunch time where he's become "Mr. Fourth Quarter" again for the Magic and the team's go-to guy. In late-game situations with Turkoglu running 3-5 pick-and-rolls with Howard, Anderson serving as a better stretch 4 than Rashard Lewis before him, and Redick spotting up, yeah, there's glimpses of that 2009 magic from Orlando.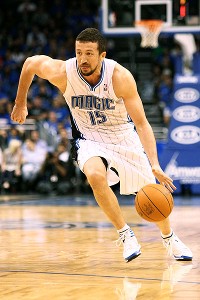 Douglas Jones/US Presswire
It's deja vu all over again for Hedo during his second tour of duty in Orlando.
LO'L: From Lakers fans' perspective, the consensus opinion on a theoretical Howard-for-Bynum swap is "Do it, Mitch!!!" But what feedback do you get from Magic fans on Bynum? Would he be considered a good return?
ER: Magic fans don't doubt Bynum's talent, but they're concerned about his health issues (see Grant Hill). Allowing Stan Van Gundy to help Bynum reach his full potential is a tantalizing thought but not at the price of mediocrity. It wouldn't just be Bynum in a trade, sure, but the majority opinion is that the Magic should tank and rebuild through the draft.
The point Rivera raises about starting over is quite valid. I've long been of the opinion that fears of "losing a superstar for nothing" can be way overblown. Not that you wouldn't prefer proper compensation in exchange for an exiting A-lister, but letting someone walk is typically avoided like the plague, and I've never understood why (beyond a general manager's fear that an empty bag will eventually cost him his job). It makes little sense for teams to tie up cap space on a player (or players) whom they don't really think makes them a contender. Particularly a team like the Magic, located in a city attractive to players (as evidenced by how many live there in the offseason).
Rebuilding is rarely fun, nor is it a guaranteed path to eventual greatness. But neither is the equivalent of cramming square pegs into round holes with booby prizes. Hitting the reset button offers the most flexibility, control and access to young building blocks. It requires patience, a virtue typically in short supply with franchises and their fan bases. Then again, look where a refusal to ever bite the bullet has taken the Knicks. Does anybody honestly believe they wouldn't be better in 2012 by having simply accepted the notion of being worse in, say, 2007?
Don't get me wrong. If Otis Smith truly believes in Bynum, he should pull the trigger on a theoretical trade. If Drew can stay healthy, there are worse players to attempt to build around. But securing an asset for Howard primarily for the sake of doing so is silly, in my opinion.
A few more quick points
1. As BK noted, Pau Gasol was easily the brightest spot from the loss in Miami. For perhaps the first time this season, El Spaniard was being consistently utilized in the offense, and more notably, he reacted with decisiveness. Shots were launched without hesitation, and the ball moved with purpose. More of the same will be needed against Orlando, but his biggest challenge will be on the defensive end. Pau will spend the majority of time either banging bodies with Howard down low or shadowing Anderson in space around the 3-point line. The contrast in style is absolutely dizzying, but Gasol failing to come through could result in, as David Stern would say, enormous consequences for the Lakers.
2. In the first quarter against Miami, the Lakers shot just 28.6 percent from the field, and lost the rebounding battle 15-12. Yet they were only down by 5, thanks to a turnover total of zero. It was a promising start for a team struggling to maintain control of the ball. Unfortunately, the rock was coughed up five times in the second quarter, which played a major role in creating a halftime deficit of 15. The Lakers right now are a lot like the Denver Broncos with Tim Tebow under center. If games are kept close throughout, they can eventually win, but their offense is too shaky to survive falling behind. Possessions simply can't be given away with a margin for error this small.
3. After what essentially amounted to a pair of DNP-CDs, Troy Murphy was dusted off to good effect. Going 4-for-4 from the field, he scored eight points in just nine minutes. I realize it's not easy for Mike Brown to employ a big-man rotation of four, but I think it's worth trying. For starters, the reserves can use all the scoring -- not to mention outside shooting -- help they can get. Plus, the fresher Bynum and Gasol can remain, the better the team as a whole can be.