On a personal level, the 2010-11 season was a great one for Ron Artest. Starting in the preseason, he made himself an unlikely but powerful advocate for mental health awareness, compiling a body of public good including the raffling of his championship ring (raising about $650,000), and leading eventually to the J. Walter Kennedy Citizenship Award.
It was an honor well-deserved, capping a remarkable image reconstruction.
If only the on-court stuff went as well.
Year two of Artest in Los Angeles was filled with the same inconsistency and spotty production as year one, minus the really cool payoff performance at the end. So instead of this, which led to this, Lakers fans entered the all-too-early summer with far deeper concerns about Artest, epitomized by a pair of images. The first was this completely unnecessary foul/iron claw on J.J. Barea in the waning moments of Game 2 against the Mavs, costing Artest an opportunity to play in Game 3. While his eventual explanation was entertaining -- "It shouldn't have happened. Reaching out for a foul and the guy is 5-2, I'm reaching down. There's only so much down I can go. His face is right in my hand. It's very unfortunate," Artest said at his exit interview -- it was an awful play, the type raising questions about Artest's temperament and reliability.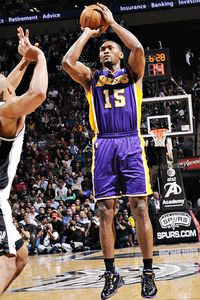 D. Clarke Evans/Getty Images
Offensively, Ron Artest again wasn't a consistent force for good, but didn't quite impact the defense enough to compensate.
Exactly what dogged him when arrived in L.A..
The second came from Game 4, when Artest got caught in the no-man's land between dunk and layup, resulting in this bit of unfortunateness.
In terms of practical applications for the Lakers this season, the missed dunk was far more representative of problems in Artest's game. Offensively, there's a lack of explosiveness tough to ignore. Artest is basically tethered to the ground, and struggled to find the required lift allowing him to finish plays effectively. While his incredible strength does allow him to finish inside under the right circumstances -- Artest improved on his 2009-10 mark at the rim (57.1 percent vs. 50.6) -- he also attracts weakside shot-blockers the way injured zebras attract lions at Serengeti watering holes.
Away from the basket, Artest's offensive game wasn't exactly a model of efficiency. At 35.6 percent from beyond the arc, Artest matched last season's fairly middling figure, but his marks inside the arc (save the aforementioned figure at the basket) were uniformly down. Via Hoopdata.com, Artest's marks from 3-9, 10-15, and 16-23 feet all fell off, contributing to an overall shooting percentage under 40. His effective field goal percentage (which factors in the value of 3-pointers) was his lowest since 2006 (46 percent), and thanks to an ever-dropping free throw rate, his true shooting percentage (an efficiency measurement factoring 2's, 3's, and free throws) dipped to a level (48.5) Artest hadn't seen since his second year in the league.
Some of the drop off is structural. Artest struggled adjusting to a smaller, less comfortable role in the offense. Last season, Artest set a career low in usage rate, a mark he broke in 2010-11. For a guy who has historically played a far larger role in his team's offense, this isn't easy. Some players can't maintain their level when touches go down. Except on a team with Kobe Bryant, Pau Gasol, Andrew Bynum, and Lamar Odom (or any of the players those guys might bring in a hypothetical deal), Artest will never have a major role on that side of the floor. And though he wasn't (and never will be) a featured player, the Lakers nonetheless can't afford for him to be unproductive with the opportunities available.
Artest knew what he was signing up for.
Over the course of the year, Artest's ability to work inside the triangle ebbed and flowed. Some nights, he was decisive, making sharp passes and quick decisions. Other times, he pounded the air out of the ball and took bad shots. Early in the season, he was outplayed by a healthy Matt Barnes, and found himself on the bench in key moments. When Barnes was hurt and uncertainty over his playing time disappeared, Artest improved, but only to a point.
Of course, a certain level of offensive oddness can be tolerated because of Artest's prowess on defense. This season, it took Artest a while to find his sea legs on that side of the floor, again with the turnaround seeming to coincide with Barnes' injury. It's not that Artest was necessarily bad early, more a non-entity, something he is absolutely not supposed to be. Artest is a defender built to be noticed. He still has the ability, when fully engaged, to remove an opponent from a game.
He did it against Blake Griffin in a one-point win on December 8 (Kobe's response: "It's about time.") and periodically throughout the year, particularly over the second half. There were still games when, as Deion Sanders used to on the football field, Artest seemed to cut off half the floor with a signature defensive performance, just as it was last year when Artest helped define the team's identity on their end.
Artest's finest stretch came in the second half when he seemed free and easy, carrying himself like a WWE character, mixing in kisses to the crowd with biceps kisses and flexing. He was playing well. But looking at the season as a whole, while overall Artest still proved himself a strong defender in the right matchup, he didn't shape the team's game in quite the same way, and not enough to account for his diminished production offensively.
Artest deserves credit for a very strong first round series against the Hornets, before -- like his teammates around him -- fading away against Dallas.
Overall, Artest's second year in purple and gold wasn't as strong as the first, whether talking about raw numbers, advanced metrics, his impact on the defense, or the the ultimate result for the team as a whole. Keep in mind, the first wasn't all sunshine and lollipops, either, despite the happy ending. Off the court, Artest seems to be finding a degree of stability and purpose apparently lacking earlier in his career, and he's done outstanding things with it.
Unfortunately, his triumphs off the court didn't translate to his work on it.
GRADE: C-