I'm a movie geek. Always have been. Always will be. As much as I love sports, movies remain my first passion. And it just so happens, Sunday's Lakers-Magic showdown falls a few hours before the Academy Awards.
I can take or leave the absurdly long show itself, but I do care about who/what wins (and oftentimes, who/what doesn't). Thus, I'm looking forward to this year's shindig, because Jeff Bridges is considered a righteous lock to walk away with the "Best actor" statue for what's been labeled a career-defining performance in the movie Crazy Heart.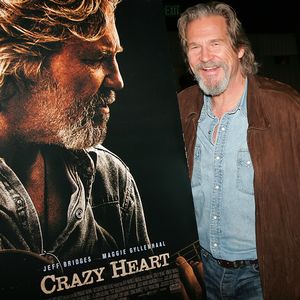 David Livingston/Wire Image
It's likely Jeff Bridges' year to take home the gold.
Laker fans may be worried the same can't be said
about their team.
Bridges is one of my all-time favorite actors, one of Hollywood's most talented. It's pretty amazing he has never won an Oscar, considering how long he has been around, his share of critical acclaim and some folks who've actually taken home a statue. (Yes, Helen Hunt, your ears are in fact burning.) He has been nominated four times (The Last Picture Show, Thunderbolt and Lightfoot, Starman, The Contender) and could have been tabbed several other times (Fearless, The Big Lebowski, The Fabulous Baker Boys and Stay Hungry among my favorites).
Two things have always stood out about Bridges: 1) His IMDB page features several clunkers, but he's rarely been bad himself. 2) How effortless he makes acting look and how he never appears to be laboring, no matter how complex a role.
The second point brings me to the Lakers, whose shoddy performance last night against the Bobcats featured the Lakers at their most effortless and laboring, in the worst sense for either adjective.
They were unable to make baskets or pass the ball without turning it over. To remain engaged and smooth for consecutive possessions, much less entire quarters. And as Brian noted while counting down bad moments, their performance progressively became an exercise in emotionless clock-punching. To see a championship team react to adversity by shutting down is, to say the least, disappointing.
Like I said, Bridges has the rare ability to create layered performances without breaking a visible sweat. As someone with an acting background (albeit not in Bridges' stratosphere when it comes to talent), I know firsthand that final product hardly comes with ease. Bridges is known for placing thought toward the smallest details, like wearing a necklace making him feel more like "Bad Blake in Crazy Heart. A game plan is forged to shape a role, then utilized with complete investment.
Only then are we treated to decades of richly textured, nuanced performances that look considerably easier than in reality.
Kind of like when the Lakers were playing and winning by big margins without Kobe Bryant and, for three games, Andrew Bynum. Predictably, offensive efficiency dropped in the five games Bryant missed. But it felt as if the Lakers were having an easier go at things. That's largely because these five games consistently featured the game plan executed in unison, since there was really no other choice.
Lo and behold, good things happened.
At their best, the Lakers are capable of making basketball look effortless through precise execution, crisp ball movement, purposeful rotations on defense, communication, and patience. Through paying attention to the details and knowing what page everyone is on. These details are the equivalent of Bad Blake's necklace, details that take a performance to incredible heights. If everyone isn't mindful of the smaller picture, it's almost guaranteed the bigger one won't be realized.
Whenever I struggled as an actor, I'd typically look to rediscover my character and what he brings to the story. If I'd done my homework in shaping the role, the way an actor like Jeff Bridges does, the issues usually became apparent and correctable. I know sports and acting aren't identical, nor am I suggesting the Lakers' problems are as simple as "run the triangle and everything's ducky again." But I doubt the situations are so far apart the same basic principle can't be applied as a starting point. Everyone needs to remember the story being told and what their character does.
From there, this cast's scenes may just start flowing again.